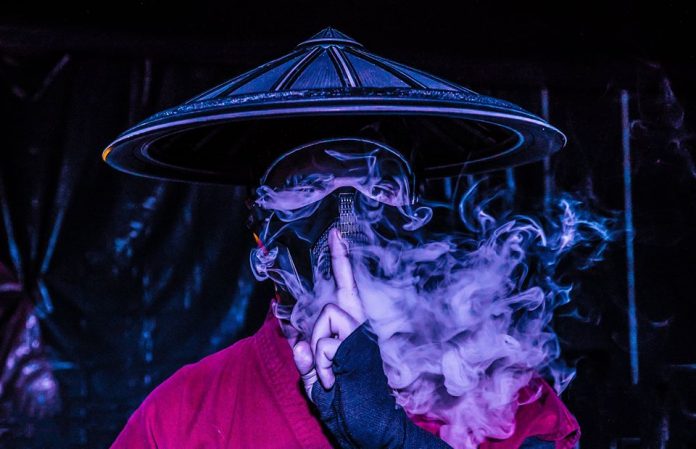 Since this morning DJ and producer Datsik, has publicly been facing accusations of a variety of inappropriate, and even illegal, behaviors. All seem to be female accusors so far, many of whom have come forward via social media, some even posting screenshots to support their claims.
Although one female has reported that Troy attempted to make a sexual pass at her and proceeded to ask if he could f*.. her in front of her boyfriend, whom was present.
— dylan (@PortersWorlds) March 14, 2018
Datsik immediately responded by deleting some of the self incriminating tweets and images he had posted such as where he wrote "headed to Tulsa", allegedly this a demeaning tool he and parts of his management team use to degrade the women who receive this backstage pass, as it says "a slut" when they look into the mirror. He also followed by making a post telling his fans a response on his end regarding the allegations will be coming soon.
As he assured everyone, he has since posted a response to the matter. Although he did technically respond, it didn't seem to address or deny anything too specific.
On the real.. pic.twitter.com/BAvQzzZDyP

— Datsik (@datsik) March 14, 2018
It seems the evidence that has come forth throughout the day has been convincing enough for Freed Lance Collective to no longer support any Datsik related content on their page. They gave their reason as stating Datsik his proved to be the opposite of what they stand for when it comes to women empowerment.
"Due to the allegations against Datsik we will be removing all related content including pictures and videos. I made the choice for our team to spend March honoring women and he has shown an opposition to that belief."

— Freed Lance Collective (@freedlanceco) March 14, 2018
Numerous accusations of sexual misconduct between the DJ and fans began circulating when @_princesssjay began sharing screenshots of a conversation in a Facebook thread.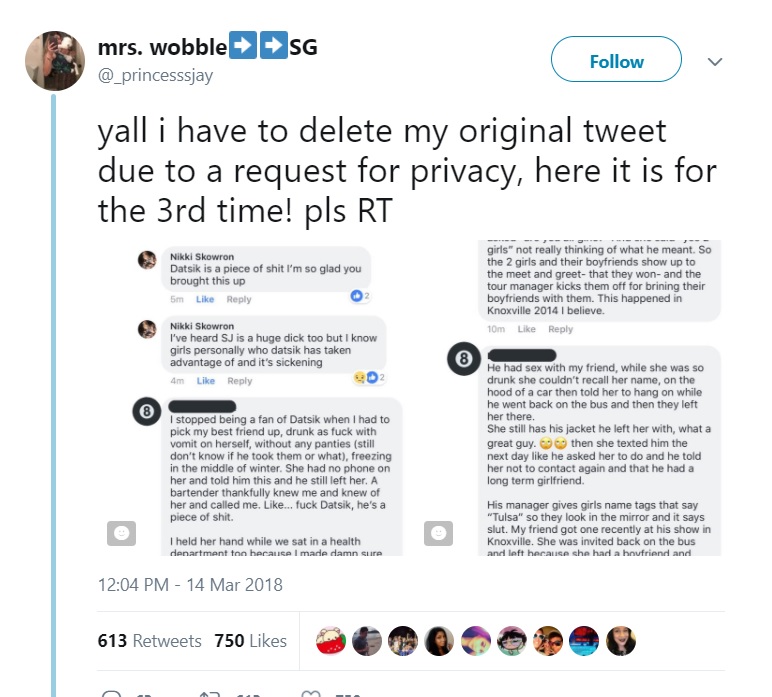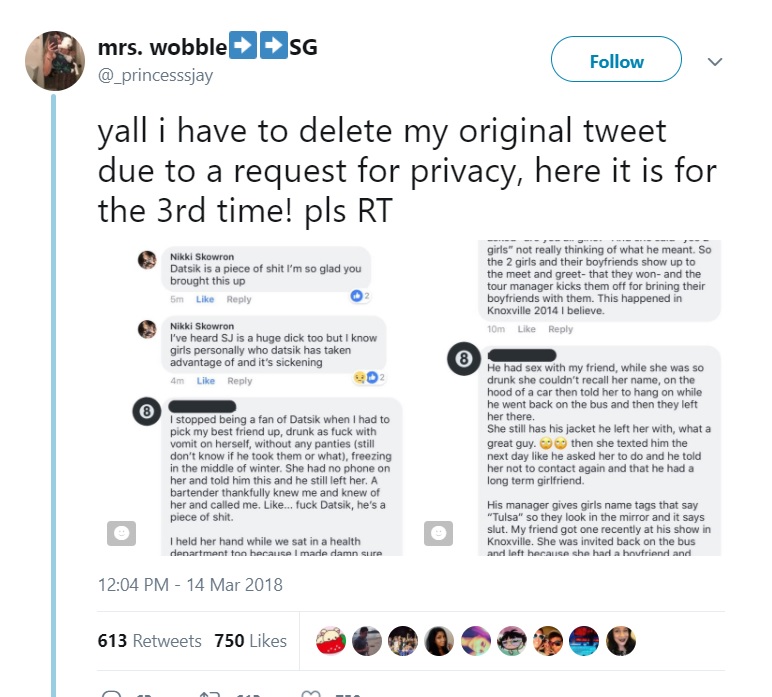 Once the original tweet began to pick up steam, others chimed in with their own harrowing experiences with Datsik.
@2LittBritt replied, "Datsik fucked my 18 year old friend after getting her so drunk she could barely stand last year."
@tiny_flotato said, "My friends and I were getting some weird vibes when his manager got our numbers, names, and then squirted [us] with water to see our nipples and told us to come hang with them later on the bus."
@_alex_and_ria_ replied, "Datsik is a piece of shit. He fed my friend ketamine and xanax so she would feel comfortable enough to have a threesome with him on his tour bus & then he kicked her out and she was so disoriented and fucked up she had a lot of issues getting home."
She continued, "She's fine!! She said he was nice until he kicked her out afterwards & she didn't really realize she was a victim until a lot later. Just so gross that he hunts girls down and feeds them drugs to make them loosen up like…that's rape…she had never done k before either."
Someone who DM'd @_princesssjay, who wished to remain anonymous, said, "Datsik was extremely fucked up and being super creepy towards my friend and [me]. He was doing [ketamine] in the back of the bus with them and kept trying to fuck my friend. Then when he came up to the front room (where I was) the first thing he did when he saw me was sit down next to me and call me cute. He then grabbed me and went in to kiss me. I moved my face back and he literally pulled a section of my hair to bring my face back towards him. He kept sitting on my friend and I and being creepy and touchy. And then would come put his arms around me and ask me to go to another room him and I'd say no / try to chance the subject & he […]"
Two users also shared evidence of the "Tulsa" name tag that was apparently given to girls headed back to Datsik.
— Truman Nolan (@TrumanBassMusic) March 14, 2018
I was given this 2 years ago in Orlando when I was invited on Datsik's tour bus. pic.twitter.com/Q2GT9mlcHK

— Amanda (@moreaamandaa) March 14, 2018
In case you missed them 🙂 pic.twitter.com/0QNSvmzyKu

— flow nug (@kaitlyn_baggett) March 14, 2018
well then pic.twitter.com/TjYf1zt1qr

— ultra trooper? (@RADSTORMTROOPER) March 14, 2018