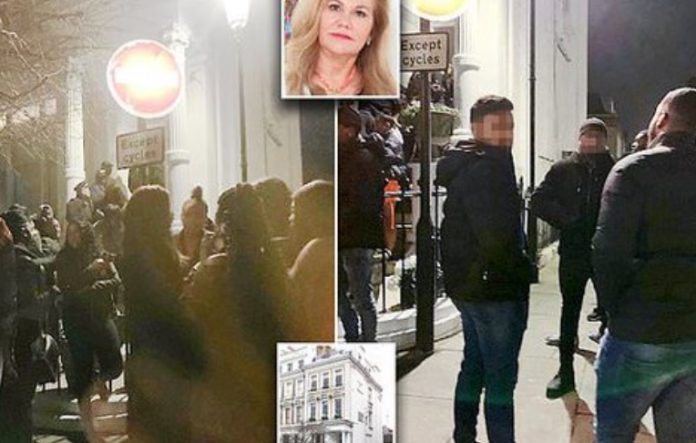 For homeowners with unused rooms in their homes, Airbnb makes sense for a lot of different reasons. The lure of earning money by essentially turning a house into a hotel makes it nearly impossible to pass up for those that are facing the situation. It almost seems like a dream come true for property owners.
Typically Airbnb reports are easy going experiences, where everybody is happy, and nobody had to stay in a hotel room; it mostly is a win-win situation for all parties involved. Unfortunately, Murphy's Law occasionally comes into effect for the "renters", and things can get a little bit hectic.
Elisabeth Sterling, a London homeowner who is currently in the process of writing a book decided that she would put her luxurious 3.2 Million Dollars Kensington flat on the Airbnb market while she was working on her project.
Reports state that she was a bit sceptical about the procedure, and treaded lightly in the waters, weary about potential occupants being in her home. She would pre-screen anybody prior to consideration to avoid potential hazards.
When Sterling met with the "soft spoken", youthful, potential guest that called herself Kudzi, she was overtaken with a sense of comfort and ease. The young woman wanted to rent the flat allegedly for a small group of women that were celebrating a pregnancy and wedding.
Public record states that Sterling even decorated the space with pink balloons and prosecco to welcome the group. The decorations would accompany her preset permanent fixtures that include original Andy Warhol, and Pablo Picasso paintings.
The small group celebration was not quite what it seemed to be. What actually took place instead was a giant rave that was equipped with nitrous oxide tanks and people blatantly doing drugs all over the house. Kudzi was supposed to have the music stopped by midnight, but as the hour drew near, the music only got louder.
Sterling stays in a back apartment when the home is being used for Airbnb. When she came out to see what the ruckus was all about she walked into a place that seemed like a nightclub instead of a home. She tried to get people to turn the music down, but they turned it up. She was very upset and shaking profusely while trying to kick everybody out of the house. Reports state that they laughed at her and had fun with the situation. They refused to listen to her or get out, they just kept on partying.
Once she called the police, officers arrived immediately, however, they were unable to remove the disrespectful dancing machines until they received a late night court order that awarded them the authority to remove the party participants. Police have confirmed that the crowd was dispersed, and that no arrests were made regarding the unfortunate situation.
Thousands of dollars of damage were made to the home, and it seems as if Airbnb is going to reimburse Sterling the damages. In a public statement, they said that all hosts are covered for damages by a guarantee of up to 865,829 dollars.
The Bamboozled Sterling is very upset about the situation. She feels as though she was played by the young woman, and the experience certainly is going to leave a bad taste in her mouth.
It just goes to show, one can not read a book by its cover, and there is no such thing as free lunch. Keep it classy London.