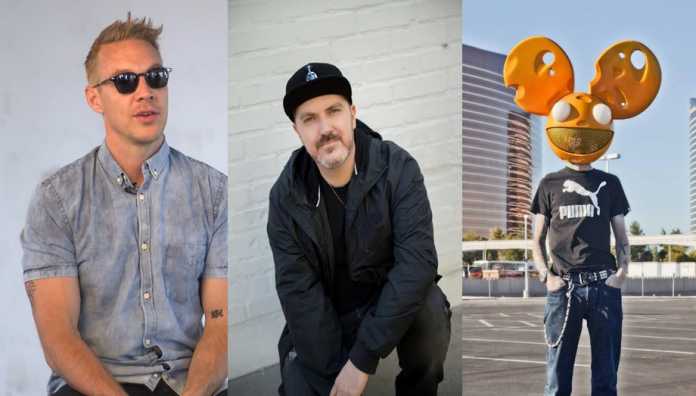 As EDC- Electric Daisy Carnival wraps up their 20th anniversary, some critics speak out about the festival. Apparently Diplo and Deadmau5 are not big fans of the carnival, so they took to Twitter to share their opinions.
It all started when Diplo decided to call out the main stage design this year
edc main stage look likes Walt Disney present princess castle on crystal meth how do u guys play that thing & look at yourself in the mirror

— dip (@diplo) June 19, 2016
But the founder and CEO of Insomniac, Pasquale Rotella had time to compose the perfect response for Diplo
@diplopic.twitter.com/EBR3jIJSKn

— Pasquale Rotella (@PasqualeRotella) June 20, 2016
Diplo's colleague Deadmau5, who was not included on the lineup, also took the time to let everyone know what he truly thinks about EDC. His opinion is that this festival is over-saturated with artists and booking 150 DJs at the event puts the artists into obscurity.
think about it… here are my options, go play EDC with every fucking DJ in the world, or corner my own fucking market. GEE, tough call.

— dead mow cinco (@deadmau5) June 19, 2016
@deadmau5 You played in boring ass deleware, and not EDC. WHO FUCKING CARES ABOUT EDM IN DOVER, DELEWARE.

— raving 4 life (@KyleCanova) June 19, 2016
*Exactly.* I had the whole state of Delaware to myself 🙂 and it was glorious. Fuck EDC. https://t.co/Dbn1eOyeVu

— dead mow cinco (@deadmau5) June 19, 2016
"great idea, lets overconcentrate a music festival with the same shit again so we all blend into obscurity and promote the event instead"

— dead mow cinco (@deadmau5) June 19, 2016
@deadmau5 @KyleCanova he's just mad that EDC didn't ask him to play, some "headliner" he's afraid of competition I guess.

— Stephen Franco (@S_Franco81) June 19, 2016
its not called competition when you have everyone doing the same thing. its called banality. https://t.co/0uVkV96auw

— dead mow cinco (@deadmau5) June 19, 2016
.@BannersTheCat they simply cannot afford the price i would put on looking like all the other 150 DJ's playing there. thats all it is.

— dead mow cinco (@deadmau5) June 19, 2016