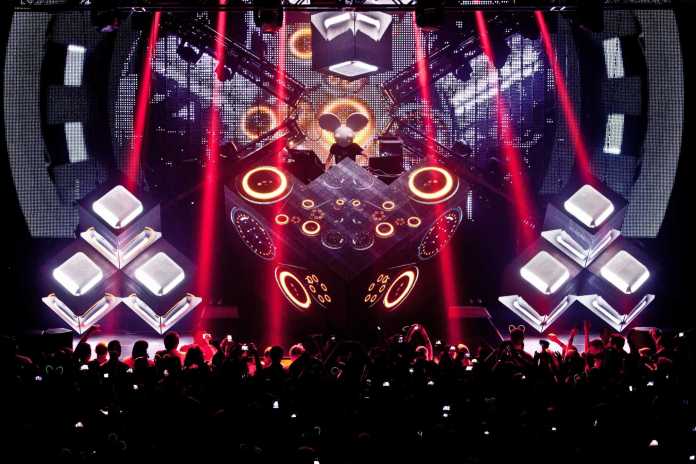 Deadmau5's iconic CUBE stage design has been copied and Joel clearly is not happy.
This is a pretty good indication that there is a massive lack in creativity in electronic music production these days. Earlier this week Deadmau5 called the New Orleans "Shadow Rap" group named $uicideboy$ over copyright infringement. He claimed they used an "entire section" of his collaboration with Kaskade, "I Remember", for a track of theirs titled "Antarctica."
And now he's found himself the victim of plagiarism on a much larger scale. One deadmau5 fan noticed that the DJs were using his patented cube stage design during Dj Tigerlily show in Austin, Texas.
Hey @deadmau5 these guys stealing your cube setup? @djtigerlily concert @ Austin. pic.twitter.com/9c22KTvDkf

— Heriberto Villalobos (@SONYEDDIE) September 16, 2016
Deadmau5 himself took to twitter to show his unhappiness with the situation.
Is this actually happening? I can not. https://t.co/6jfE3tk5co

— dead mow cinco (@deadmau5) September 16, 2016
We did. But of course, that never stopped anyone from being an idiot. https://t.co/uGb7g1xvxZ

— dead mow cinco (@deadmau5) September 16, 2016
Initially it was thought that Aussie DJ Tigerlily had ripped off his stage design. But a brief search revealed that it was some guy named Erik Fink who apparently used to be Krewella's tour manager.
It's also a pretty good indication that there's a massive lack in creativity in electronic music production. https://t.co/yMnBRcMiSZ

— dead mow cinco (@deadmau5) September 16, 2016
Just to clarify: wasnt @djtigerlily . The ripoff was some asshat named Erik Fink. Plot twist: he was actually krewellas old tour manager.

— dead mow cinco (@deadmau5) September 16, 2016
@deadmau5 yes. This was me. No one else had any involvement in this. No artists or anyone else. The hate, blame and whatever else is on me.

— Fink (@Erikdisco) September 16, 2016
.@Erikdisco much less the insane amount of manhours, technology, and development that went into it. It's heartbreaking really.

— dead mow cinco (@deadmau5) September 16, 2016