The long-awaited results of the DJ Mag's Top 100 Dj pool have finally arrived yesterday. This ranking is usually met with a good deal of anticipation and a heavy dose of criticism as you come across artists you haven't' heard about, and genres you didn't know existed.
This year's poll came with much more amount of WTFs than expected with Eric Prydz being at position no. 66, Carl Cox is believe it or not (highest ranked techno DJ) at position no. 77, and legends like Richie Hawtin, Nina Kraviz, Knife Party, Kaskade, Bassnectar and A-Trak are not even on this list.
If you need a reminder, these are the results of the DJ Mag Top 100 DJ poll for 2016: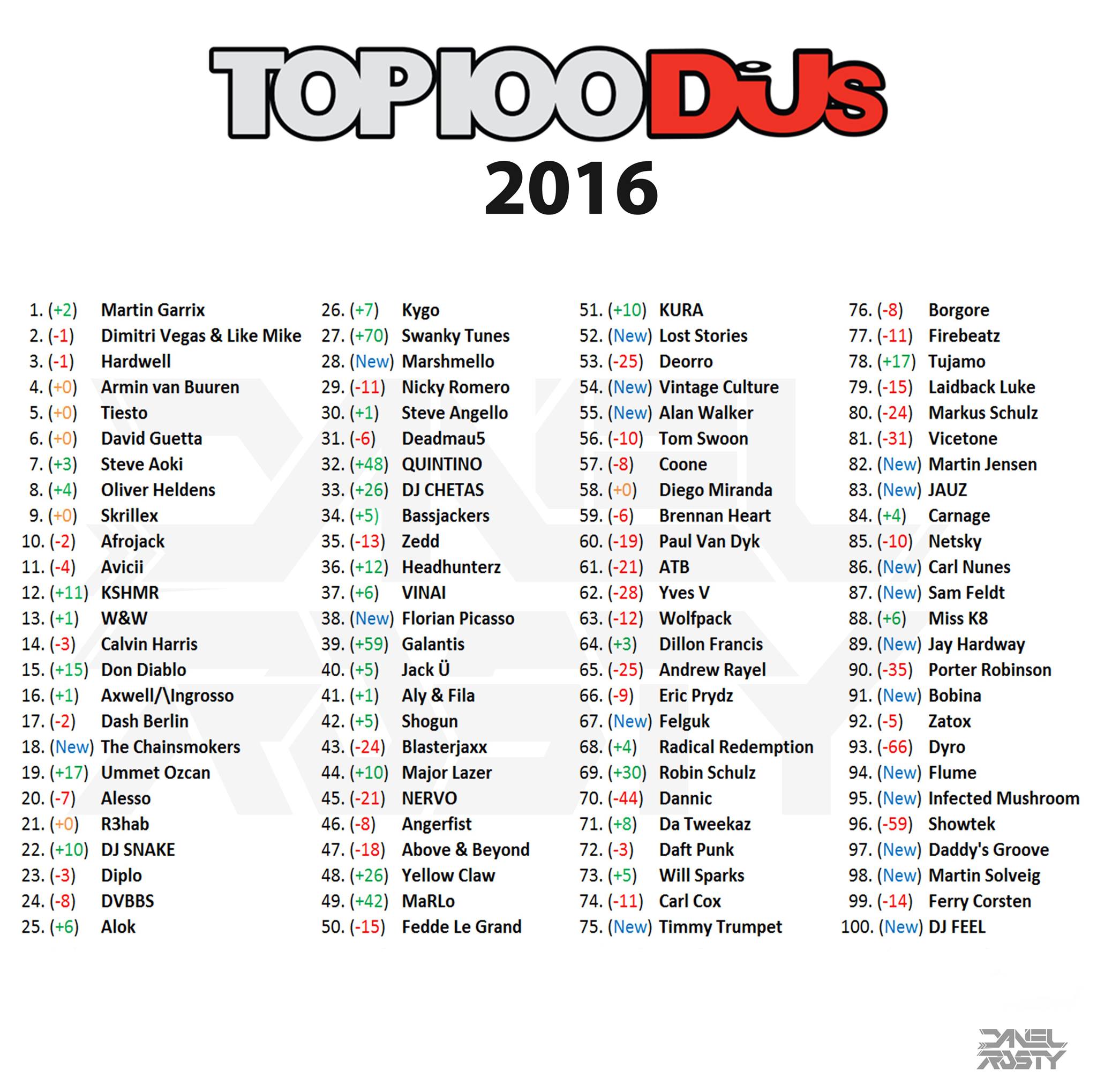 The reactions about the list were varied, with a huge amount of supporters and detractors, but no matter the stance, it seemed like everyone across the scene felt compelled to voice their opinion.
This is how the dance music scene responded:
It happens every year @djmag pic.twitter.com/faWDF98gFg

— Dillon Francis (@DILLONFRANCIS) October 19, 2016
@DILLONFRANCIS It's a public vote. We just collect the results. Read the analysis here: https://t.co/F8qLBpIMXf

— DJ Mag (@DJmag) October 20, 2016
@DJmag that's almost as bad of an answer as the ones I gave you…. pic.twitter.com/bb80945Quy

— Dillon Francis (@DILLONFRANCIS) October 20, 2016
.@djmag when will you finally exclude me from this? So moronic.

— dead mow cinco (@deadmau5) October 20, 2016
Being left off that thing might have been my proudest moment this year @deadmau5 https://t.co/99QxhFXBZk

— Kaskade (@kaskade) October 20, 2016
I can't support any top DJ list if @bassnectar or @Excision aren't on it? #DJMagTOP100

— Bear 🐻 Grillz (@itsbeargrillz) October 20, 2016
I think @DJmag is the best comedy book i ever read thank you for the laugh i really needed that

— Cedric Gervais (@CedricGervais) October 20, 2016
Lol.

— Eric Prydz (@ericprydz) October 19, 2016
For next year can we please use our voices to change the world rather than ask people to vote for a magazine hot list.

— Steve Angello (@SteveAngello) September 14, 2016
It's important to note that Twitter wasn't filled only with negativity about this list, as some of the Martin Garrix's colleagues congratulated him on winning the award.
Congratz to my bro @martingarrix! #1 #djmag FOLLOW YOUR DREAMS KIDS pic.twitter.com/bTVKzwfizo

— Afrojack (@afrojack) October 20, 2016
I am super proud of what you have achieved so far brother @martingarrix #Respect

— Tiësto (@tiesto) October 19, 2016
Congrats to the new no. 1 @MartinGarrix! You deserve it bro 😎! #Top100DJs pic.twitter.com/Sp9usC4rWk

— Armin van Buuren (@arminvanbuuren) October 20, 2016
Congratulations @MartinGarrix!!! pic.twitter.com/ClRk7IftlU

— Hardwell (@HARDWELL) October 19, 2016