Envision – the regenerative festival dedicated to awakening human potential and our fundamental connection with nature, reveals the second phase lineup for its seventh annual gathering, taking place February 23rd-26th 2017 in the beautiful Uvita, Costa Rica.
Joining Envision Festival's inspiring first lineup is South Africa's world-famous electronic duo, Goldfish, space rock performer Papadosio, the deeply rhythmic Ecuadorian DJ Nicola Cruz, and the incredibly immersing Govinda.
Each act has been specially curated to provide festival participants with an experience that is inspiring, educational, dance inducing, life changing and fun. Now in its seventh year, Envision has blossomed into an internationally-acclaimed gathering focused on building community of likeminded souls and centered on participants immersing themselves in the Festival's take on a utopian tropical village.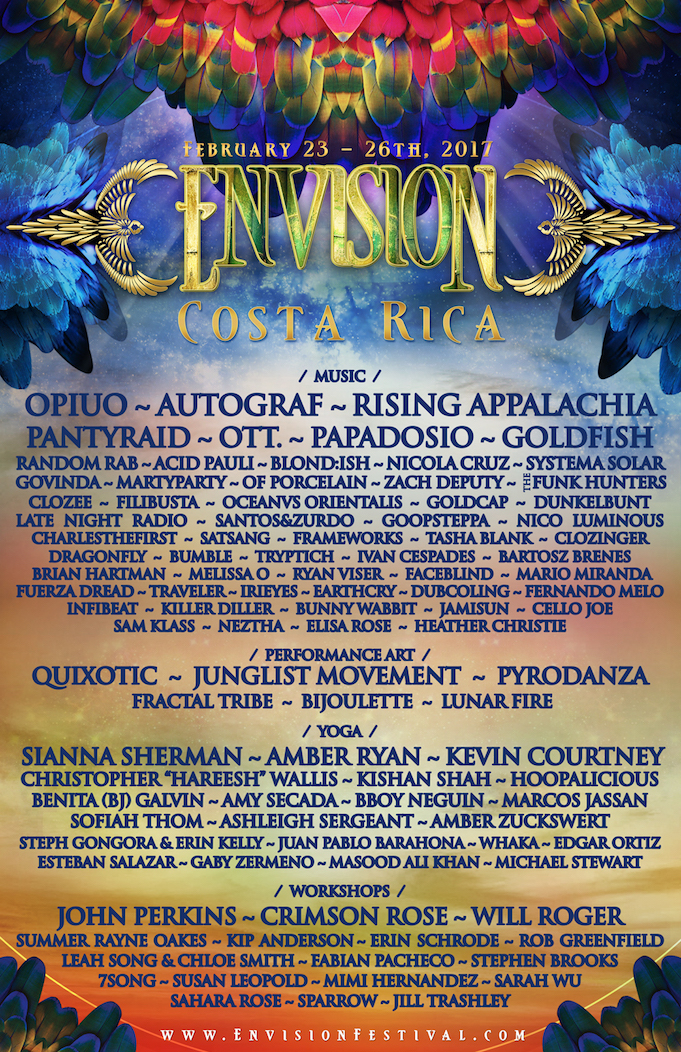 Envision Festival's second lineup also includes performances by the conscious music collective group Satsang, a sonically diverse, bass wobbling act by Bumble, a performance that fuses imagination and technology by Quixotic, and a physio-sonic trip set by Tasha Blank.
Amy Secada, a multi-disciplinary visionary artist is also joining Envision Festival, alongside globally recognized Neguin, and Costa Rica's very own Pyrodanza. The interactive clown troupe Bijoulette and the incredibly talented Fractaltribe have also joined the Envision lineup for 2017.
These incredible headliners will be adding to Envision Festival's inspiring lineup in the jungle, which includes what will undoubtedly be unforgettable performances by Opiuo, Autograf, Rising Appalachia, Blond:ish, Acid Pauli, Random Rab, Santos & Zurdo, CharlestheFirst, Clozee, Goopsetppa, Tryptich and so many more.
From ethereal house beats to deep, sultry grooves, to global bass, reggae, glitch hop and live performances, Envision unites musicians from across the world to join together under the majestic Costa Rica skies for an unforgettable experience.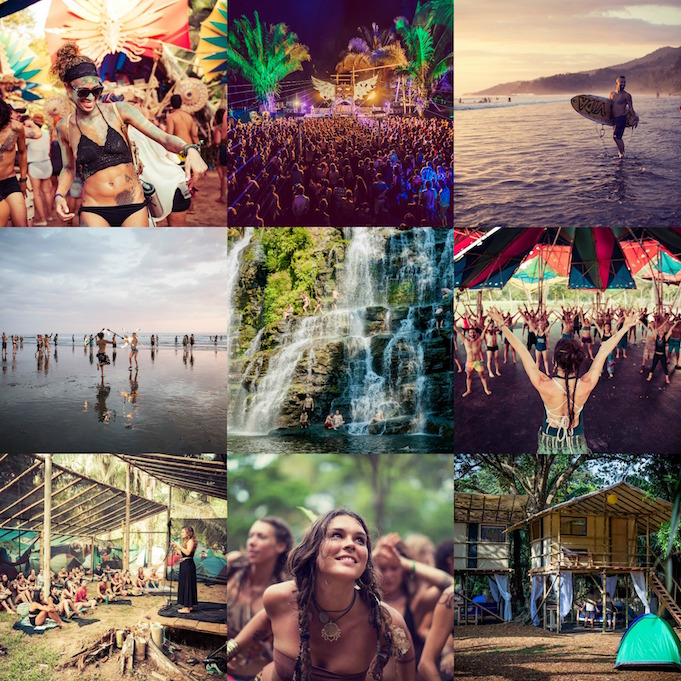 Yoga and movement
Envision's emphasis on creating a platform for various cultures to coexist in a sustainable community resonates throughout the entire event as is evident in the yoga and movement village, which features an inspiring lineup of top yoga instructors, speakers, and educators.
This includes revered instructor and founder of the Goddess Yoga Project Sianna Sherman, The Bridge Practice founder Kevin Courtney and music and dance-inspired Amber Ryan, founder of Kids in Motion Nosara and The Sacred Arts Space. Practice elevating instruction from Envision Yoga Program Director, former adidas Global Yoga Trainer and co-founder of The Avahana School of Yoga, Ashleigh Sergeant and Christopher "Hareesh" Wallis, tantrik and yogic studies scholar are also on the programme for 2017, along with the incredible Hoopalicious hosting a Hoop Dance workshop.
Inspiring talks and workshops
To accompany this incredible musical and yoga line-up is an inspiring group of individuals set to present an array of insightful talks and workshops. These include John Perkins, the author of Confessions of an Economic Hitman, Burning Man Founders Crimson Rose and Will Roger Peterson, environmental superstar Summer Rayne Oakes and Erin Schrode, the youngest woman to ever run for US Congress.
Other creative speakers hosting talks and workshops include Leah Song & Chloe Smith of Rising Appalachia, who will be leading a "Global Song" workshop and Kip Andersen, the writer of the environmental documentary Cowspiracy: The Sustainability Secret.
The unique Costa Rican backdrop of Envision provides a plethora of assorted opportunities for the adventurous traveler. Enjoy surfing at sunset, trek to magnificent waterfalls, and camp in the lush jungles of the tropical landscape. Envision is the ultimate adventure for living life differently in community.
To experience it for yourself, click here to get your 4-day Envision Festival pass!
Tickets & Packages
4 Day Pass – Super Early Bird – Tier 1 $298 + tax
4 Day Pass – Super Early Bird – Tier 2 $324 + tax
VIP – Solo Bueno Experience – Tier 1 $645 + tax
VIP – La Sombra Bungalows – w/Solo Bueno $1750 + tax
VIP – La Sombra suites – w/Solo Bueno $2500 + tax
VIP – Bamboo Treehouse w/ Solo Bueno $3333 + tax
If you haven't already observed the beautiful environment and enchanting wonderment from the 2016 gathering, take a look at the official aftermovie below!