Insomniac and C3 Presents reveal over 150 Artists set to perform at inaugural Middlelands Festival. Bassnectar, Galantis, Kaskade, Major Lazer, Marshmello, Phantogram, Rae Sremmurd, Zhu and more come together for three days of eclectic sounds, May 5-7, 2017.
Insomniac and C3 Presents, the creators behind Electric Daisy Carnival (EDC) and Lollapalooza, have unveiled a chart-topping roster of globally celebrated artists set to perform at the first ever Medieval-themed music and camping festival, Middlelands.
Fans attending Middlelands will be catapulted into an adventure for the ages, packed with infectious beats and roaring riffs from some of the world's top tastemakers, including Alison Wonderland, Bassnectar, Bonobo (Live), Crystal Castles, Danny Brown, Galantis, Jurassic 5, Kaskade, Major Lazer, Marshmello, Phantogram, Rae Sremmurd, and Seven Lions.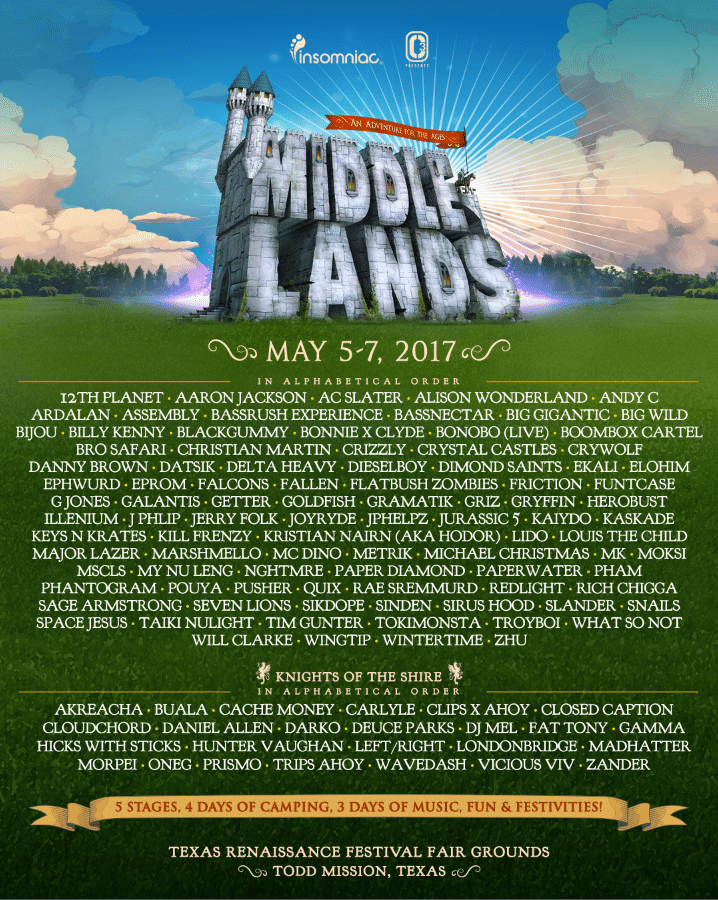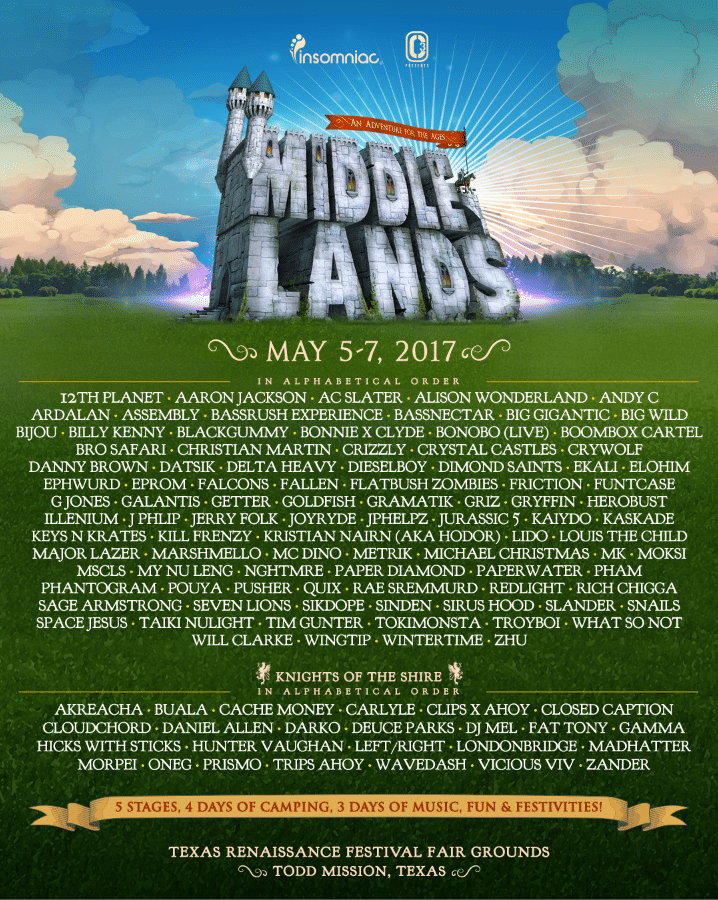 Featuring five uniquely designed stages true to the Middle Ages theme, along with pre-existing wooded villages, 60 acres of picturesque lush landscapes, and multi-genre performances from an influential blend of world-renowned acts and handpicked local talent, the Middlelands festival will immerse fans in a magical realm of revelry and royalty.
Never-before-seen kingdoms, towering castles, and costumed Middlelands performers will bring the festival grounds to life, amidst exhilarating rides and endless imaginative art for fans to explore.
Feast your eyes on the complete Middlelands 2017 lineup below:
12th Planet
Aaron Jackson
AC Slater
Akreacha
Alison Wonderland
Andy C
Ardalan
Assembly
Bassrush Experience
Bassnectar
Big Gigantic
Big Wild
Bijou
Billy Kenny
BlackGummy
Bonnie X Clyde
Bonobo (Live)
Boombox Cartel
Bro Safari
Buala
Cache Money
Carlyle
Christian Martin
Clips x Ahoy
Closed Caption
Cloudchord
Crizzly
Crystal Castles
Crywolf
Daniel Allen
Danny Brown
Darko
Datsik
Delta Heavy
Deuce Parks
Dieselboy
Dimond Saints
DJ Mel
Ekali
Elohim
Ephwurd
Eprom
Falcons
Fallen
Fat Tony
Flatbush Zombies
Friction
Funtcase
G Jones
Galantis
Gamma
Getter
Goldfish
Gramatik
GRiZ
Gryffin
Herobust
Hicks with Sticks
Hunter Vaughan
illenium
J Phlip
Jerry Folk
JOYRYDE
JPhelpz
Jurassic 5
Kaiydo
Kaskade
Keys N Krates
Kill Frenzy
Kristian Nairn (aka Hodor)
Left/Right
Lido
LondonBridge
Louis the Child
Madhatter
Major Lazer
Marshmello
MC DINO
Metrik
Michael Christmas
MK
Moksi
Morpei
MSCLS
My Nu Leng
NGHTMRE
OneG
Paper Diamond
Paperwater
Pham
Phantogram
Pouya
Prismo
Pusher
Quix
Rae Sremmurd
Redlight
Rich Chigga
Sage Armstrong
Seven Lions
Sikdope
Sinden
Sirus Hood
Slander
Snails
Space Jesus
Taiki nulight
Tim Gunter
Tokimonsta
Trips Ahoy
TroyBoi
Vicious Viv
Wavedash
What So Not
Will Clarke
Wingtips
Wintertime
Zander
ZHU
Middlelands three-day festival passes are now available at Middlelands.com.