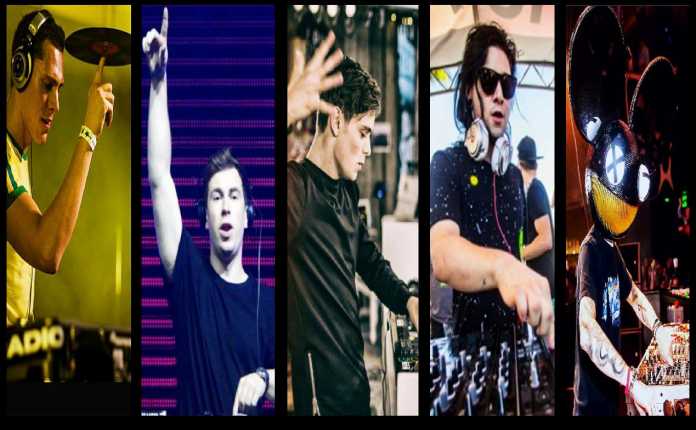 These days every raver thinks they know everything about their favorite Dj's. Some people even pride themselves on how much they think they know about the EDM world. The facts listed below might shock you, some of today's Dj's are quite interesting.
Here's 25 interesting facts you probably didn't know about your favorite Dj's.
1. The Trance legend himself 'Armin Van Buuren' surprisingly has a Master's Degree in Law. Specializing in business law, he graduated from the University of Feiden in the Netherlands. He's also the only DJ that held the top spot at DJ Mag for 4 times consecutively.
2. When Tim Bergling was trying to figure out what his Dj name would be, he shockingly picked 'Avicii'. In Buddhism, this term refers to lowest level of the Naraka or hell. A realm into which the dead who have committed grave misdeeds may be reborn.
3. The crazy electro DJ duo known as 'Dada Life' actually met at a chili cook-off in Sweden. After feasting on chili and talking about music, Olle and Stefan hit the studio and 'Dada Life' was born.
4. 'Hardwell' started his DJ career when he was only 13 years old and his first release was signed by a Dutch label when he was only 14. So as we all know, you must be 18 to get into clubs in Europe , which meant Hardwell had to be accompanied by his parents when he embarked on his first Dutch tour at the age of 14, and then constantly up until he turned 18.
5. Ever wonder how Producer/Dj 'Moby' picked his Dj name? He's the great-great-great grandson of the Herman Melville, the author of the successful book Moby Dick.
6. 'Skrillex', also known as Sonny Moore has more grammy awards than any other Dj in the EDM world. Another fun fact about Skrillex is before becoming an EDM Dj he was in the hardcore band called 'From First to Last'.
7. From the 80's to the early 2000's 'Depeche Mode' reigned as one of the biggest electronic music acts. Although they inspired many, their biggest fans Russel Faibisch and Alex Omes, creators of the Ultra Music Fest, decided to name their annual Miami gathering after one of Depeche Mode's albums called Ultra, wow!
8. Although most fans know that 'Kaskade' is a dedicated Mormon, most do not know that he spent 2 years in Japan as a missionary. While there, he learned Japanese and worked full time with the Church of Jesus Christ of Latter-Day Saints.
9. Obviously the former members of Swedish House Mafia must of been friends in order to all join forces, but how long did they actually know each other before that? According to 'Steve Angello', him and 'Sebastian Ingrosso' have been life long friends. Meeting back when they were 6 years old, the two state they've been causing trouble ever since they've met.
10. 'Sunnery James and Ryan Marciano' both come from the same area of Amsterdam, but before they were touring around the world making chart-topping hits, this pair began their friendship at a sports retail store. James was asked to hire new interns, and Marciano was one of the first to walk in the door.
"When I hired him we instantly became friends. Since the first day we worked together it was friendship, and every day we would talk about music and everything, just like today."
11. Thomas Pentz, famously known as 'Diplo' got his stage name from his childhood fascination, dinosaurs. His favorite dinosaur was the Diplodocus, a plant eater with a 90 foot long neck.
12. Another famous Dj getting his stage name from an animal is 'Deadmau5'. In his early teens while working on his computer it suddenly crashed and smelled terrible. He immediately opened it up to find a dead mouse inside, who would have know.
When people started referring to him as the "dead mouse guy," he embraced the nickname, using a numeral to shorten the name because "deadmouse" was too long for the internet chat rooms where he hung out.
13. This fun fact is a little bit more well known about the famous 'Steve Aoki'. His dad was the founder of the huge restaurant chain known as Benihana's. Steve worked there as a kitchen aid and would eventually quit to pursue music against his fathers will.
14. This is kind of a cool fact, back in 2004 world's famous Dj 'Tiesto' was the first DJ ever to perform at the Olympics.
15. Although not as famous as some of the other Dj's mentioned above, 'Tocadisco' got his stage name from it's literal meaning. In Spanish, Tocadisco means "Turn Table". Sounds like he came up with that one pretty quick.
16. Probably wouldn't want to pick a fight with this guy, 'Laidback Luke' is a registered Kung Fu Master! He even competed in a Martial Arts World Championship in China back in 2013.
17. This is something that few might know, famous Dj's 'Hardwell' & 'Tiesto' were born in the same town of Breda in the Netherlands. Their first track labeled "Zero 76" is the area's code for that town. That's pretty cool.
18. 'Zedd' is known today for his huge house anthems, but he started as a classically trained musician. It's said he started playing the piano & drums at the age of 4!
19. The duo known as 'Daft Punk' have famously worn custom LED masks most of their professional careers. What you might not know is that they haven't allowed any pictures taken of their actual faces since may of 2006. Keep up the good hiding boys.
20. Young 'Madeon' first went by the Dj name of "Dj Deamon" eventually changing it to Madeon. Smart move kid.
21. 'DJ Snake' real name William Grigahcine earned the moniker "Snake" after he constantly evaded the police due to his graffiti art, and then started using DJ Snake after the moniker stuck.The original name for his biggest hit "Turn Down For What" was "Bang The Underground", and DJ Snake wanted Redman to be on the track initially.
22. 'Calvin Harris' said, the reason that he dropped his real name is a little silly. Apparently, he decided to be "Calvin Harris" instead of "Adam Wiles" because he thought the "racial ambiguity" would bode better for his career.
"I thought people might not know if I was Black or not," Harris said in 2009, after his first soul-infused single dropped. "After that, I was stuck with it."
23. Fun fact, the average age of the top 100 Dj's is 37.
24. This is something I did not know, 'RL Grime' and 'Clockwork' are the same guy. with RL Grime dropping the bass-heavy trappy stuff and his other persona Clockwork playing more melodic and tribal music.
25. Last but not least, 'Fatboy Slim' used to be the drummer and lead vocalist of the band "Disque Attack".