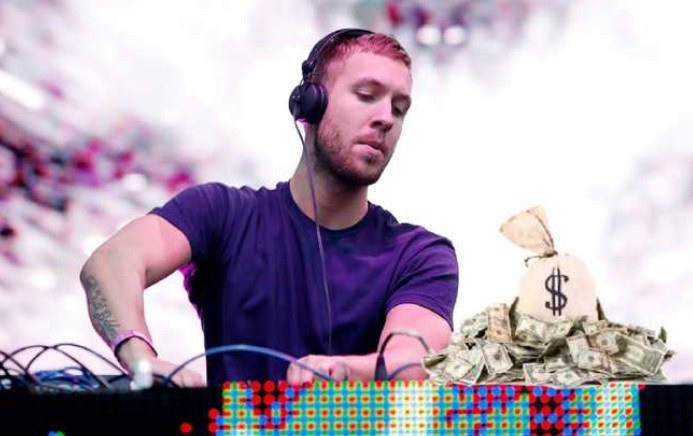 Forbes has once again published their annual 'The World's Highest-Paid Celebrities List'. Over the past 12 months, the world's 100 highest-paid celebrities pulled in $5.15 billion more than the combined GDP of Belize, Liberia and Gambia.
Topped by Sean Combs aka Diddy and Beyonce, this list also features a wide range of musicians from other genres, and even a few Electronic Dance Music DJs and producers as well.
The first EDM name on the list is, no surprise, the Scottish DJ and producer Calvin Harris,  ($48.5 million), followed by the Dutch legend, Tiesto ($39 million) and the American duo The Chainsmokers ($38 million).
Take a look at the full list below.
Rank, Name, Earnings (Category, Country)
1. Diddy, $130 million (Musician, U.S.)
2. Beyoncé, $105 million (Musician, U.S.)
3. J.K. Rowling, $95 million (Author, U.K.)
4. Drake, $94 million (Musician, U.S.)
5. Cristiano Ronaldo, $93 million (Athlete, Portugal)
6. The Weeknd, $92 million (Musician, Canada)
7. Howard Stern, $90 million (Personality, U.S.)
8. Coldplay, $88 million (Musicians, U.K.)
9. James Patterson, $87 million (Author, U.S.)
10. LeBron James, $86 million (Athlete, U.S.)
11. Guns N' Roses, $84 million (Musicians, U.S.)
11. Rush Limbaugh, $84 million (Personality, U.S.)
13. Justin Bieber, $83.5 million (Musician, Canada)
14. Lionel Messi, $80 million (Athlete, Argentina)
15. Dr. Phil McGraw, $79 million (Personality, U.S.)
16. Ellen DeGeneres, $77 million (Personality, U.S.)
17. Bruce Springsteen, $75 million (Musician, U.S.)
18. Adele, $69 million (Musician, U.K.)
18. Jerry Seinfeld, $69 million (Comedian, U.S.)
20. Mark Wahlberg, $68 million (Actor, U.S.)
21. Metallica, $66.5 million (Musicians, U.S.)
22. Dwayne "The Rock" Johnson, $65 million (Actor, U.S.)
23. Roger Federer, $64 million (Athlete, Switzerland)
24. David Copperfield, $61.5 million (Magician, U.S.)
25. Kevin Durant, $60.6 million (Athlete, U.S.)
26. Garth Brooks, $60 million (Musician, U.S.)
26. Elton John, $60 million (Musician, U.K.)
26. Gordon Ramsay, $60 million (Personality, U.K.)
29. Ryan Seacrest, $58 million (Personality, U.S.)
30. Chris Rock, $57 million (Comedian, U.S.)
31. Vin Diesel, $54.5 million (Actor, U.S.)
32. Paul McCartney, $54 million (Musician, U.K.)
32. Red Hot Chili Peppers, $54 million (Musicians, U.S.)
34. Louis C.K., $52 million (Comedian, U.S.)
35. Jimmy Buffett, $50.5 million (Musician, U.S.)
35. Adam Sandler, $50.5 million (Actor, U.S.)
37. Andrew Luck, $50 million (Athlete, U.S.)
37. Rory McIlroy, $50 million (Athlete, U.S.)
39. Jackie Chan, $49 million (Actor, China)
40. Calvin Harris, $48.5 million (Musician, U.K.)
41. Robert Downey, Jr., $48 million (Actor, U.S.)
42. Steph Curry, $47.3 million (Athlete U.S.)
43. Dave Chappelle, $47 million (Comedian, U.S.)
43. Judy Sheindlin, $47 million (Personality, U.S.)
45. James Harden, $46.6 million (Athlete, U.S.)
46. Lewis Hamilton, $46 million (Athlete, U.K.)
47. Kim Kardashian West, $45.5 million (Personality, U.S.)
48. Drew Brees, $45.3 million (Athlete, U.S.)
49. Taylor Swift, $44 million (Musician, U.S.)
50. Simon Cowell, $43.5 million (Personality, U.K.)
50. Phil Mickelson, $43.5 million (Athlete, U.S.)
52. Tom Cruise, $43 million (Actor, U.S.)
53. Kenny Chesney, $42.5 million (Musician, U.S.)
53. Steve Harvey, $42.5 million (Personality, U.S.)
55. Luke Bryan, $42 million (Musician, U.S.)
55. Celine Dion, $42 million (Musician, Canada)
55. Jay Z, $42 million (Musician, U.S.)
58. Sofia Vergara, $41 million (Actor, Colombia)
59. Kylie Jenner, $41 million (Personality, U.S.)
60. Bruno Mars, $39 million (Musician, U.S.)
60. Tiësto, $39 million (Musician, Netherlands)
62. Russell Westbrook, $38.6 million (Athlete, U.S.)
63. Sebastian Vettel, $38.5 million (Athlete, Germany)
64. Damian Lillard, $38.4 million (Athlete, U.S.)
65. Shah Rukh Khan, $38 million (Actor, India)
65. Jennifer Lopez, $38 million (Musician, U.S.)
65. The Chainsmokers, $38 million (Musician, U.S.)
68. Novak Djokovic, $37.6 million (Athlete, Serbia)
69. Amy Schumer, $37.5 million (Comedian, U.S.)
70. Tiger Woods, $37.1 million (Athlete, U.S.)
71. Salman Khan, $37 million (Actor, India)
71. Neymar, $37 million (Athlete, Brazil)
71. Bill O'Reilly, $37 million (Personality, U.S.)
71. Dolly Parton, $37 million (Musician, U.S.)
71. Ed Sheeran, $37 million (Musician, U.K.)
76. Dwayne Wade, $36.2 million (Athlete, U.S.)
77. Fernando Alonso, $36 million (Athlete, Spain)
77. Sean Hannity, $36 million (Personality, U.S.)
77. Rihanna, $36 million (Musician, Barbados)
80. Bon Jovi, $35.5 million (Musician, U.S.)
80. Akshay Kumar, $35.5 million (Actor, India)
82. Billy Joel, $35 million (Musician, U.S.)
83. Dr. Dre, $34.5 million (Musician, U.S.)
83. Florida Georgia Line, $34.5 million (Musician, U.S.)
83. Toby Keith, $34.5 million (Musician, U.S.)
83. Jordan Spieth, $34.5 million (Athlete, U.S.)
87. Derrick Rose, $34.2 million (Athlete, U.S.)
88. Usain Bolt, $34.2 million (Athlete, Jamaica)
89. Gareth Bale, $34 million (Athlete, U.K.)
89. Conor McGregor, $34 million (Athlete, Ireland)
89. Britney Spears, $34 million (Musician, U.S.)
92. Kei Nishikori, $33.9 million (Athlete, Japan)
93. Fletcher Cox, $33.4 million (Athlete, U.S.)
94. Clayton Kershaw, $33.4 million (Athlete, U.S.)
95. Chance The Rapper, $33 million (Musician, U.S.)
95. Katy Perry, $33 million (Musician, U.S.)
97. Carmelo Anthony, $32.6 million (Athlete, U.S.)
98. Jason Aldean, $32.5 million (Musician, U.S.)
98. Kevin Hart, $32.5 million (Comedian, U.S.)
100. Zlatan Ibrahimovic, $32 million (Athlete, U.S.)