If you pay a visit to the White Island this summer, you might spot a magical hot air balloon floating in the sky. Tomorrowland designed an amazing hot air balloon and named it Zephyr.
Zephyr's will be flying over Ibiza all summer long, weather permitting. It weighs 300 kg and measures 22 m x 22 m  x 6.5 m and has room for 2 passengers. Zephyr provides a breathtaking view of the island at the two most beautiful moments of the day: at sunrise and sunset. It's a unique experience courtesy of Tomorrowland.
If you see it, take a photo and post it with #Zephyr. Maybe you'll win a free hot air balloon ride.
Tickets for a sunrise or sunset flight can be booked via zephyr.tomorrowland.com
From Tuesday 4 July, the world famous music festival Tomorrowland will be arriving on Ibiza for the whole summer. Together with Dimitri Vegas & Like Mike and Ushuaia they collaborated on a show that is said to be more surreal, more insane and more exciting than anything ever hosted on the island before.
Besides the Belgian kings for Big Room bangers, Lost Frequencies, Marshmello, Nervo, Steve Angello, Steve Aoki, W&W Edx, Nora En Pure will make up the rest of the line-up.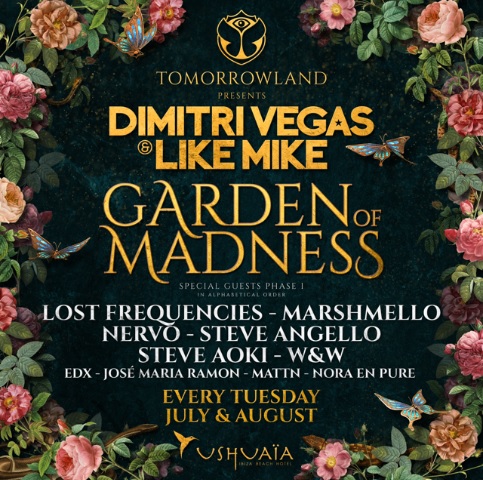 Whilst Ushuaïa Ibiza is known for its exuberance in party creations and since its launch back in 2011 has treated the beautiful island of Ibiza to some of its finest musical moments. The collaboration with the production team from Tomorrowland, who have literally redefined the electronic music festival landscape, is a partnership that will bring to the renowned beach club destination a custom-built stage that will deliver an incredible extravaganza for those lucky enough to experience it. Tomorrowland will be setting up an impressive stage, magical special effects, LED and lighting.
Speaking about their first ever Ushuaïa Ibiza residency Dimitri Vegas & Like Mike said:
"Anyone who has ever been to Tomorrowland will know what to expect from our sets and the festival team's creativity! And anyone who has ever been to Ushuaïa Ibiza will also know the attention to detail that goes into one of their Ibiza parties.
So what we're going to be bring to the island this summer is something that no one will be expecting! Together we're going to create something more surreal, more insane and more exciting than anything ever hosted on the island before!"
If you're lucky enough to make it to Ibiza this summer, don't miss out on Garden of Madness ! More info and tickets here !!!