What would the world be like without DJs? Would it be a grey and barren wasteland, a place where mere loops of hollow kick drums shrink into the distance like tumbleweed in the Mojave desert?
Or would it be life as we know it, but without the joy that comes with losing yourself in a recording of your favorite DJ's festival live set to get you through another day at your 9-to-5 desk job?
As it happens, Armada Music was hell-bent on finding the answer to this terrifying question. And today, the Amsterdam-based record label shares its findings with you all.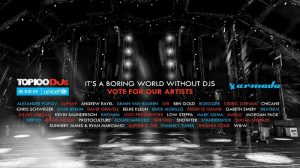 Through a custom-made video, Armada Music shows us a world in which DJs are no longer. Where the only beats you hear are the fast-paced footsteps of those trying to catch their train during rush hour. Where the only things seamless are not DJ mixes, but the whines of spoilt children in a toy store.
Watch the video below.
Does that sound like a world you want to live in?If your answer to that question is a resounding "NO", step up and fight for the preservation of the DJ.
Vote here!