Having already taken over Ibiza earlier this summer, making a spectacular debut, with an exclusive eight-week residency at Privilege, while preserving the raw underground vibe of the venue, RESISTANCE, Ultra Worldwide's ever-growing house and techno arm, announces monumental plans for this fall.
11 different countries will host Ultra RESISTANCE over the coming 60 days, with events set to run in Shanghai, Medellín, Mexico City, Rosario, Córdoba and the United Kingdom for the very first time, while Tokyo, Buenos Aires, Bali, Rio de Janeiro, Asunción and Lima all prepare to welcome back the behemoth concept with some countries even preparing to host multiple shows.
Ultra RESISTANCE Ibiza will also continue its hugely successful run at Privilege every Tuesday until September 12. The Resistance Ibiza 2017 Official Film is available to watch now, produced by Final Kid. Transporting the viewer into the 'alternate dimension' present at the club and vividly displaying the second-to-none production and jubilant atmosphere, Final Kid's movie is a triumphant celebration of this monumental residency.
Check out the Ultra Resistance Ibiza 2017 Official Film below.
The expansion RESISTANCE continues to sustain since debuting in 2015 is truly unprecedented, with the concept now operating across five continents worldwide. The next two months will see RESISTANCE host some of its biggest shows to date, with world-class talent and state-of-the-art production on hand to transform every show into its own mini-festival.
Just some of the names set to perform at the upcoming events include Adam Beyer, Carl Cox, Dubfire, Jamie Jones, Joseph Capriati, Nic Fanciulli, Nicole Moudaber, The Martinez Brothers, Paco Osuna, Richie Hawtin, Sasha | John Digweed, Seth Troxler, and Stephan Bodzin with many more still to be announced.
RESISTANCE will debut in Shanghai on September 9-10 at ULTRA China, before heading south along the South China Sea, to become a part of the newly formed Bali Music Week that will take place on September 14-16. Ultra RESISTANCE will host three separate events throughout the week on Bali's idyllic shores, with two nights at Jenja Club on September 14 & 15, before bringing the house down at a one-off closing party in Ku De Ta on September 16. RESISTANCE will then return to Tokyo for its third year in a row on September 16-18.
With a presence already in Croatia and Ibiza, The United Kingdom will become the third European location to host RESISTANCE, as it takes over 'The Meadow' stage at Nic Fanciulli's The Social Festival on September 29 & 30.
When October arrives, RESISTANCE sets its sights on South America, with SEVEN standalone shows confirmed alongside a debut at ULTRA Mexico and the returning ULTRA Brasil. Having first made its name in Buenos Aires in 2015, RESISTANCE will return to the capital of Argentina for two back to back weekends October 7 & 15, while a further two events are also primed for Rosario and Córdoba on October 13 & 14.
RESISTANCE Asunción and Lima will each return for their second editions on October 6 and October 13 respectively, with both events having had a huge impact last year in establishing RESISTANCE's name on the continent. RESISTANCE Lima was the first ever standalone show and you can relive the experience with the recently released aftermovie here. All the while, RESISTANCE will debut in Colombia in Medellín on October 14 with a lineup filled with headlining talent.
Lineups for other remaining shows will be announced soon.
With RESISTANCE set to close out the calendar year with 14 events across four continents – from Ibiza to Shanghai to Rio de Janeiro – in the space of a mere 60 days, it's safe to say that the once budding concept has expanded into an international movement. Join the RESISTANCE.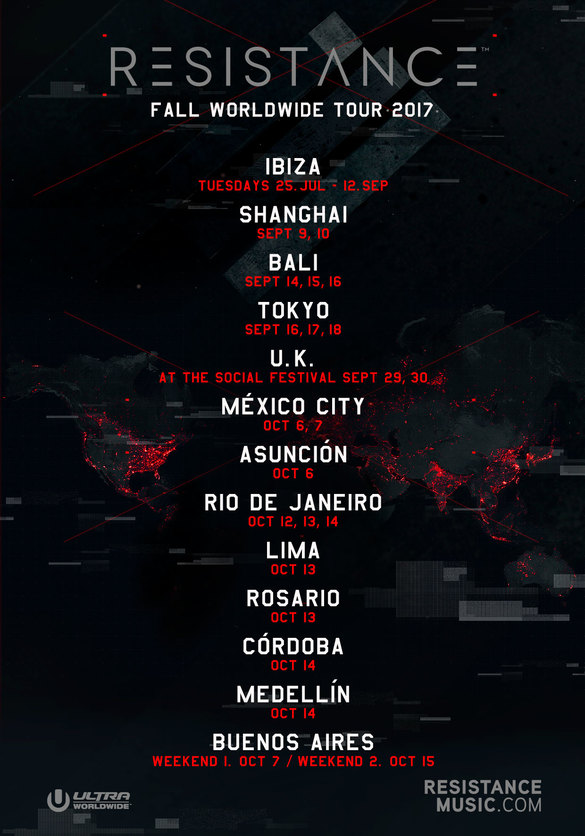 RESISTANCE FALL TOUR
Tuesdays, August 22–September 12 – RESISTANCE @ Privilege Ibiza – Ibiza
September 9-10 – RESISTANCE @ Ultra China – Shanghai Expo Park, China
September 14-15 – RESISTANCE After Hours @ Jenja Club – Bali, Indonesia
September 16 – RESISTANCE Bali Music Week Closing Party @ Ku De Ta – Bali, Indonesia
September 16-18 – RESISTANCE @ Ultra Japan – Tokyo Odaiba Park, Japan
September 29-30 – RESISTANCE Presents 'The Meadow' @ The Social Festival – UK
October 6-7 – RESISTANCE @ Ultra Mexico – Foro Pegaso, Mexico
October 6 – RESISTANCE Asunción – Puerto de Asunción, Paraguay
October 7 – RESISTANCE Buenos Aires Weekend 1 @ Mandarine Park – Argentina
October 7 – RESISTANCE Córdoba @ La Fábrica – Argentina
October 12 – 14 – RESISTANCE @ Ultra Brasil – Sambódromo, Rio de Janeiro, Brasil
October 13 – RESISTANCE Lima @ Green Arena – Peru
October 13 – RESISTANCE Rosario @ Metropolitano – Argentina
October 14 – RESISTANCE Medellín @ Parque Norte – Colombia
October 15 – Buenos Aires Weekend 2 @ Mandarine Park – Argentina