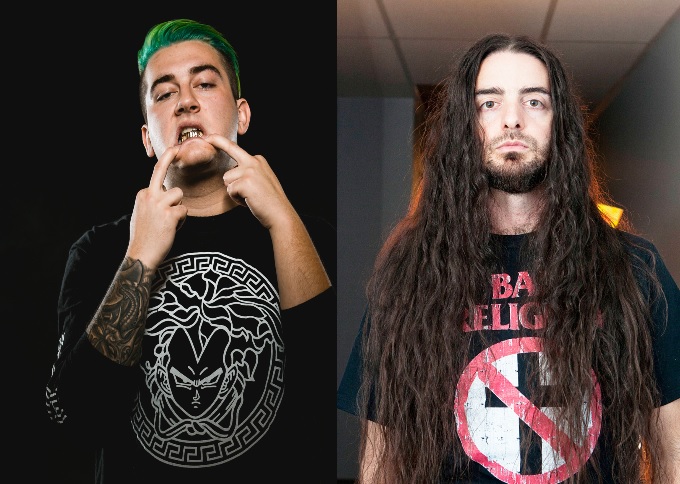 Last night in Washington DC, strange dress-code rules were being enforced at Getter's show that you wouldn't believe.
The show took place at the famous Echostage venue in DC. The event also had a pretty stacked lineup including Getter, Party Favor and Spock.
Being a Halloween event, you'd think all costumes and attire would be welcome. Well, they weren't. Attendees wearing any Bassnectar merchandise were turned away by security and not permitted in the venue. Kandi and glow-sticks were also not allowed.
Literally @echostage security just said "no @bassnectar attire allowed" as we enter for a Getter & Party Favor event in DC??! I need answers

— Jenna Kassul (@jennakassul) November 1, 2017
Getter clearly isn't down for the whole PLUR thing. Here's a few other tweets from attendees last night..
Getter is literally not allowing glowsticks, candy or BASSNECTAR MERCH to his show. This is the most petty thing I've ever seen

— Soss (@sosstradamus) November 1, 2017
Just saw a snap from Getter last night at Echo & the bouncer says "the artists are requesting no candy, no glow sticks, no Bassnectar"

— Dinah (@ninahdew) November 1, 2017
According to Getter, this was all the result of a joke gone bad due to a line item on his rider, and now he's trying to mop up the pieces and defend himself against angry Bassnectar fans.
that bassnectar thing was a joke
pls chill
didn't think it would ACTUALLY be enforced
if u missed out cuz of it lmk ill personally refund u

— cooch cougar (@GetterOfficial) November 1, 2017
ppl put dumb shit on their rider all the time i know someone that puts strippers on it as a joke. no one really gets them a stripper tho lol

— cooch cougar (@GetterOfficial) November 1, 2017
i put "no bassnectar merch aloud" on my rider and ppl took it seriously ‍♂ https://t.co/TrJeXRaLwz

— cooch cougar (@GetterOfficial) November 1, 2017
it
was
a
joke
calm
down
*breathe* https://t.co/42dxyDGDtu

— cooch cougar (@GetterOfficial) November 1, 2017
was it a joke when your fans were denied entry to a show they paid for? any comments on this?

— buttfumbler (@srynotfrmhere) November 1, 2017
joke gone wrong yea. like i said if u paid and didn't get in ill refund u and buy u more bassnectar merch https://t.co/cpglYD9uRW

— cooch cougar (@GetterOfficial) November 1, 2017