When you've already conquered the world with a plethora of global smashes and an album to die for, heading up your own label sure seems like the next logical step to take.
And indeed it is so for the young Belgian DJ superstar Lost Frequencies, who comes fresh from some of the most impactful singles of the past few years to launch his own label in partnership with Armada Music: 'Found Frequencies'.
Poised to set a new precedent in eclectic selection and releases that we've come to know Lost Frequencies for as an artist in his own right, both in and out the studio, 'Found Frequencies' will provide a new platform for not just his own releases, but passing on the baton to artists both bubbling up and already-established.
the genre-driven envelope in not stopping at chill, atmospheric vibes, Lost Frequencies will also highlight a broad spectrum of jump-up house, sunset ready beats and prime dancefloor bangers – get ready to find the frequencies of tomorrow…
Radiating a feeling of bygone days while still remaining upbeat and feel-good, 'Crazy' is the next infectious single from the hand of Lost Frequencies and the very first release on his brand-new Found Frequencies imprint.
A marvelous team-up with Dutch duo Zonderling, this song is empowering, full of character and sure to find its way to the top of your playlist.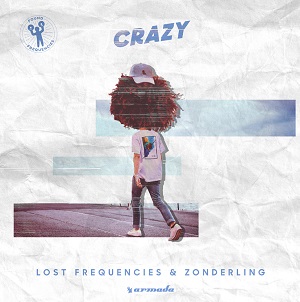 Lost Frequencies: "I'm really happy to see the launch of my label, Found Frequencies. It will serve as a home to my own music, and I hope it will become the go-to label for up-and-coming talents as well, as it goes way past chill vibes only. I intend to release a few club records of my own on the label and as for the rest, the sound correlates with everything I play in my live sets or add to my playlists. I really hope it's a musical taste many find enjoyable."
Listen to the track here.