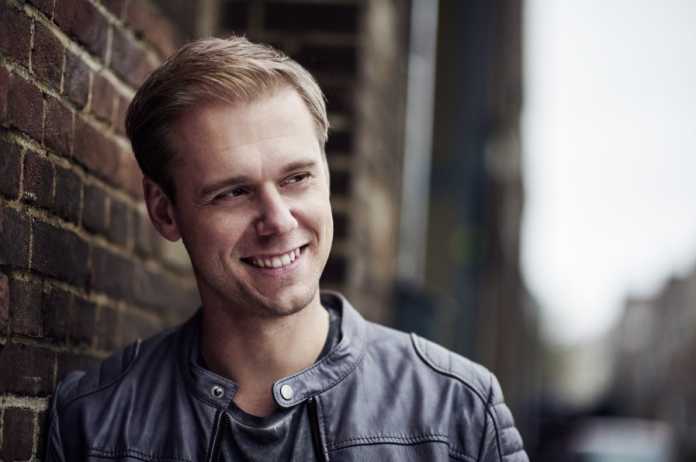 Recognised as a Trance music legend amongst the electronic dance music society, Dutch DJ and producer, Armin van Buuren, always brings with him an exciting and refreshing take on a scene that continues to evolve. 
Voted number one DJ in the world according to DJ MAG on a record five occasions, the Dutch superstar who recently celebrated his 20th anniversary in the world of music, never fails to deliver when behind the decks. Coming equipped with exceptional technical skills, an electrifying presence and that added personal touch which always make him stand out, Armin van Buuren truly is one-of-a-kind.
And despite being one of the busiest men in electronic dance music industry, Armin van Buuren was kind enough to sit with us and give an interview for Rave Jungle before his incredible performance at Solar Christmas in Sofia, Bulgaria.
Check out the full interview below.
Armada recently challenged some of their artists to step out of their comfort zone and produce a track in a genre they are not familiar with. Can you produce a Techno track for the next Breaking Borders EP ?
Armin: I already did a Techno version of my track "I Live For That Energy", but it won't find its place on the next Breaking Borders EP.
It has been 5 years since your documentary 'A Year with Armin Van Buuren'. Is your VLOG maybe a preparation for a sequel in the near future ?
Armin: My VLOG is hapenning right now :))) My camera is currently recording this for the next episode 🙂
So, your VLOG series are preparation for a sequel ?
Armin: There's no plans for a sequel at this moment, i mean we just released a six part documentary this year, which is also about my life and music, so i don't know maybe in the future.
You had an amazing 5 hour performance at Untold Festival in Romania this summer. Can you reveal why you got so emotional during RAM's track 'RAMsterdam' ?
Armin: It was because there was a girl in the front crowd and she was crying like all night, it was such a beautiful moment, the sun was coming up and there were 40,000 fans still dancing… I mean that was a very happy moment i guess…
US fans had an unforgetable moments during GAIA's performace at Dreamstate. Can we expect more appearances from the duo next year or maybe a tour ?
Armin: You have to ask them, i don't know about the bookings :))
It's very rare to see them, i think they had only one performance last year ?
Armin: Yes, yes i guess they wanna keep it special 🙂
How did you came up with the idea for your "Technical Difficulties" performance ?
Armin: It was based on a CD that my father had in his collection when i was a kid. You know, when you buy a stereo you get a free CD to say left channel, right channel, so i wrote the lyrics, and i had a guy to record the voice. Actually it was written only for the Armin Only show, but people liked it so much so i played it during my other shows.
What about holograms ? I'm talking about Eric Prydz' EPIC visuals. Can we expect something like that for your future shows ?
Armin: I really don't know, never say never, but this is not a plan at the moment. I really like Eric Prydz and i think his hologram thing is amazing, so yeah who knows, maybe in the future.
You are the first DJ ever to release a Christmas song. Can you tell us more about "Christmas Days" ?
Armin: It's not true, because Kaskade is the first DJ who did a Christmas album, but maybe i'm the first Trance DJ to release a Christmas song :))
You recently released your 'A State of Trance Year Mix'. What are your top 3 favorite Trance tracks for 2017 ?
Armin: My top 5 tracks for 2017 would be : 'Davey Asprey – Fallout', 'Ben Nicky – Hectic', 'Armin van Buuren – My Symphony', Yahel & Tammy – Cloud9 (Oraw Remix) and 'Neelix – 1000 Sterne'.
If you had to pick one electronic, and non-electronic artist to collaborate with for a track who would they be ?
Armin: If i have to pick from electronic artists that would be Eric Prydz or Daft Punk, and non-electronic  hmmmm.. i really don't know, Chris Martin maybe from Coldplay.
Any plans for the future ?
Armin: Yeah, i'm working on a lot of new songs, i already finished the next 3 singles for 2018, a lot od new instrumental Trance tracks, i'm also working on a few collaborations at the moment, i haven't planned a new album yet but maybe in 2019 i don't know. I'm currently working on GAIA's album to be done so this is a priority to me this year… yes big things are coming this year, really big things but i cannot reveal everything 🙂