In the wake of pop-scented singles such as 'I Need You' and 'Sunny Days', no dance music enthusiast ought to be surprised to hear that Dutch DJ and producer, Armin van Buuren loves to broaden his horizon and explore different genres and musical influences.
The world-renowned Dutchman keeps finding new ways to delve into previously uncharted territories and now, the five-time DJ Mag champion has done so again for his brand-new single: 'Sex, Love & Water', featuring Australian singer-songwriter Conrad Sewell, known for his work on Kygo's smash hit 'Firestone'.
Made in collaboration with – among others – the legendary Scott Storch (who wrote/produced global hit songs for the likes of 50 Cent, Beyoncé, Dr. Dre, Chris Brown, Christina Aguilera, Justin Timberlake, Mario, Ricky Martin, Sean Paul and more), 'Sex, Love & Water' features a set of severely infectious rhythm guitars that thrive amidst sexy horns and swaying grooves.
Laced with Conrad Sewell's high-register vocals and a splash of vibes that make you want to hit the dance floor, this tune and its brilliant music video (with Conrad Sewell taking a lead role) are all you need to turn life into the best party around.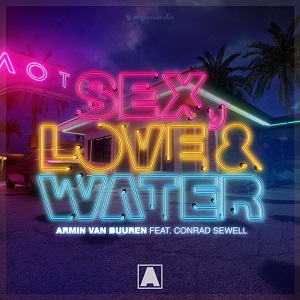 Here's what Armin van Buuren had to say about 'Sex, Love & Water' :
"I've long been toying with the idea of diving into some funk or disco-flavored music for a change. So when the magic started flowing in a studio in L.A., I was really eager to explore this side of me. Adding the likes of Conrad Sewell and Scott Storch to the record truly proved the icing on the cake and I'm really glad to see that our new track, 'Sex, Love & Water', saw its official release today."
Conrad Sewell: "I got a call from Scott Storch that he was working on a funky track with Armin in L.A.. It was a vibe in the room, everyone was playing along like we were jamming at an old '70s night. The song spoke to us immediately, it felt great and like something we haven't heard in a while. I hope the song brings the world good times and good vibes. I also hope everyone enjoys dancing to it as much as we did the night we made it."
Listen to the track below!