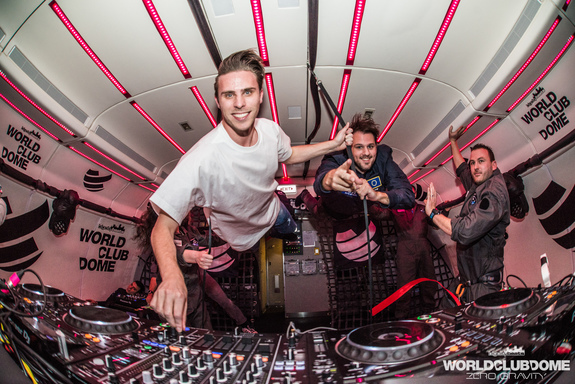 The highly anticipated WORLD CLUB DOME Zero Gravity event took off from Frankfurt Airport this past Wednesday, February 7, becoming the first club event in history to be hosted in weightlessness. The flight was the official pre-party to the "Hollywood Edition" of BigCityBeats' WORLD CLUB DOME scheduled for June 1-3, 2018 in Frankfurt.
Together with the ESA, Fraport AG and the City of Frankfurt, BigCityBeats has shown what is possible when the fascination of science meets the joy and fun of entertainment.
A Zero-G Airbus normally used only for training by scientific teams and the European Space Agency (ESA) was transformed into a club for the WORLD CLUB DOME Zero Gravity event. International DJs Steve Aoki and W&W joined over 50 other people, including winners from countries as diverse as Australia, Brazil, Korea, India and Germany, on a 90-minute flight that combined the power of music and the novelty of zero gravity. Anyone wanting a shot at securing a place on board had to apply via a 20-second video. Demand for tickets was astonishing with over 30,000 applications submitted.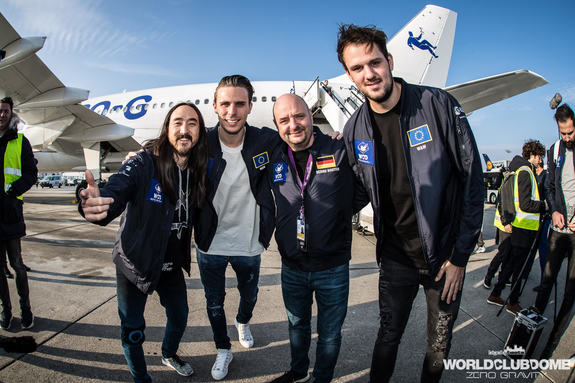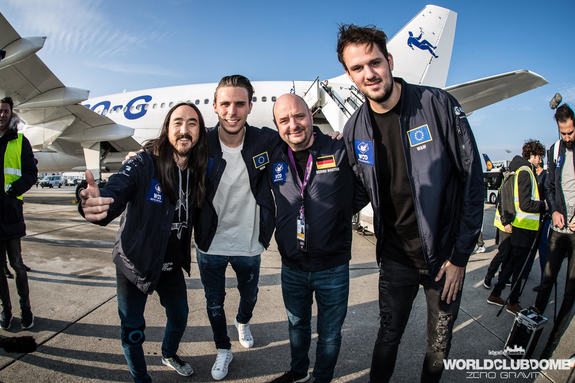 The lucky winners from Germany were Jan Skusa (19, from Zang) and Pascal Hug (26, from Pfullendorf). "What a feeling!" said Jan after returning to earth. "Total loss of control, but an awesome experience."
The DJs, too, were blown away. At the press conference afterwards Steve Aoki said: "WORLD CLUB DOME is one of the best festivals out there. When I got the call from BigCityBeats asking me if I wanted to be part of the Zero Gravity event I jumped at the chance. Only BigCityBeats could come up with something like that. And now I feel like an astronaut."
W&W were no less exhilarated: "We were pretty nervous, but after the first jump it was, like, indescribable – even though any actual DJ-ing was all but impossible in the weightless conditions, because you were always swimming away from the console."
On board were also two ESA astronauts – Jean-Francois Clervoy (Chairman of Novespace, a subsidiary of CNES) and Pedro Duque. Jean-Francois rated the event 12 on a scale of 1 to 10. "It was the first-ever zero-gravity music event," he said at the press conference. "It's one way of blending music and science. And it was a great event."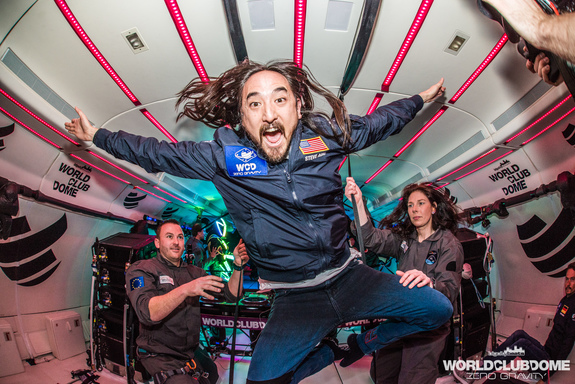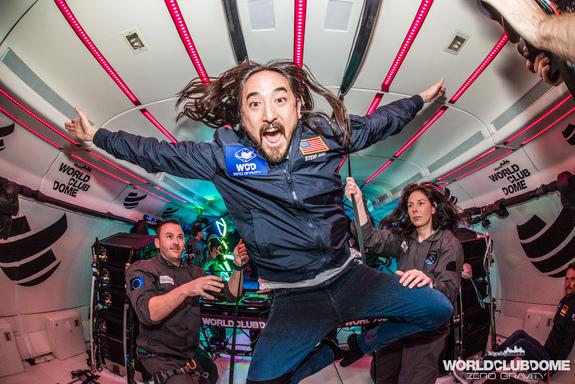 BigCityBeats, the company behind the WORLD CLUB DOME project, developed the idea. The zero gravity event was the official pre-party to the main 3-day WORLD CLUB DOME extravaganza timetabled for June in Frankfurt. This year's WORLD CLUB DOME will be the "Hollywood Edition" and will roll out the longest virtual red carpet ever seen, stretching from Los Angeles to Frankfurt.
City councillor Markus Frank, Frankfurt's commissioner for business, sport, safety and fire services, was impressed by the ideas emanating from BigCityBeats:
"Carina and Bernd Breiter had a wonderful vision a decade ago. We thought it would be a tall order to pack 100,000 young people into our arena, but now the pair have made the world their playground and have infected people around the globe with their idea. And as we see, the ideas keep coming, which is an amazing thing for our city.
It shows another side of Frankfurt – as a place where you can live well and party hard. The Breiters are a great calling card for our city. We're very proud that they have made such fine ideas come to fruition. And now this idea that has created such worldwide interest."
Jürgen Harrer, head of corporate communications at Fraport AG, was also taken by the event.
"Congratulations to the Breiters and the entire team and also ESA. You did a great job. The images beamed to us here were riveting, absolutely out of this world. It goes without saying that, as the biggest air-traffic hub in Germany, Frankfurt Airport is immensely proud to have you as guests here and to have done its part in making this event possible."
BigCityBeats' WORLD CLUB DOME is once again set to transform the Commerzbank Arena in Frankfurt into the "biggest club in the world". The event will be held from the 1st to the 3rd of June 2018. For the sixth time in a row, 20 dance floors, 200 international DJs, 1.8 million watts of sound (on the main stage alone) and 140,000 hearts beating as one will combine to make Frankfurt am Main the world capital of music.
Since 2013 BigCityBeats' WORLD CLUB DOME has been assembling the world's best brands, DJs and live acts in and around the stadium in the heart of Europe. The project has since morphed into a global phenomenon uniting clubbers from an array of cultures around the globe.
Watch the highlights video below.