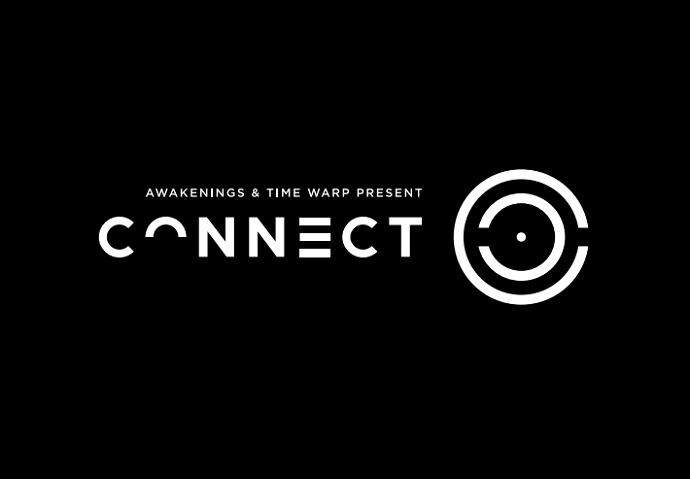 When legends unite, magic is bound to happen. Awakenings and Time Warp join forces to bring you an unprecedented experience with 'Connect'. A synthesis of two brands with a long-standing history, both acclaimed for their distinctive productions, blending into a new music experience.
This special event, held for one night at Messe in Düsseldorf, Germany marks a pivotal point in the history of electronic music events.
Connect showcases an eclectic mixture of international heavyweights alongside fresh talent which perfectly capture the spirit of both brands. It comes as no surprise that the line-up for the premiere event features names such as Richie Hawtin, Solomun, Nina Kraviz, Adam Beyer, Loco Dice, Maceo Plex, Joseph Capriati and Joris Voorn.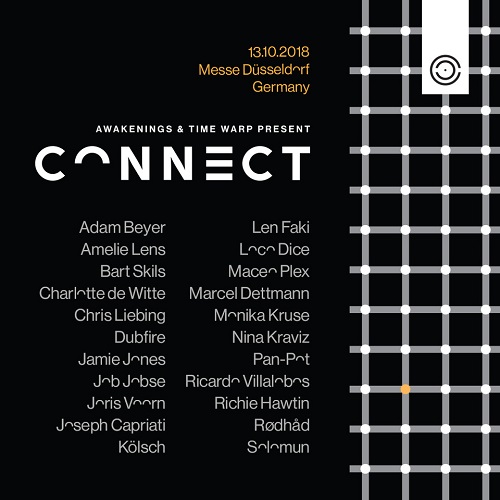 On October 13th 20.000 guests from all over the world will make their pilgrimage to the heart of Germany and celebrate their shared love for electronic music. For this special occasion, Awakenings and Time Warp have pulled all the stops for the line-up of their techno super event.
Adam Beyer, Pan-Pot, Len Faki, Nina Kraviz, Chris Liebing, Joseph Capriati, Amelie Lens, Monika Kruse and Joris Voorn will present their uncompromised techno, whereas Richie Hawtin, Maceo Plex, Charlotte de Witte and Rødhåd will enchant the visitors with their deep and dark flavours.
Acts like Solomun, Loco Dice, Kölsch and Job Jobse will bring the groove to Messe, Düsseldorf. With exotic and sexy sound of Ricardo Villalobos and Jamie Jones, the line-up is sure to take visitors on an exciting journey through the night.
For the last 20 years, Dutch techno brand Awakenings has been making a name for itself by carving out a unique atmosphere and bringing together some of the biggest names in every category of the underground music scene.
As one of the world's biggest techno festivals, their festival weekender at Spaarnwoude, just outside of Amsterdam, is inevitably sold out weeks prior to the event. Tickets for their massive indoor events at the legendary Gashouder Amsterdam are no less sought after. Awakenings Festival, with its eight stages of techno and more than 100 acts, attracts more than 80.000 visitors yearly.
Since its inception in 1994, Time Warp has set the golden standard for techno parties worldwide, each year uniting 18,000 party people and electronic music royalty from across the globe for a marathon house and techno session. Time Warp is a must for any techno head; the winning combination of world-class production, unbeatable sound systems and the chance to see the creme of the electronic crop in one place makes it an essential date in the calendar.
Düsseldorf proves to be the perfect spot for this unique event. Not only does it lie at just the right distance between Mannheim and the Netherlands, but is also the ideal backdrop for this new festival concept.
Early bird tickets have sold out within 15 minutes, first phase tickets have been online since 3PM CET on May 2nd at €60,- with a second batch of final tickets releasing soon at €65,-.