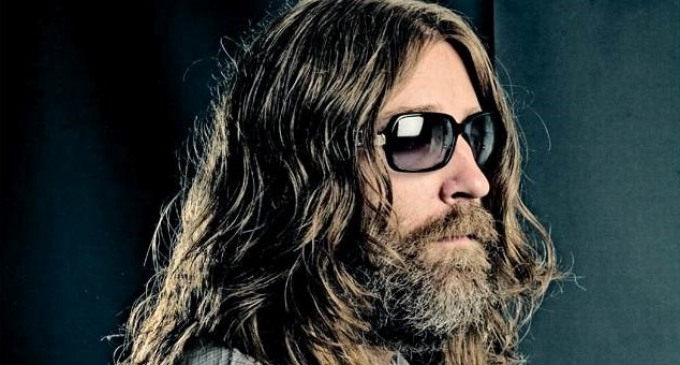 An innovator, a tastemaker, a dance music icon. Whenever Chicago native, Brooklyn-based star Tommie Sunshine turns up with another one of his seminal productions, you can pretty much feel the magnitude of the crowd's cheers and its aftershocks from miles out. Such is the case with 'Lately', Tommie Sunshine's brand-new team-up with Russian duo Funk Machine and American songstress Sabrina Signs, and subsequently his debut release on Amsterdam-based record label Armada Music as well.
Oozing with colorful summer vibes and radiant vocals, 'Lately' sets the mood just right. Paired with the excellent grooves and its innate catchiness, this stellar collaboration could very well be the hottest tune of this summer, the next and every other summer in the decades to come.
Having earned his reputation of being consistently ahead of the curve with a list of avant-garde productions longer than his hair (and at least as iconic), Tommie Sunshine has been one of the artists leading the rise of electronic music.
From remixing superstar artists such as Katie Perry, Elvis Presley, Yeah Yeah Yeahs, Donna Summer, Santana and Fallout Boy and working with the likes of Junkie XL, Deorro, Arthur Baker, and Felix da Housecat to his peerless live sets at the world's biggest festivals (including Ultra Music Festival, Electronic Daisy Carnival and Stereosonic), Tommie Sunshine is a presence the world of dance music just can't do without.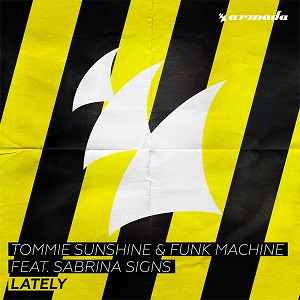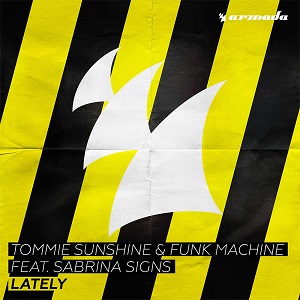 Having recently collaborated with Dutch star Fedde Le Grand on 'Flex' (featuring the legendary General Levy), Funk Machine are a duo on the rise. Armed with an infectious signature sound and a number of acclaimed productions, they have touched down on labels such as Atlantic Recordings, Big Beat Records, Darklight Recordings and Revealed Recordings, and are poised to turn up the ante with more big releases, starting with this superb link-up with Tommie Sunshine on Armada Music.
Maykel Piron, CEO Armada Music:
"The impact Tommie Sunshine has had – and still has – on the dance music scene can hardly be measured. It's great to finally have him on board and we're certain this track will make waves throughout the festival season and beyond."
Tommie Sunshine:
"Years ago, I met Sabrina Signs at EDMBiz during EDC Las Vegas. I heard her music and could tell within those main stage banger top lines she was singing at the time there was a Pop singer waiting to happen. I sent her some of the Pop-leaning tracks I had been working on at the time and she sent back one in particular that really caught my attention: a song called 'Lately'.
Sometime later, I was playing a song called 'Gotta Groove' in all my sets by a group named Funk Machine. I reached out to them because I loved their vibe and knew if we combined our sounds, we could come up with something extraordinary. I looked around for something that could fit the bill and in an instant thought of 'Lately'. After a single day of messing with it, we knew we were working on something special. The rest, as they say, is history…"
Funk Machine:
"As we are big fans of Tommie and the legacy he stands for, we sent him a track called 'Do It Again', which he really liked. Our musical conversation started there and we decided to work on a track together. So when Tommie sent us Sabrina's beautiful vocals, we decided to focus on summer vibes. We are really happy with the result, the collaboration and of course that Armada believed in this record as well!"
Sabrina Signs:
"I had the pleasure of meeting Tommie Sunshine a few years ago at a music conference in Las Vegas. We spent a few hours discussing the music I had sent him and the vision we commonly shared. Tommie then sent me some music he was working on for an album. I was absolutely awestruck by some of the tracks and had written to quite a few of them in the following week.
It was summertime and one particular track just made me remember the feeling of being in love. As I was getting to know Tommie, I started following his beautiful wife commonly known as "Tiny Daniela." They inspired me even more, knowing there is true love out there in this world and in our industry. I wrote 'Lately' in a day while dreaming about the future of our universe with stronger love in it.
I'm not even sure I told Tommie that I was inspired by his relationship with his wife when I wrote this song, but I was so happy to hear that Tommie loved it when he first got it back. After some time, Tommie came back again and the song was taken to an incredible new level. An absolutely fresh, funky and new vibe came to life with the addition of Funk Machine. We hope you enjoy the latest version of 'Lately' as much as we do."
Listen to the track here.