It hasn't even been that long since Armin van Buuren's 'Blah Blah Blah' took the world by storm, but that didn't stop the five-time #1 DJ in the world from adding three more highly anticipated cuts to the equation. Now also comprising 'The Last Dancer' (with Shapov), 'Just As You Are' (as Rising Star) and 'Popcorn' (with Alexander Popov), the 'Blah Blah Blah EP' has arrived to set the dance music realm on fire.
Whereas title track 'Blah Blah Blah' gathered over 4 million views on YouTube in less than three weeks and has proven to be an essential asset to many top DJs' festival live sets, 'Just As You Are' is a song fans have been waiting for since Armin van Buuren last spoiled them with a Rising Star record two years ago.
The song features the dreamy vocals of Fiora (known for linking up with Armin van Buuren on songs such as 'Waiting For The Night' and 'Breathe In Deep') and a sparkling, beguiling melody that sets the hearts and minds of many Trance music fans alight.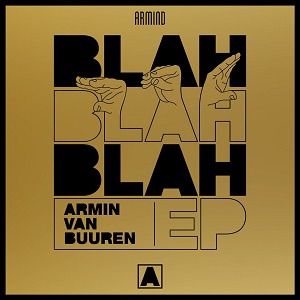 'The Last Dancer' was made in collaboration with Shapov and released a few months back, reaching #1 in Beatport's Trance chart shortly after while notching up many live plays from the world's most popular acts at a host of prestigious festivals.
Rounding out the EP is 'Popcorn', a top-drawer collaboration with Alexander Popov that mimics the festival appeal of 2014 smash 'Ping Pong' and merges it with the power and energy of the leading Trance productions of the moment. All in all, the 'Blah Blah Blah EP' offers a quartet of sensational cuts Trance fans won't be able to stop talking about.
Listen to the tracks here.