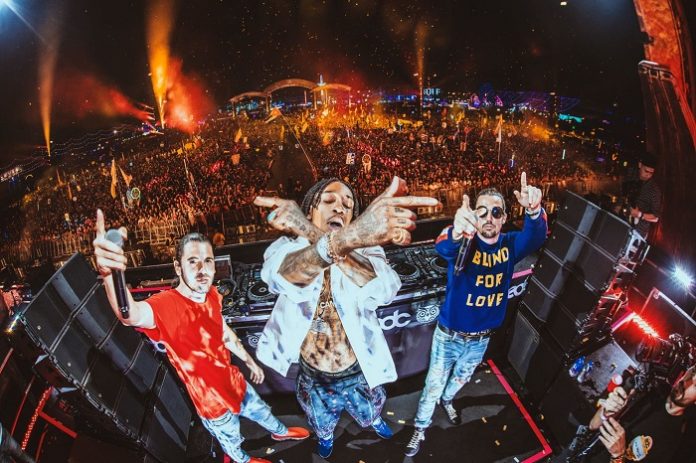 Hip-hop galáctico Wiz Khalifa and electronic music's biggest Big Room duo Dimitri Vegas & Like Mike have aligned for the low-slung collaboration 'When I Grow Up' that ignited the mainstage crowd at EDC Las Vegas last month on its world premiere – and is undoubtedly set to have fans worldwide in a rapture this summer!
The records chorus struts to the rhymes "When I Grow Up, I wanna be like Wiz Khalifa, have lots of cool stuff, When I Grow Up, I wanna hear my music through the speakers, I wanna feel love." Whilst the iconic flows of Wiz Khalifa layer a dense, jackin' vibe to the well-crafted production abilities of Dimitri Vegas & Like Mike.
Wiz Khalifa talking about the collaboration:
"It was super dope that Dimitri & Mike thought of me for this record. Performing it with them live at EDC Vegas really made it come to life for me as well. Very excited for the rest of the world to hear this!"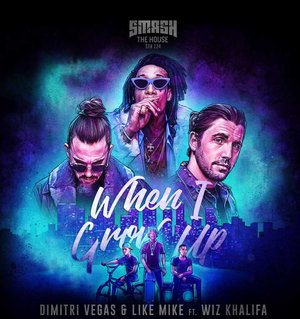 Giving insight into why working with Wiz Khalifa was a dream project, Dimitri Vegas & Like Mike said:
"Our passion for constantly evolving our sound is as strong as the music we love and the artists we respect. Wiz Khalifa is up there for us as one of the modern rappers doing his own thing and defining a new era in hip-hop history. We grew up on that scene and it's been an influence in our sound since the begin, so teaming up with Wiz has been an idea of ours for some years now. Glad we could finally make it happen and share it with you guys!"
Whilst collaborations fusing hip-hop and electronic stars always comes with raised expectations. The impact of this trio's musical artistry on 'When I Grow Up', with the records distinctive flavors and groove, is a demonstration of the trio's nonpareil ability to craft a record that has mainstream draw through its rhythms and crossover production appeal. Signifying the potential for another international radio hit!
Listen to the track below.