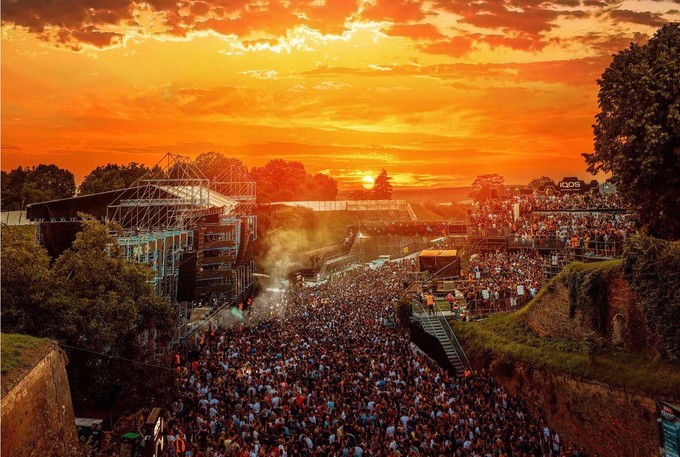 The 18th EXIT festival held on the Petrovaradin Fortress in Novi Sad, Serbia, finished on Monday morning, with nearly 200,000 visitors walking through its gates in the four days and nights of the festival!
This year's edition has surpassed the previous ones with the new production of the Main Stage which featured stellar performances by the hip-hop superstars Migos, the ultimate hitmaker David Guetta, the unstoppable art-pop icon Grace Jones, American hit rocker LP, the upcoming indie-rock star Alice Merton, Sweedish avantgarde singer Fever Ray, 8-time Grammy winner Ziggy Marley, 2-time world's no. 1 DJ Martin Garrix, hitmaker and rapper French Montana, UK's fastest rising producer Jax Jones, hot French dance duo Ofenbach, mysterious producer ZHU, and many more!
The new spectacular looks were also seen at the mts Dance Arena which keept its full 25,000 people capacity from midnight until 8am each morning, thanks to its historic star-studded lineup with Richie Hawtin, Solomun, Maceo Plex, Adam Beyer b2b Ida Engberg, Amelie Lens, Joseph Capriati, Carl Craig, Tale of Us, Guy Gerber, Ben Klock, Boris Brejcha, Disciples, Kolsch, Rodhad, and many more, including the one and only, and always different, Nina Kraviz, whose closing performance once again ended the whole festival, extended its official timetable for a full hour raising the loudest ovations by the audience from 70 different countries, bringing smiles and tears to her face.
She later shared:
"I just played a closing 3 hours set at one of the most special places on earth. Хвала my people for staying with me in the sun until 9 in the morning. Thank you wonderful exit festival team for trusting me and inviting me to close this outstanding festival that has been uniting so many people from all over the world(…)I love you"
Other artists were truly blown away by this year's EXIT too. Grace Jones, impressed by the audience and EXIT's legendary energy, extended her show for 45 minutes while saying that she doesn't want to leave the festival. She had such a good time that she stayed for several more hours backstage chatting with the organizers until dawn.
David Guetta was also ecstatic about the fact that he played the Serbian festival since his early days, and have been a regular ever since:
"EXIT, I wanna thank all of you for coming, it was so good to be back, thank you for following me on my journey, wherever I was taking you you were there, I appreciate you.
"EXIT I love you" Martin Garrix was also impressed: "Thank you so much for the amazing night Unreal crowd and energy" His affections were joined by Maceo Plex, who wrote on his Twitter profile: "Best festival? Very very possible"
Boris Brejcha said: "EXIT <3 I'm in love with you" while the true courage was shown by Anastasia Kristensen, whose father just died and her set infront of 20,000 fans was dedicated to him.
Megastar of the new generation, Amelie Lens, had a fantastic performance at the mts Dance Arena, after which she said: "I felt so nervous as it was my dream to play here and it was amazing! Thank you so much EXIT <3".
Ida Engberg, who performed with her significant other, Adam Beyer, was the witness of the famous Arena sunrise: " Sunrise set at Exit was magical! It was dark when we started to play and as we played the two last songs the sun was rising. So beautiful! Thank you EXIT!"
Watch the EXIT 2018 first Impressions below.