Renowned for pushing borders beyond genre convention and constraint, Maceo Plex's Mosaic will return to Amsterdam this October. The enigmatic electronic music producer has partnered with Dutch Techno festival Awakenings to bring a very special line-up to Gashauder during this years' ADE (Amsterdam Dance Event) 2018 on 19th October.
Having recently hosted his own Mosaic stage at Tomorrowland, Maceo Plex will be joined by one of the most sort after DJs of this decade, Ben UFO and anarchic electro music producer Helena Hauff also in attendance. The night – headlined by Maceo himself – will also see party starting selector Young Marco and multifaceted musician, Floating Points join the stellar billing, as well as Spanish DJ Architectural at the Dutch event.
Located in northwest Amsterdam's Westergasfabriek gasworks complex, Gashouder is a venue and event space housed in an old industrial building. It's a large, pillar-less chamber with an iron roof and a maximum capacity of 3,500, makes it the perfect setting for Mosaic.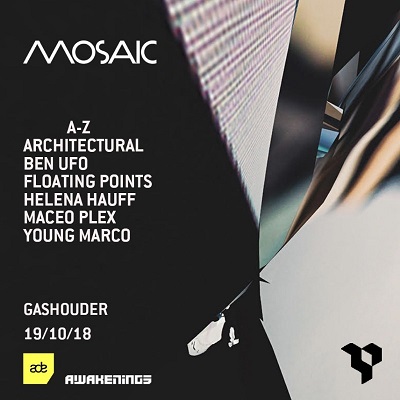 One of ADE 2018's most eagerly anticipated events, Mosaic by Maceo will represent an organic yet surreal, multi-layered and sonically-charged surface. Known for his eclectic sets and diverse mixes, Maceo Plex stands alone in his field, creating a mind-warping blend of dark, brooding techno with minimalist influences.
Tickets for Mosaic x ADE Awakenings are on sale now.