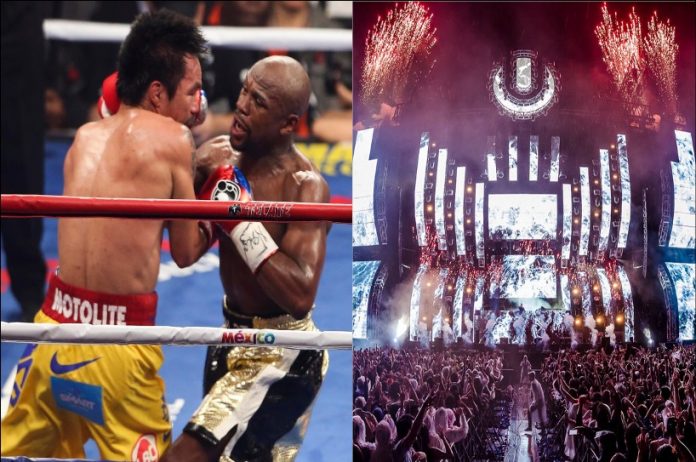 Boxing legend, Floyd Mayweather has claimed he will come out of retirement to face Manny Pacquiao in a rematch in December.
Manny Pacquiao and Floyd Mayweather happened to be in Tokyo, Japan for separate endorsement deals. They met up at Ultra Japan, electronic dance music festival in front of over 100,000 festival-goers at the Odaiba Park yesterday for Ultra Japan's 5th anniversary edition.
Video footage of the standoff between the champion boxers shows a verbal confrontation between the two. From the looks of it, these guys are far from finished with this fight.
The champions were in separate VIP areas enjoying the music until Mayweather walked towards Pacquiao with his Money Team in tow. Then, he called out Pacquiao, yelling "easy money, easy work" and pointing a finger at the Filipino icon.
A source close to Manny Pacquiao said the Senator asked, "why are you calling me out … I thought you're retired." Mayweather began to rant and finally, declared, "I'm coming back in December." He turned a nasty look at Pacquiao and said, "no more shoulder excuses, let's set it up."
"I'm coming back to fight Manny Pacquiao this year" Mayweather shared on his Instagram profile. "Another 9 figure pay day on the way."
"50-1 #NoExcuses," Pacquiao fires back.
View this post on Instagram