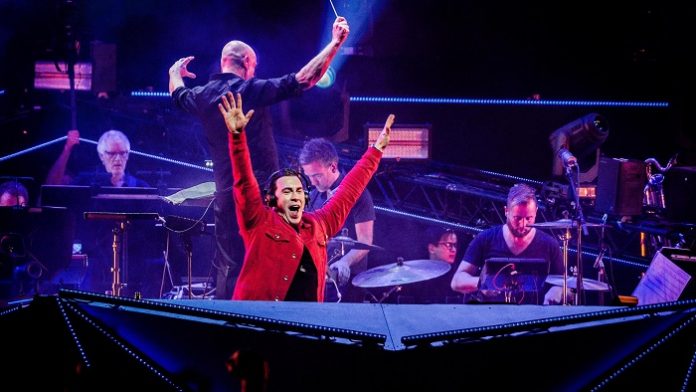 On Thursday night (18th October) Hardwell gave his tentative last show in the Ziggo Dome in Amsterdam. Together with the Metropole Orkest, the DJ took his audience on a journey through the history of dance music with the show Symphony; The Global Revolution of Dance.
After the spectacular orchestral opening by the Metropole Orkest, Hardwell took to the stage and started with the first symphonic episode of the show performing music from 1978 until 1998.
He opened the show with Donna Summer's 'I Feel Love' followed by classic hits like 'Sweet Dreams' by Eurythmics and the legendary 'It's Like That' from Run-DMC. He followed this with an ongoing stream of anthems from the period between 1998 and 2008.
In the third part of the show Hardwell covered music from 2008 until the present day and ended the show with the recently released collaboration 'Conquerors' he did with the Metropole Orkest.
Commenting on the night Hardwell said: "The First selection of music was a 'short' list of 9 hours of music. I literally used the method 'kill your darlings'. It was not an easy task but I am very proud of the result.'
Ritty van Straalen, CEO of ; "After months of preparations it is such an amazing experience for the entire team to see how everything comes together and adds up. At the rehearsals it was clear that there was magic, but tonight was the night and everything was right; the special effects, visuals, the orchestra and the dj. The last couple of years dance music has evolved itself so much. By creating a musical connection between a dj and an orchestra we can show how diverse the music is. Some of these musical pieces are timeless and gave inspiration to so many musicians over the years. And to be able to show this at the biggest and most important electronic music conference in the world, Amsterdam Dance Event, is an amazing experience for all of us".Fourmation Entertainment
Hardwell & Metropole Orkest – Symphony: The Global Revolution of Dance was developed, created and directed by Fourmation Entertainment and was produced by MOJO in cooperation with Sorted Management and Amsterdam Dance Event.
Watch back the full 2 hour show below.