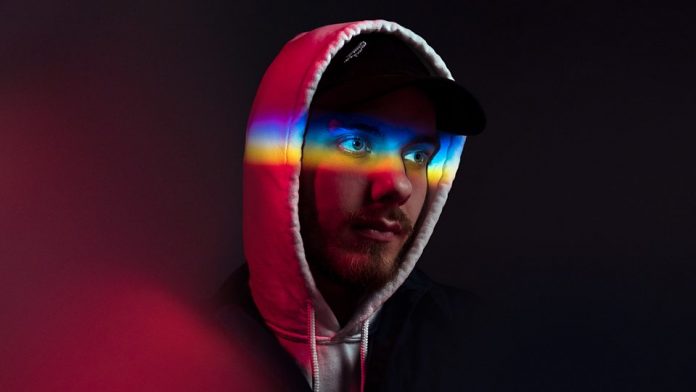 San Holo has had an intense year gaining massive momentum with album1, along with a host of European shows and over 30 scheduled shows during the tour. San Holo first made his impact on me with his releases of, "We Rise" and "BWU" back in 2015, and I was immediately hooked on the melodic and bubbly sounds he brought in both songs.
While his style has primarily remained the same, he has now incorporated his guitar flawlessly into more recent songs like "Worthy" and "Lift me from the ground". I recently got the chance to interview San Holo about album1, the evolution of his music, and bitbird as a whole over the years.

San Holo is a musical mastermind that uses his guitar in beautiful ways that you don't hear much of in Electronic Music today. His history with the guitar goes beyond electronic music and watching the album1 videos, it is easy to see the emotional connection he has to the instrument.
"I've been playing guitar since I was 13 and played in a lot of bands throughout my teens and early twenties. I even studied guitar at the Rotterdam Conservatory. After a while though, playing guitar in bands didn't excite me as much anymore and all the bands I played in would eventually break up because of the all of the different opinions."
It comes to no surprise that San Holo began producing his own music, beginning with post-rock and ambient style music before he broke into the world of hip-hop and electronic music.

For those who don't know, post-rock is an experimental rock style, rooted in the underground scene that focuses on ambient and intricate elements to create something that feels emotionally charged. Bands like Sigur Ros and Explosions in the Sky had a big influence on San Holo and his music which are prevalent in what you hear from him today as he evolved past the standard EDM sounds.
"I got really excited about making music again and kept that feeling for a really long time. But after a while of only making electronic music, I felt like had done everything I could have wanted to do and wanted to explore a new side again. So that's why I started incorporating the guitar again."
San's guitar is an integral part of his live performances and recorded music, and his departure from the norm led him to found a label that promotes the extraordinary.

The industry has grown so large that it is nearly impossible to stay up to date on all of the latest artists doing new and unprecedented things. San Holo recognizes the need for experimental sounds in the industry so he created bitbird to give those artists a place to thrive always be creative.
"The goal has always been to release music that touches our hearts. No matter what genre, no matter how big the artist. If something's good, we support it! We just felt like there was too much good music not being heard."
While they already boast names like Taska Black, DROELOE, PURGE, Eastghost and more, there are still many talented artists out there. Bitbird has released Gouldian Finch #01 and #02 along with their artists' albums such as DROELOE's "The Choices We Face" and San Holo's "album1".

The release of album1 was preceded by two beautiful songs, "Worthy" and "Lift me from the ground", both of which well received by fans. When I asked San Holo about the process behind "Worthy" and "Lift me from the ground"  he explained:
"Worthy was one of the first songs that I wrote when I got to LA to start writing the album. the whole process took a long time but I finally found a way to incorporate my guitar playing into my electronic productions, without it feeling forced or unnatural to me. Lift me from the ground is a song I wrote to describe the feeling of meeting somebody who makes you feel like you're floating. I wanted this song to be something with a big drop but not with a typical trap beat that you might expect from me."
Little did we know that these two singles would only be a taste of the new San Holo that we were going to experience on album1.

I first listened to album1 in a Denver Airport at 3 am on a 5-hour layover waiting for my plane to take me to Atlanta, Georgia for Imagine Music Festival. My head was throbbing after being in an airport and on planes for the past 6 hours but when I got the notification on my phone, a smile crept on my face and an aura of happiness surrounded me as the click of a tape recorder gave way to a riser only to drop off into a few beautiful guitar notes.
Aside from Visceral by Getter, album1 is one of my top albums and collections of music in 2018. It is unapologetically different from its ambient backdrops to the emotionally charged guitar strums.
For how much the album impacted me, I asked San what the experience was like to create something so impactful to so many people. He replied:
"I think the whole experience of actually writing the album has been the most impactful. It was a six month emotional rollercoaster of writing 24 hours a day, 7 days a week. It has been my biggest project so far and it's the one that's closest to my heart. It was such a weird experience to actually say that it was finished. It felt nerve-wracking and scary but also super exciting at the same time if that makes sense."

I've seen San Holo 4 times in my life, 3 of which this year, but as time goes on and his style gains an identity of its own, I realize how much he truly has to offer to the industry. His style is completely his own, flawlessly blending trap drops with an ambient flow that complements his experimental, post-rock roots. His openness to multiple genres is representative of the talent on bitbird that ensures that the electronic music genre has plenty of fresh breath for years to come.
Listen to "Lift me from the ground" below!