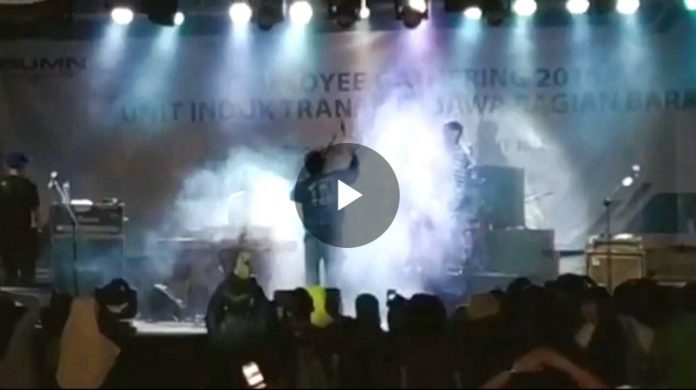 A massive Tsunami in Indonesia takes musicians and spectators by surprise as waves wash away stage, killing seven people including a band member.
Over 200 people were killed, and hundreds more were injured, after a tsunami struck costal Indonesia on Saturday. Among the victims were members of the Indonesian rock band called Seventeen, who were performing on stage as the tsunami hit.
According to reports, bassist M. Awal "Bani" Purbani, guitarist Herman Sikumbang, road manager Oki Wijaya, and crew member Ujang were all found dead. The drummer of the band is still MIA.
"The water washed away the stage which was located very close to the sea," the band said in a statement. "The water rose and dragged away everyone at the location. We have lost loved ones, including our bassist and manager…and others are missing."
Pop group Seventeen, who boast over one million followers on Facebook, were performing at the Java beach resort as part of a show organized by PLN, the state-run electric company.
Video footage posted on Twitter captured the exact moment the tsunami came crashing onto the stage, sweeping away band and audience members alike.
Seventeen band yg menjadi korban Di Tanjung Lesung,Banten#Banten #Anyer #Selatsunda #prayforanyer pic.twitter.com/zpETu89zsy

— ig @IGERS.BANTEN (@IgersBanten) December 23, 2018
Indonesia's meteorological, climatological and geological agency stated that the tsunamis were likely caused by a combination of underwater landslides due to the volcanic eruption.