Insomniac has announced the next installment in its Factory 93 underground warehouse series, as the legendary Techno DJ and producer,Maceo Plex is set to perform in Downtown Los Angeles at the now-famous 1756 Naud St. address.
On Saturday, March 16, in what will be Maceo Plex's first Los Angeles performance in almost six years, deep house and techno fans will be treated to a blistering four-hour set from the Barcelona-based producer against the backdrop of the beautiful Downtown Los Angeles skyline.
Best known for his diverse production styles, Maceo Plex has had a sprawling career that dates to the early '90s. Experimenting with hardware modules to form his early musical compositions, Maceo grew into a technologically advanced persona which later became known by various names such as Mariel Ito and Maetrik.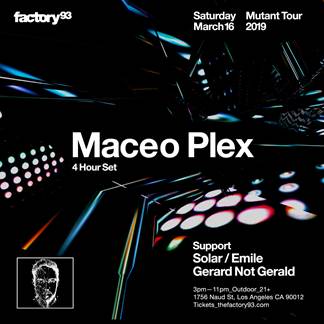 After many years of prolific work on labels like Treibstoff, Cocoon, Audiomatique, and even his very own Ellum, Maceo Plex continues to strip back his robotic body armor in order to reveal a more musical and groovy side.
Factory 93 will return to its outdoor, industrial aesthetic previously showcased at its inaugural Secret Project Festival, bringing listeners the vibes they crave along with a true appreciation and understanding of the origins of the underground.
Tickets for what is sure to be an incredible journey rooted in deep and funky audible engineering will be available for purchase beginning Friday, Jan. 25 at 12 p.m. PT via link.