As Spain continues down its dominant path as an electronic dance music wrecking ball, Off Week Music Festival, in Barcelona, has unleashed its impressive three day line-up, and with more than sixty acts at a gorgeous seafront venue, it is going to be a magnificent happening.
The festival that is powered by Loud-Contact, and Proyectual, will take place at Parc del Forum on June 14-16, 2019, and it is set up for the main labels and electronic music collectives to showcase their individual and unique styles in different areas. The stage hosts will bring out their most popular artists to take over different atmospheres of the festival arena.
On Friday, June 14th, one portion of Off Week festival will be hosted by Afterlife who will once again bring their showcase back to Barcelona to host three stages. They are set to bring their individual flair, and the different stages will host a mix of label artists, some guests, and a few new faces.
The Amphitheatrum, Temple, and Aqua are the three different stage areas at Parc del Forum that Tale Of Us' record label is going to take over. Tale Of Us, Stephan Bodzin (live), Recondite (live), Mind Against, Mathame, and the one and only Maceo Plex all will be performing at the Amphitheatrum.
The Temple will host Adiel, Antigone, Ben Klock, Kobosil, Chris Liebing, and Woo York (live); while, Etapp Kyle, Agents Of Time, Kevin de Vries, Tijana T, Fideles, and Ae:ther will all rock the Aqua stage.

Additionally on Friday alongside the next level wonderous visuals of Dreamrec VJ, The Romanian label [a:rpia:r] returns for its annual date with Barcelona, and this year they will take over a new seaside stage. An extended DJ set by RPR Soundsystem with Tulbure, Raresh, Petre Inspirescu and Emi. It is going to be a cosmic Friday night.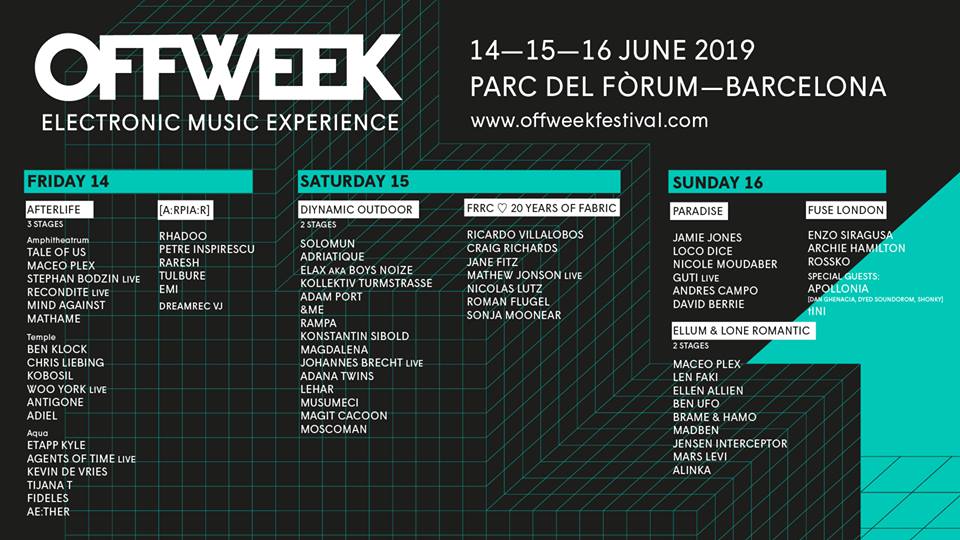 On Saturday, June 15th, Diynamic, FRRC by Ricardo Villalobos & Fabric split duties of rocking the night. The techno powerhouse is going to give fans a night to remember forevermore.
Diynamic Outdoor will drop its techno and deep house delight on Off Week Music Festival. They will take over two stages and bless the crowd with &ME, Adana Twins, Adriatique, Magit Cacoon, Johannes Brecht (live), ELAX aka Boys Noize, Adam Port, Lehar, Magdalena, Moscoman, Rampa, Kollektiv Turmstrasse, Solomun, and Konstantin Sibold.

FRRC and fabric unite for a special showcase at Parc del Fòrum as part of Off Week Festival 2019. As the main man and creative driving force behind FRRC, Ricardo Villalobos leads the proceedings, linking with his London home fabric as part of their 20th- anniversary celebrations.
Villalobos is joined by Craig Richards, Jane Fitz, Mathew Jonson, (live) Nicolas Lutz, Roman Flugen and Sonja Moonear. Known best for shining a light on the undiscovered corners of electronic music, their endless pursuit of mind-bending techno, electro and IDM records expresses a sheer devotion to the craft of DJing. They are going to show out to celebrate that 20-year mark, it will be an experience for the ages.
Sunday's Paradise by Jamie Jones will be one of the highlights of the festival. The positive vibes will certainly get in the bones of the attendees. He will be bringing with him Loco Dice, Nicole Moudaber, Guti (live), Andres Campo, and David Berrie to the fest. It's going to be a sick dance party.
When revealing the Sunday portion of Off Week's, Maceo Plex Presents Ellum and the Lone Romantic, The official website boasted :
"Maceo Plex joins an interstellar programme across the Off Week Festival. Showcasing the best in forward-thinking electronic music across Ellum and Lone Romantic sounds at the infamous open-air seafront venue Parc Del Forum.
Ellum label boss is proud to invite a line-up of forward-thinking artists that represent his vision for electronic music and performance: Len Faki, Ellen Allien, Ben UFO, Brame & Hamo, Madben, Jensen Interceptor, Alinka, Mars Levi and, of course, Maceo Plex himself". Take a trip to Barcelona, enjoy this experience.
Another magnificent showcase will take part on Sunday, London's marvelous Fuse is celebrating ten years of music at Parc Del Forum, and are going to be presenting their minimal house sound to Off Week festival.
They are kicking off an international tour following a slew of sold-out UK Fuse10 tour dates. It is going to be next level. there will be Live performances presented by Enzo Siragusa, Archie Hamilton, Rossko, and two special guests: Apollonia and tINI.
Limited tickets are available to each individual event, and different ticket tiers offer different options such as All Event Access and Sunday Backstage Experience. Grab your tickets HERE!
It is recommended that anybody that can attend this festival, should not miss it, carpe diem.