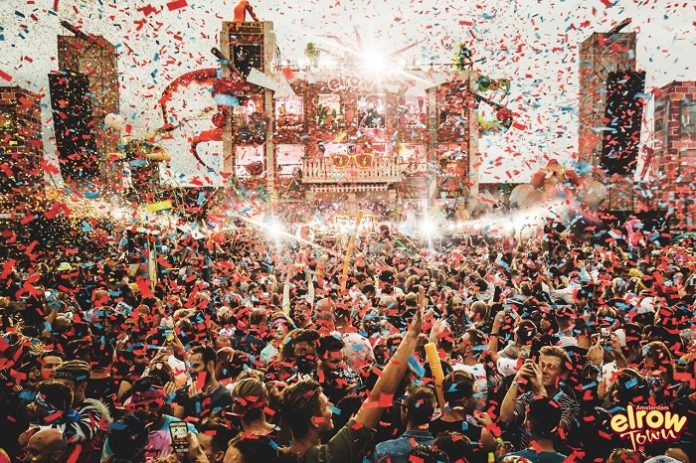 After the smashing success of the festival's sold out debut in Amsterdam last year, elrow Town Amsterdam is back with a bigger, better, even more immersive edition!
On Saturday the 7th September, the wondrous world of elrow will descend on Amsterdam's Havenpark, headed by the world famous chicken & party mayor Rowsana. With even more stages (Five, instead of last year's three), Even more striking sets and shows, even more surprising experiences, and, of course a cast of unexpected elrow Town residents, the second edition promises to be an event to remember.
This year, elrow-Town has not one, but several different themes with more craziness to uncover and explore! On the open-air mainstage you'll find yourself in a psychedelic trip, while the two smaller stages will change into a Pink Cathedral and an Arc de Rowomph, inspired by Paris. Here, Rowsattack will mount a siege on your imagination, while the colourful world of the Enchanted Forest is grown with real trees just a short walk away.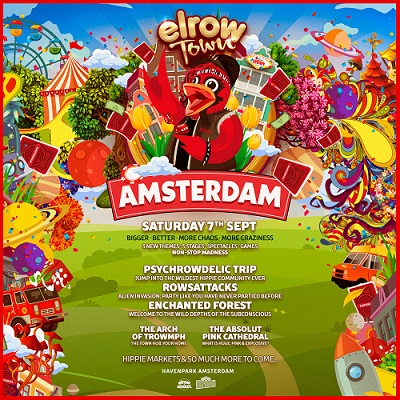 ABOUT THE SHOWS AND MAYOR
Outdoor Psychrowdelic Stage (Outside)
The wildest hippie commune ever is set to make an epic return to this years elrow Town Amsterdam. Be prepared to once again be mesmerised, at the rainbow tripping colours, of the mighty kaleidoscope inspired stage. This psychedelic extravaganza for the senses is not to be missed. Get ready to be WOWED!
Indoor: Rowsattack
Picture this: the earth and all other planets have ceased to exist and their inhabitants literally died of boredom. Only the true party animals have survived and are determined to make life on planet elrow a never-ending party, filling the sky with screamers & colours and non-stop live music.
Indoor: The Enchanted Forest
Enter a fantastically phantasmagorical forest, where the trees smile at you as they dance to the beat, while mysterious beasts and inquisitive demons lie in wait, lurking in the lush greenery….
The Mayor – Rowsana
Rowgelia's rebellious cousin Rowsana has been elected as the mayor of this year's elrow Town Amsterdam. Rebellious, punky and a bit of an anarchist, this fiery live-wire, loves to party! With her world being all about raves and urban culture, this boss lady is set to bring her high energy vibes and zest for life to Amsterdam. Get ready to PARTY!
For more info and tickets sale via link.