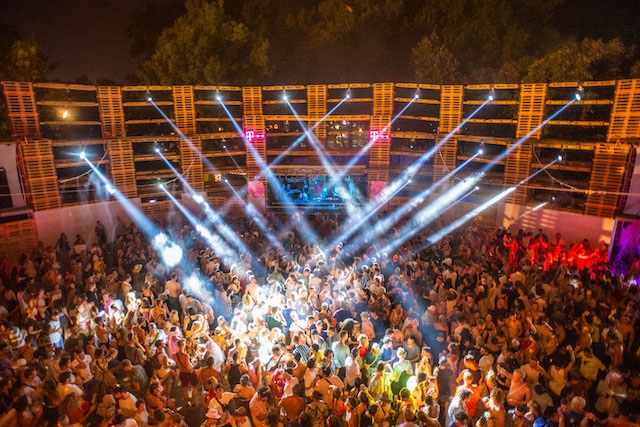 Sziget's Samsung Colosseum stage is an immersive 360-degree arena made entirely of palettes, set to play host to an eclectic and progressive line-up of 27 world-class DJs including B. Traits, Avalon Emerson, Objekt, Red Axes, Blawan and more.
This electronic line-up sits within a major programme of music, arts, performance and more across 60 stages with over 1000 acts across the week-long bucket list festival.
B.Traits is a stalwart in the world of electronic music, seamlessly bridging the gap between underground genres including techno, jungle, breakbeat and house in her sets. Crowned as Mixmag's 'DJ of the year' in 2018, Objekt is also renowned for his genre-defying mixes, ignoring BPM gaps and jumping seamlessly from drum and bass to industrial techno to dance-pop and all the way back again.
An electronic innovator in the UK, Blawan walks the tightrope between mainstream and underground and has been a key member of the electronic scene since his first dubstep release in 2009. His cultishly popular Why They Hide Their Bodies Under My Garage won Blawan acclaim from everyone from Skrillex to Jeff Mills, and his unique form of nuanced techno promises to be a standout set.
Avalon Emerson has gone from strength to strength in the last two years with an incredible string of releases unmissable sets across the globe including Berghain's Panorama Bar. Israeli electronic/indie duo Red Axes take influence from disco, house, garage rock, post-punk, psychedelic rock and techno, amalgamating a diverse range of genres to create their unique and energetic sets.
Other artists and DJs announced to play the Colosseum include the likes of Dutch DJ and label owner Courtesy, tech house favourite wAFF, Brazilian breakthrough Anna, former Prince-engineer Black Asteroid, electronica chameleon Butch, techno boyband Fjaak and more.
Sziget brings together a programme of world music, theatre, cabaret, installations, performances and art. Set in the heart of Budapest on Óbuda Island, Sziget is a community built festival and known as the 'Island of Freedom'.
Attended by 500,000+ Szitizens from over 100 countries each year, the festival is dedicated to embracing diversity as a part of its 'Love Revolution', using the power of the community to celebrate and bring love, acceptance, tolerance and freedom to the heart of Budapest and beyond.
Headline acts this year are Ed Sheeran, Florence + The Machine, Foo Fighters, The 1975, Post Malone, Twenty One Pilots, Martin Garrix and The National, and with preparations well underway for next August, year 27 is set to be Sziget's biggest and best festival to date.
Sziget returns in 2019 between 7 – 13 August. Three-day tickets are now on sale starting at € 209. For more details on Sziget head to link.