Underground visionary John Digweed continues his acclaimed 'Live In…' mix compilation series with 'Last Night at Output,' commemorating the ultimate closing set at the Brooklyn clubbing institution.
Recorded live on New Year's Eve 2018, fans of John Digweed, underground dance music, the club, and those who were in attendance can now celebrate this night in dance music history with this special musical memento and collector's item.
Featuring over 70 tracks played throughout the 10-hour set, the album will include tracks from Âme, Agoria, Cassy, Claude VonStoke, Dixon, François K, Hot Since 82, John Digweed, Laurent Garner, OXIA, Steve Bug, The Drifter, and many more.
"From sadness to joy, I had so many mixed emotions and an overwhelming pressure to deliver a party that a club of that stature deserves. I really put my heart and soul into that party drawing from my favourite tracks over the years.
The 10-hour set seemed to fly by and there was just a constant sea of smiling faces from the dancefloor all night long as the crowd literally savoured every record on that crystal clear Funktion One soundsystem.
After listening back to the set, I knew this album had to come out and not just be another mix online. It deserved to be a part of music collections and a memento for years to come. I am sure this album will bring back some amazing memories for the people there that night, and for those who were not, I hope you can immerse yourself in one of my favourite sets in New York for years to come." –John Digweed.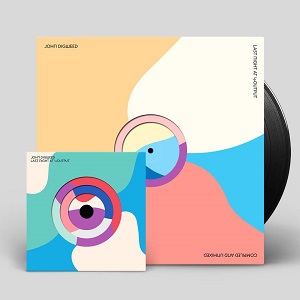 A New York favorite since his Twilo residency in the 90's and globally in-demand DJ/producer talent, John Digweed's respect and admiration for Output's forward-thinking policies, and now clubbing legacy appears once again in his 'Live In…' mix compilation series following his 2017 'Live In Brooklyn' album also recorded at the club.
An Output regular since opening its doors in 2013, the Bedrock Records label head had played the club a dozen times in its six year run including three consecutive New Year's Eve appearances.
Capturing the musical and emotional atmosphere of the club on its final night, 'Last Night at Output' comes as the label's most challenging project yet backed by a passion-driven mission to ensure this night is remembered for clubbers and dance music aficionados worldwide.
Available for pre-order via Bedrock Records, the vinyl and CD sets will come in colorful distinctive packaging designed to celebrate Output's spirit with a special die cut slipcase, box, and wallets. Combining all six CDs to create layers of vortex, the box set will include sleeve notes in an eight page booklet in a high gloss finish. All limited edition shrink wrapped 4-set vinyl packages will also feature a signed sleeve by John Digweed with a very limited amount of numbered and signed versions for collectors.
Out on Bedrock Records on May 3, 2019, the compilation album will be released in a limited edition 6xCD box set, 4-set vinyl package, and for the ultimate dance music collectors, an extremely limited signed and numbered vinyl release will be available, pre-orders are available now via link.