Insomniac, the production company behind Electric Daisy Carnival, and LiveXLive will bring the world's largest dance music festival into the homes of Headliners around the world with the official EDC Las Vegas 2019 live stream.
The festival's official live stream will be broadcasted daily, May 17 – 19, on four different channels beginning at 6:45 p.m. PT at link as well as the LiveXLive mobile app for iOS, Android, Roku, Amazon Fire TV and Apple TV.
Headliners unable to make it to EDC Las Vegas can experience unforgettable moments like the Bill Nye-hosted Opening Ceremony, as well as performances from Above & Beyond, Armin van Buuren, Illenium, Tchami x Malaa [No Redemption], Tiësto, Zhu and more.
Each channel will have dedicated, custom content that will transport viewers directly into the heart of EDC Las Vegas where they can experience heart pounding DJ sets, dance with theatrical performers, explore Downtown EDC and other new elements for 2019, and watch the most anticipated firework display of the year Under the Electric Sky.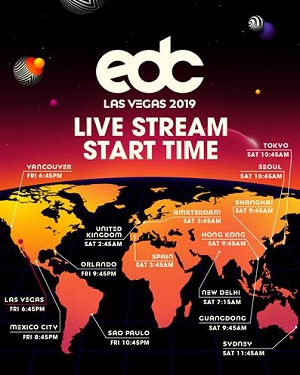 Featured content across the four channels includes:
Channel 1: Specially curated contented and behind-the-scenes looks, exclusive artist interviews, and performances from kineticFIELD, cosmicMEADOW and circuitGROUNDS. In addition, select artists from other stages, art cars and Camp EDC will be featured
Channel 2: Full sets from kineticFIELD
Channel 3: Full sets from cosmicMEADOW
Channel 4: Full sets from circuitGROUNDS
EDC Las Vegas 2019 – Day 1 Playlist:
EDC Las Vegas 2019 – Day 2 Playlist:
EDC Las Vegas 2019 – Day 3 Playlist: