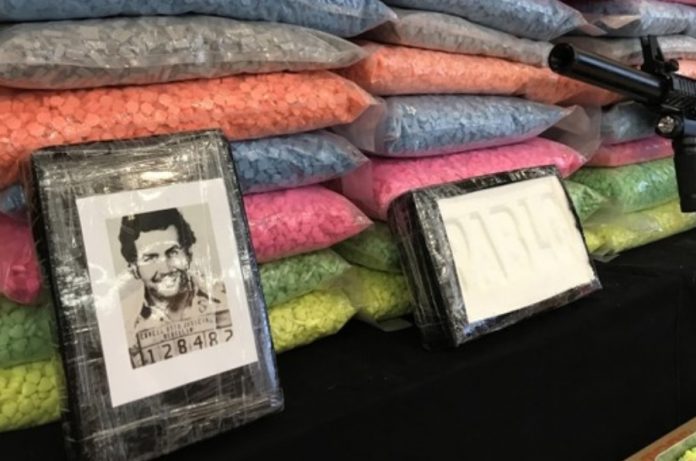 The global game of cat and mouse between authorities and drug smugglers is an endless game where no winner or loser will ever be declared. It is an infinite and unstoppable game, some days the good guys win, some days it is the bad guys that walk away with a victory, but one thing is certain, the game will continue indefinitely with no end in sight.
Last week in Istanbul authorities notched a tempory victory by seizing a massive supply of illegal narcotics. The seizure included 1.8 million ecstasy pills, twelve kilograms of opium gum, and thirty kilograms of cocaine that was wrapped in packages that displayed the infamous mugshot of the Columbian drug lord, Pablo Escobar.
In his prime, Escobar controlled nearly eighty percent of the world's cocaine trade before being assassinated by police in Columbia, it is not clear why the cocaine was wrapped with his picture, interpretation of the photo is left open strictly to speculation. The seizure occurred following an ongoing investigation by counter-narcotics police, where police searched a car in the Küçükçekmece district and discovered the large amount of drugs and an assault rifle.
Inside of the vehicle was an intricate secret compartment hidden inside of the airbags that was made for smuggling. Authorities had to press the rear fogger button and then the child safety lock to open the compartment. Two suspects known only as D.S., and A.G. were placed in custody due to the seizure.
To coincide with the bust, in a separate operation in Iran, Police searched a cargo company with drug-sniffing dogs and found twelve kilograms of opium gum that was absorbed into clothes. Three suspects were detained following the discovery and seizure of the drugs. Turkey is a drug smugglers hotspot for drug peddlers between Asia and Europe and since 2014 when the Turkish government launched the "Rapid Plan Against Drugs" campaign, smugglers have had to think outside of the box and use evasive measures to bypass the authorities hawk-eye.
Anytime a bust holding value in the million-plus dollar range occurs, it obviously is not something smugglers simply shrug off; it is a considerable hit. While the police can bask in the glory of the seizure momentarily they understand that smugglers will just find new innovative ways to bypass their radar and that they have to get back to work immediately. Where this particular victory for the authorities is a momentary set back the opposition, it is a temporary win, and the game will certainly continue.