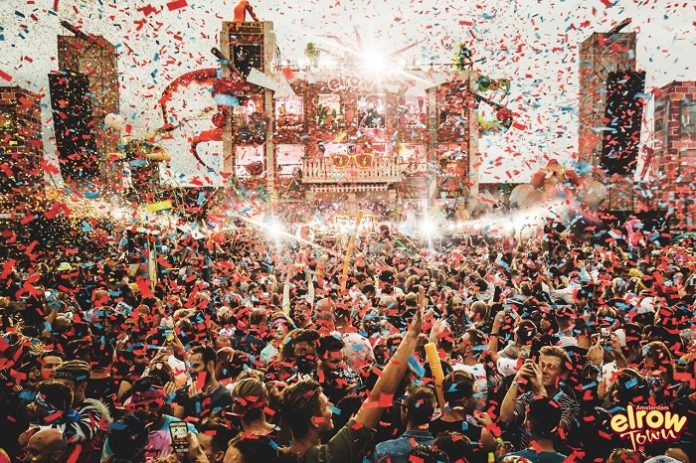 Elrow Town Festival – Amsterdam is a surreal electronic music festival in the Dutch capital. After hitting Amsterdam for the first time last year, the festival is back even bigger this year. Heading to the lush Havenpark for 2019, elrow Town is moving to the city's west end to accommodate more stages and growing demand.
The most immersive festival series in the world, elrow is known for their all-out parties featuring confetti, streamers, costumes, and thousands of ecstatic party animals.
Taking place on the 7th of September elrow has lined up a stellar cast of artists to compliment the themes taking place across the festival, including – Jumping into the wildest hippy commune ever at Psychrowdelic Trip, a true art piece in itself ; rowattacks – where the Earth and all the other planets have disappeared, and life as we know it is no more; The Enchanted forest – set in another dimension where reality turns into fantasy and the Absolut Pink Cathedral, a futuristic vision of a classic cathedral reimagined for elrows eccentricities.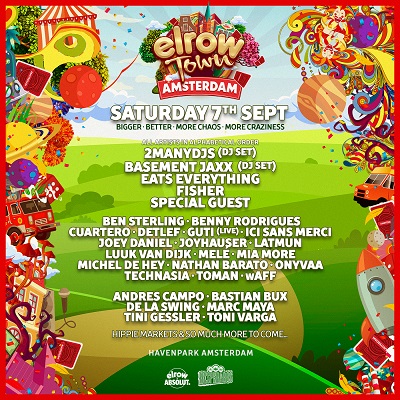 Headlining elrow Town Amsterdam are infamous mash-up artists 2ManyDJs line up with longstanding elrow favorites Basement Jaxx, keen party starter Eats Everything and the much hyped Fisher.. With more special guests still to be announced.
Complimenting the chaos will be a host of elrow alumni including Ben Sterling, Benny Rodrigues, Cuartero, Detlef, GUTI, Ici Sans Merci, Joey Daniels, Joyhauser, Latmun, Luuk Van Dijk, Melé, Mia More, Michel De Hey, Nathan Barato, Onyvaa, Technasia, Toman and wAFF.
With the usual elrow town residents Andres Campo, Bastian Bux, De La Swing, Marc Maya, Tini Gessler and Toni Varga rounding off the incredible line up, elrow Town Amsterdam is a must for long term elrow-ers and first timers alike.