Martin Garrix's irresistible collab with Macklemore and Patrick Stump 'Summer Days' is shaping up to be one of the year's biggest dance hits. Peaking at No. 18 on the Spotify Global Top 50, it recently enjoyed a superb funk-fuelled remix by rising star Haywyre.
Now comes a massive new festival-ready version from the platinum-certified DJ and producer, Tiësto.
Shimmering textures pulse over filtered kicks in the intro, before the full thump is released under the sorrowful vocal verses and hard-edged synth sounds. The breakdown comes as a glorious ray of sunshine, a huge, feel-good lead unleashed. The chorus plays again as the track moves towards its finish, all pleasingly drawn out over more than four minutes of exceptional sound.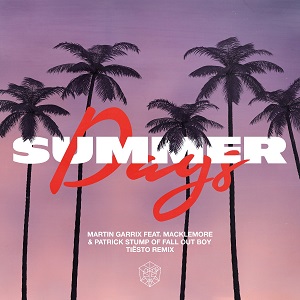 From his high-profile residency at Hakkasan to his crossover success, Tiësto created the blueprint that defines what it means to be a success in today's dance music world and his contribution to this huge single will send it even further into the stratosphere.
Listen to the remix below.