For 4 magical days on the Island of Dreams in Constanta, Neversea Beach, Romania, party people have been dancing before some of the finest music entertainers on the planet.
Five massive stages with their own individual magnetic flare joined forces with mother nature to give attendees a seemingly once in a lifetime opportunity to bask in the glory of one of the greatest events of all time.
An eclectic blend of elite artists including Afrojack, Alesso, ATB, Lost Frequencies, Bassjackers, Gianluca Vacchi, KSHMR, Inna, G-Eazy, Jessie J, Sean Paul, Kadebostany, Mahmut Orhan, Danny Avila, Steve Aoki, Vini Vici, Salvatore Ganacci, Will Sparks, Wilkinson, Valentino Khan, Andy C, Rudimental, Flux Pavilion, Sub Focus, NERO, Jamie Jones, HOSH, Black Coffee, Boris Brejcha, Tale Of Us, Oliver Koletzki, Matthew Dekay, Dubfire, The Agents Of Time, Arapu, Raresh, Priku, Praslea and many more were scattered across the amazing staging areas on the majestical beachfront stomping grounds, rocking the night away.
Check out the full lineup below!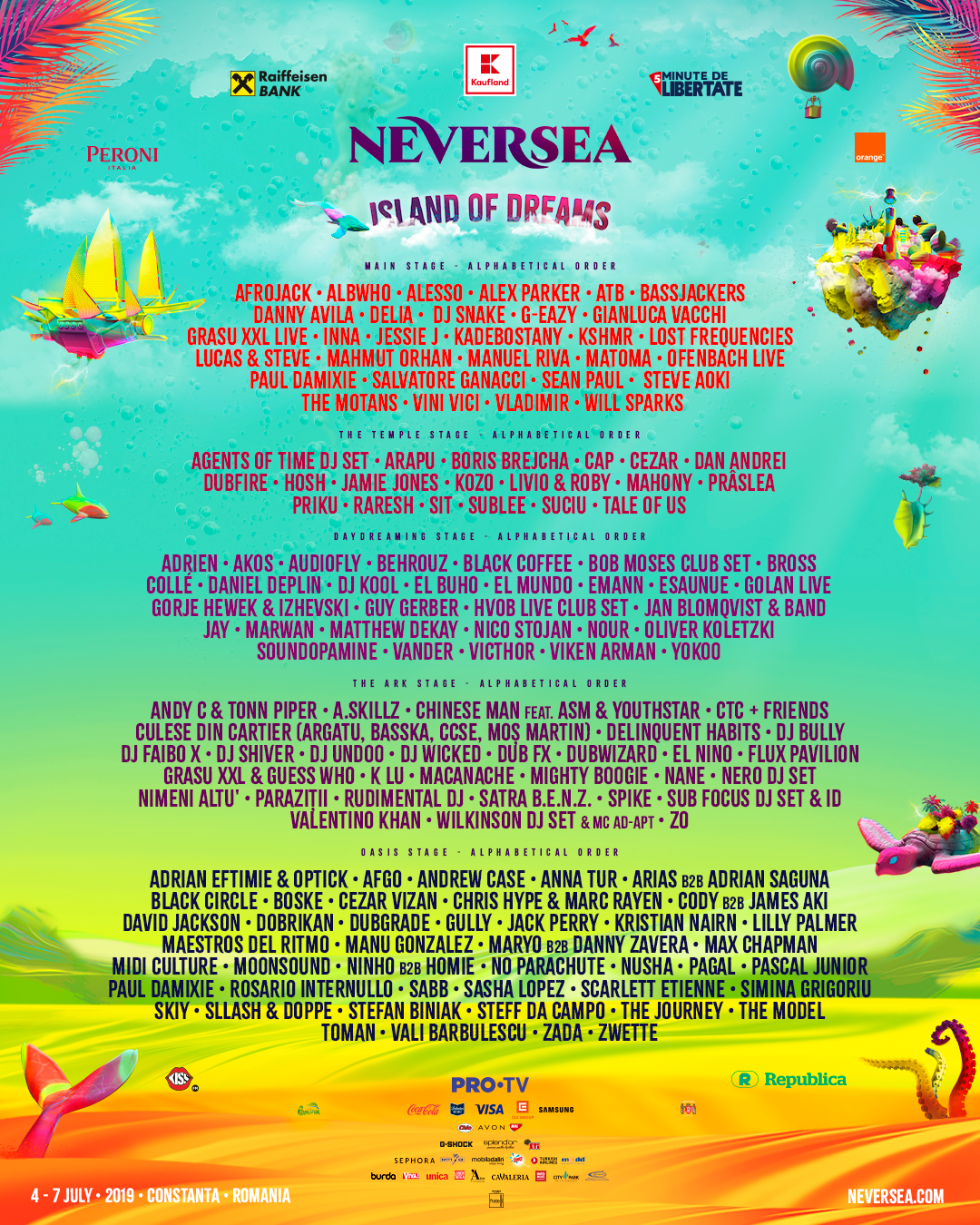 Neversea festival has been on the rise over the last few years and has made the Black Sea a destination location for dancing machines from all around the world. It is a special event because the organizers put a lot of love and care into hosting the festival and over the years have come to understand how to maximize their potential.
Going beyond the breathtaking setting, the jaw-dropping production, and consistently presenting a wide variety of world-class entertainers year after year, Neversea festival has other aspects of it that make it an exceptional happening.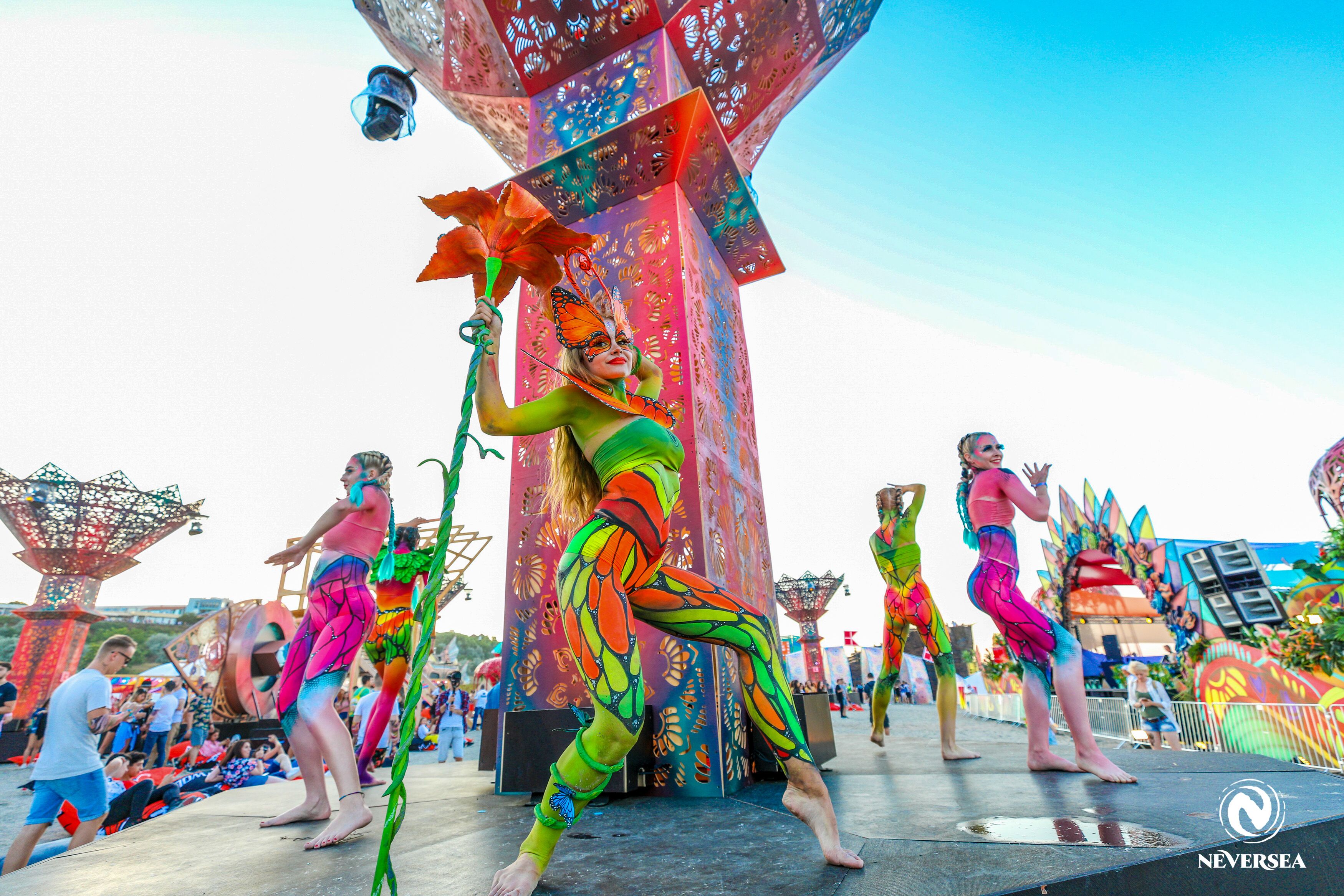 Some angles of Neversea that might not be talked about as much as the incredible stages and music is the fact that that the festival is very affordable, positive vibes radiate throughout the beachfront stomping grounds during the whole event, the food and beverages are dynamic and delicious, each stage has its own style and theme giving dance music fans the opportunity to enjoy the best music from the many sub-genres of electronic dance music, and the fact that there are a lot of chill zones where people can lay down and rest with their friends.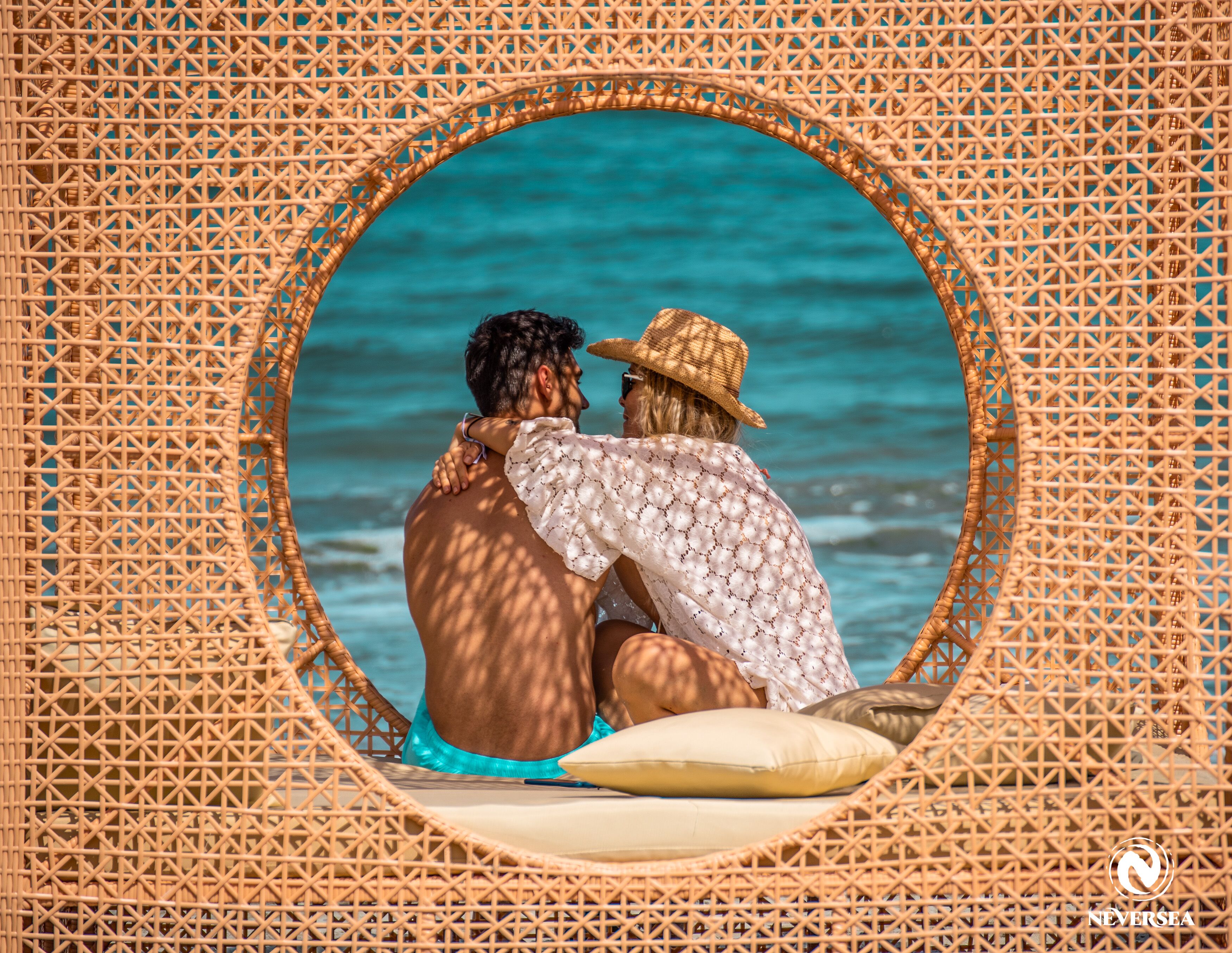 Having good places for people to link up, connect, rest, and cool out is priceless, the organizers made sure that attendees had plenty of opportunities to chill out between the sets.
This magical place has hair salons, tattoo shops, merchandise shops, army zone with real military vehicles where you can take cool photos with your friends, play zones with lots of games and high-tech gadgets, hot air balloon and surprises hidden behind every corner making the experience at Neversea festival even better.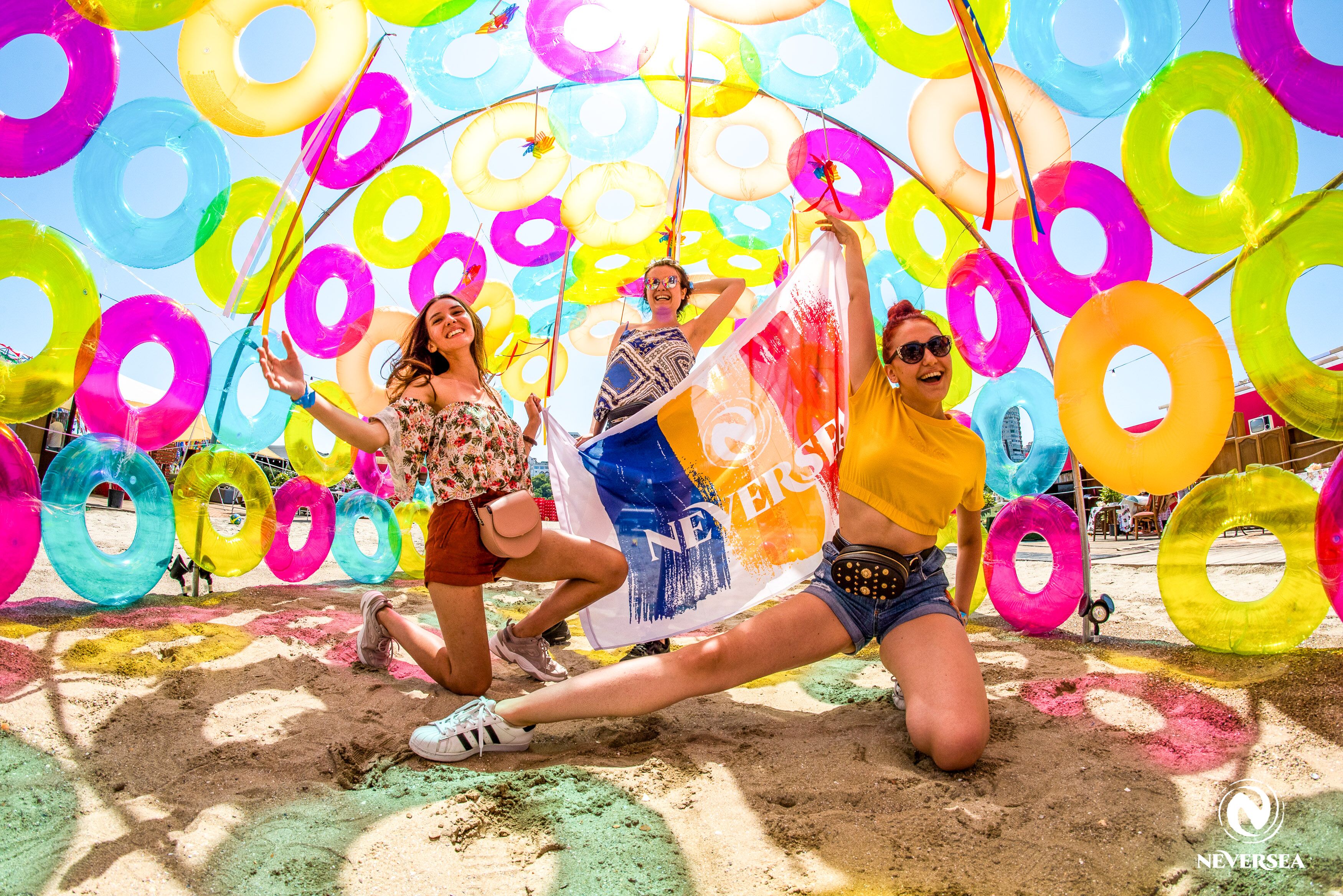 The captivating, mammoth stage areas each hold their own swagger. There is something for everybody mixed amongst them. According to Neversea's official website the Mainstage "is where we light up the sky. Here is where you can enjoy live acts, accompanied by the heaviest names in the industry of electronic music. In the spirit of making one's journey memorable, we don't shy away when it comes to going that extra mile."
The Temple stage is the "sonic sanctuary of the community loving techno in all its forms". On the other side The Ark stage is "driven by the masters of the international drum and bass, trap and dubstep scenes."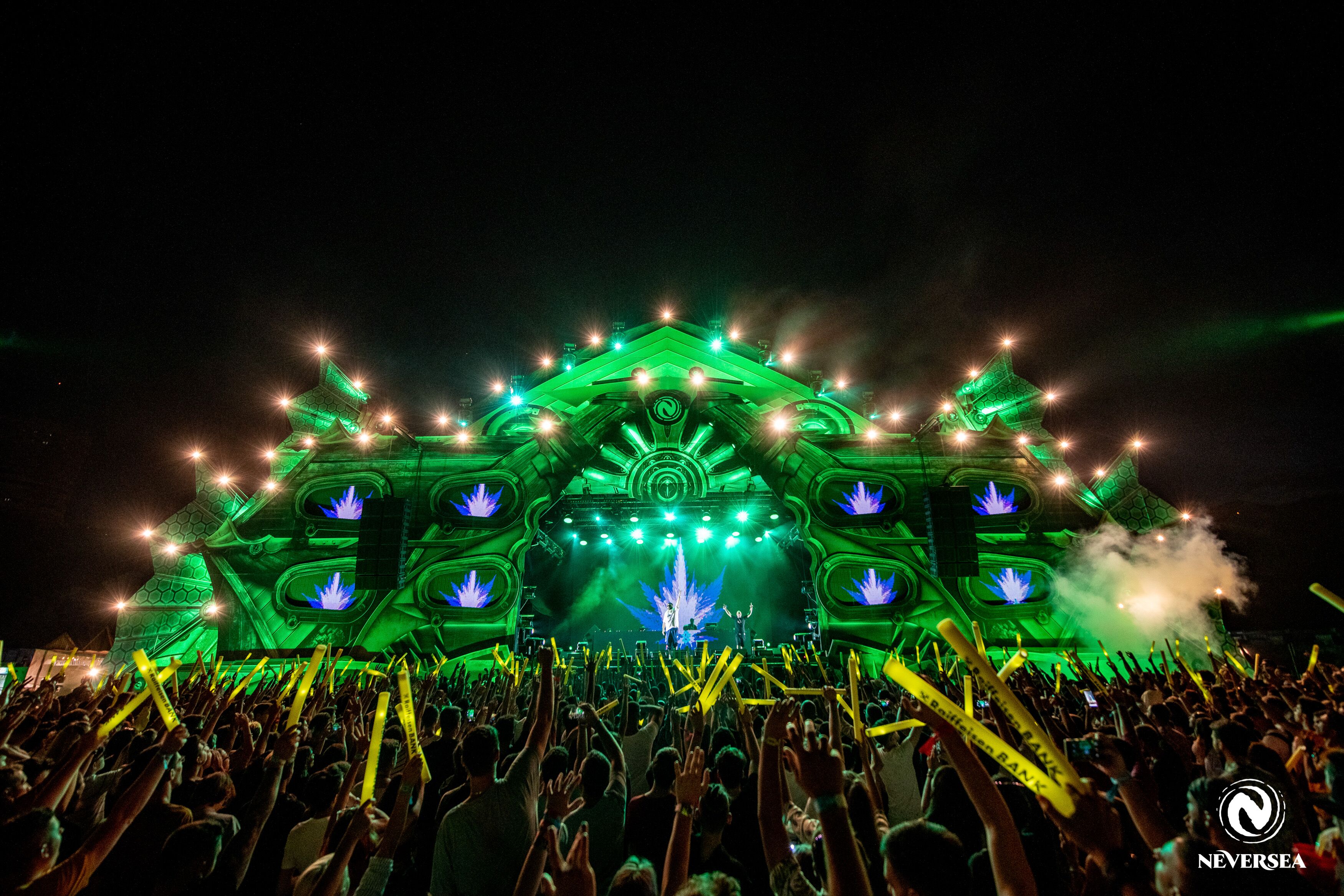 The Oasis stage "focuses on the local tech-house scene featuring also international like-minded DJs. It is a journey from house to techno, exploring the roots of deep house, with surprising inserts of vocal house, electro and bass music."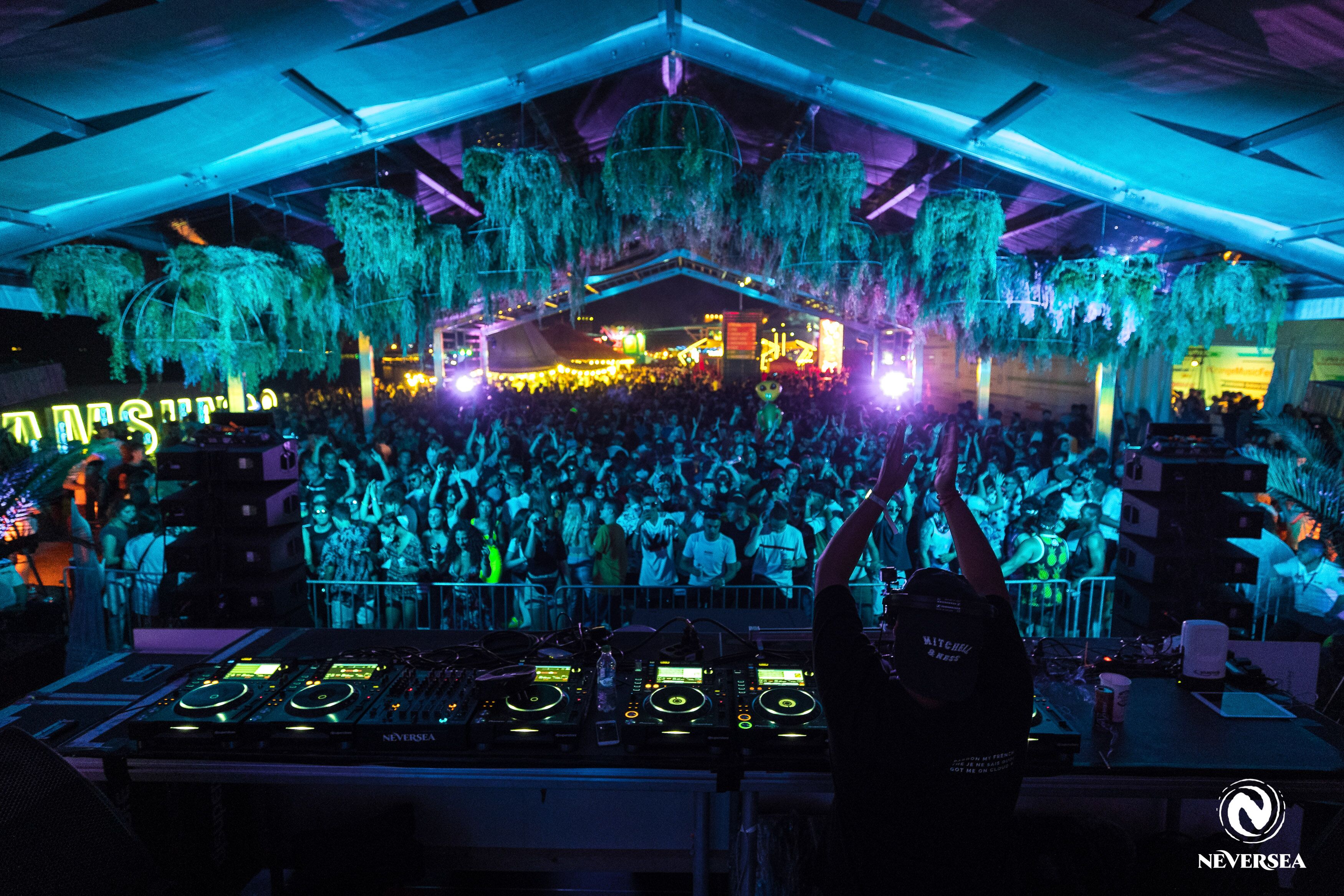 The Daydreaming stage "explores the more spiritual, multicultural and ethnically inspired electronic music hosting live electronic acts, slow house and playa-tech, enhancing spirits and sharing passion for mind-expanding music."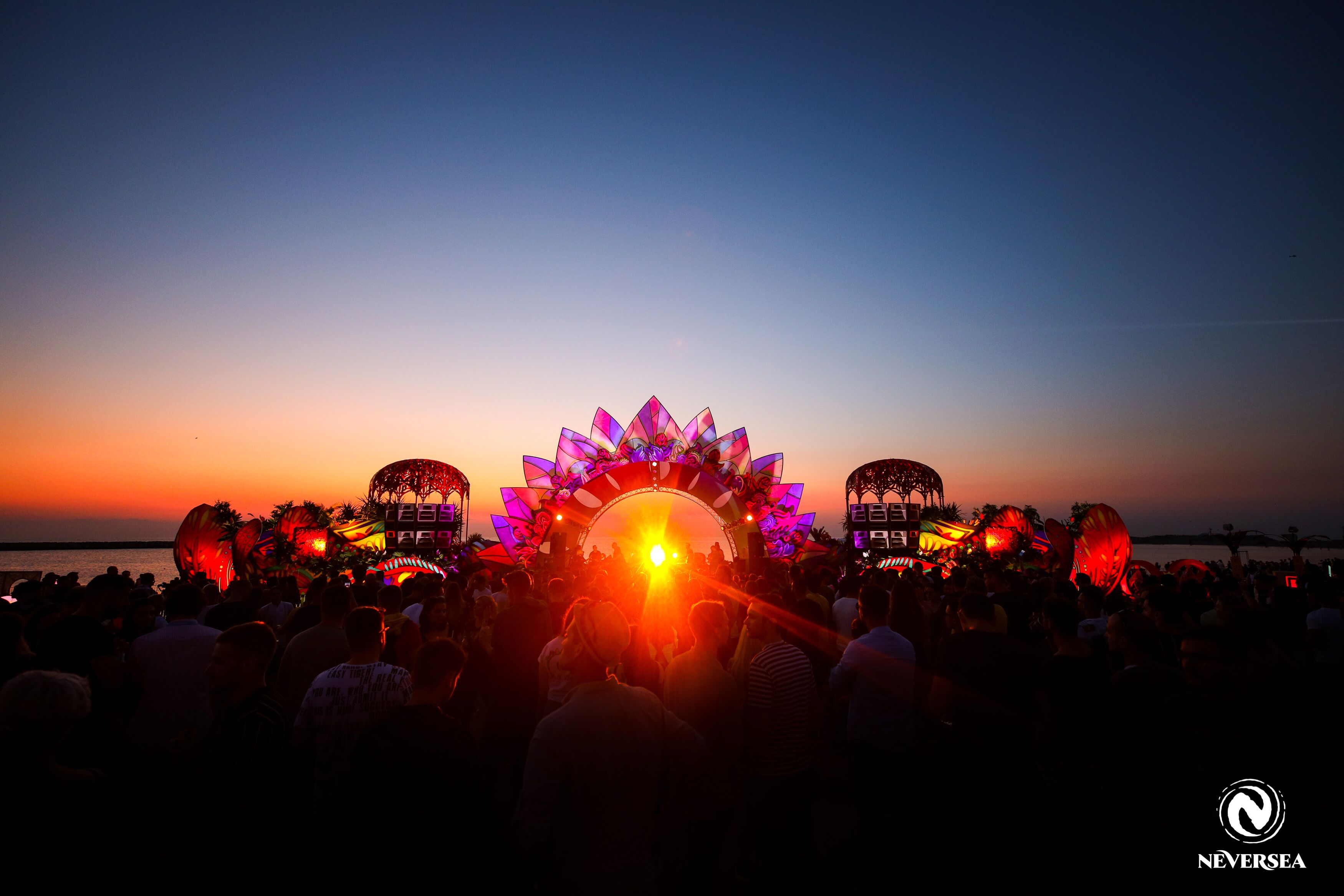 Daydreaming is a standout stage because people can watch sets, sunsets, sunrises, and the sea all at the same time. Imagine how peaceful and amazing a staging area that focuses on spiritual, mind-expanding, and cultural music set right along the beach would be. Seems like the perfect place for attendees to find some peace.
Neversea and its bigger brother, UNTOLD festival are known for having some top notch quality endshows. The festival was blowing the minds of the festival-goers with their intricate show of lighting effects, fireworks, lasers and good old pyrotechnics during its ending show on the fourth day of the incredible event.
Check out the amazing production below:
Another cool thing about Neversea festival is that Romania All Inclusive, a partnership between The Romanian Ministry of Tourism and NEVERSEA (and its bigger brother, UNTOLD), gave its festival attendees discounts and other benefits at almost 70 tourist attractions across Romania with their festival wristband.
Romania's epic beachfront festival had a perfect ending, and the elite event will live in the hearts of everybody in attendance forevermore. Neversea should be a bucket-list festival marked on everyone's calendar, even if you're not into electronic dance music. Believe us, this place is magical wonderland.
If you weren't able to make it this summer, 2020 should most definitely be your year. Also, don't miss this year's edition of UNTOLD festival in Cluj-Napoca. The festival is celebrating its 5th anniversary this August 1-4 so prepare yourselves for a magical experience with some of the greatest names in the music industry.