Following one of the world's best music festival experiences at the four-day beachfront paradise Neversea on the Black Sea in Romania, Neversea's big brother UNTOLD festival is preparing to bring the ruckus back to Romania in just a few short weeks, and it should be on the calendar of dancing machines across the map.
Romania has been building momentum toward becoming a dance music mecca, some of the hottest events and artists consistently blaze through the Eastern European country that is slowing becoming one giant collective dance floor. Continuous magical music events that have spanned a multi-year time frame joined forces to level up Romania in the dance music world. UNTOLD festival is a prime example of the magnitude of some of the events being thrown in Romania.
The four day extravaganza is set to kick off August 1-4 in Cluj-Napoca, Transylvania, Romania. For its 5th anniversary this summer, UNTOLD unleashed a star studded lineup earlier this year, and anticipation for party people has been building for months.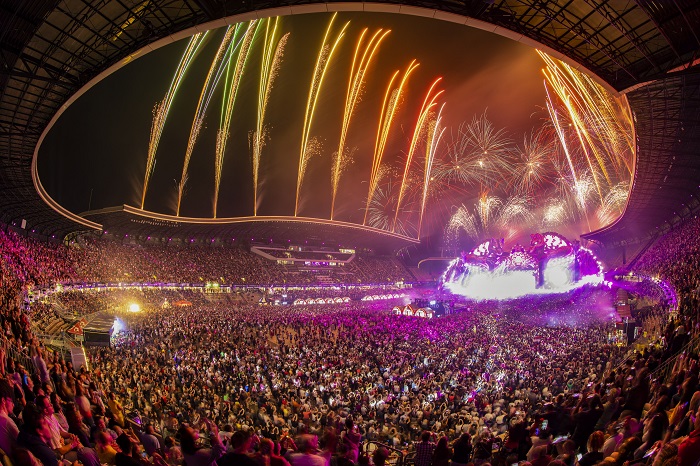 The last four monumental versions have blown away the attendees. Each impressive showdown has captivated its audience, and the attendance numbers have climbed each year. An estimated 365,000 festival-goers attend UNTOLD, making it one of the largest music festivals in the world.
Eight individual stage areas are thoughtfully crafted with love and care to provide versatile and dynamic dance arenas. Each area has its own theme and style, and offer a wide variety of music to fill the needs of all.
Stage production on each stage host incredible sound, and impressive visual experiences. There is not a bad choice between the Mainstage, Galaxy, Alchemy, Daydreaming, Forest, Time, Fortune, and Earth Spirit stages, it is encouraged that people spend a little time in each one to soak in the whole feel of the festival.
Main Stage
The main stage of the venue is the 30,000 capacity Cluj Arena and has been host to many unforgettable experiences and will stun the audience once again this year. While it certainly is the crowd favorite, the other stage areas each possess their own memorable magic as well. Some of the Main Stage headliners this year are superstar artists such as: Steve Aoki, Armin van Buuren, Martin Garrix, Ummet Ozcan, Dimitri Vegas and Like Mike, Fedde Le Grand, David Guetta, Timmy Trumpet, James Arthur, Don Diablo, Nicky Romero, Robbie Williams, W&W and many more.
Galaxy Stage
Is the home of techno, house, and tech-house music. The magnificent grounds will host some of the most prestigious artists from around Planet Earth and will be a crowd favorite. Galaxy Headliners: Solomun, Tale of Us, Jamie Jones B2B Martinez Brothers, Mathame, Loco Dice, Oxia, Boris Brejcha, Lehar, Artbat, Paul Kalkbrenner, Set Troxler and many others.
Alchemy Stage 
Bassheads will unite at the Alchemy Stage, according to Untold's website, "The Alchemy music lab endeavors to keep alive the hip-hop and drum&bass cultures while pushing forward the dubstep phenomenon and the new waves in trap, grime and electronic bassmusic. This is more than a stage. It is a bass lovers gang." Alchemy Headliners: Rusko, Borgore, Pendulum B2B Friction, Chase and Status, Sub Focus B2B Wilkinson, Andy C, El Nino, NERO, Camo & Krooked and many more.
Daydreaming Stage
"The Daydreaming stage explores the more spiritual, multicultural and ethnically inspired electronic music hosting live electronic acts, slow house and playa-tech, enhancing spirits and sharing passion for mind-expanding music." Daydreaming Headliners: Monolink, Damian Lazarus, Lee Burridge, Guy Gerber, Black Coffee, Matthew Dekay, Acid Pauli, Viken Arman, Timujin, Marwan, Gorje Hewek & Izhevski and many more.
Forest Stage
"The Forest stage is the cosy house of musicians and live bands, shinning indie pop vibes mixed up with dub and reggae, ascending to new jazz and electronic sound, evoking the spirit of the forest." Forest Headliners: Satellites, Zimbru, Tanya Stephens and the Royal Roots, Inner Circle, Irie Maffia, Sevdaliza, Akua Naru, Morcheeba and many others.
Time Stage
"As the groove changes patterns we shift into a new dimension stage where there is no more past and no more future. There is just infinty and eternity. Just here and now. Just music and no more words." Time to step up and dance Untold. Some of the artists performing at this stage are: Swanky Tunes, Tom Novy, Jack Perry, Sandrino, Nora En Pure, Steff Da Campo, Two Pauz, Mano, Facundo Mohrr, Volt, Matt and many more.
Fortune Stage
Is going to be a hotspot at Untold. It is "UNTOLD's Trance Music concept, revealing some other related new genres like progressive house, melodic techno, psy and euphoric hardstyle." Fortune Headliners: Undercatt, Dave Seaman, Sebastien Leger, ATB, David Gravell, Andrew Rayel, Richard Durand, Giuseppe Ottaviani, RAM & Darren Porter, Ilan Bluestone and many other artists.
Earth Sprit Stage
Will surely light up the hearts of the attendees as they dance and interact with a variety of global culture. It will "Bring together ancestral and modern rhythms, combining world music with a shamanic vibe, this is a full power small stage, flooded by healing frequencies and eccentric instruments: harp of mouth, harmonic flutes, didgeridoo, zampoña and many others." Do not miss the majestical vibes that will pour from this stage area. Some of the Earth Spirits artists: O Solar Storm, Andy Benz, Sacred Plant, Cosmos, Universe, Water Strings, River Flow, Radia and many more.
Check out the full lineup by days and stages below!
Exclusive shows from 3 Are Legend, Armin Van Buuren, Martin Garrix, and Robbie Williams (live act) will be spectaular occurances. The main events will join forces with a powerful supporting cast to bring forth an indelible four day extravaganza.
Anybody that is on the fence about attending UNTOLD should hop over it and run straight to the dreamstate setting stomping grounds in Romania and join forces with one of the best and biggest festivals on Planet Earth.
See you there Romania. Do not miss Tale of Us, Black Coffee, or Armin Van Buuren's set, it is going to be a phenomenal four days. Check out the official 2018 aftermovie below and prepare yourselves for a crazy summer with UNTOLD!