The usual summer heat wave has unfortunately arrived, and it's pretty unbearable. The average temperature these days is around 95, and that's on a good day. I wish we could all go back to the Activated and Relentless Beats massive waterpark festival, Wet Electric.
The event took place at the Big Surf Waterpark in Tempe, Arizona on April 27th. The massive waterpark festival was celebrating its 10th anniversary this year and hosted one of it's biggest lineup to date spread over two awesome stages.
With it's 2.5 million gallon wave pool, Wet Electric is the country's largest waterpark festival and it's everything you can ask for. Combine some of the industry's biggest names, the summer heat, and a massive waterpark, Wet Electric was really the place to be this past April.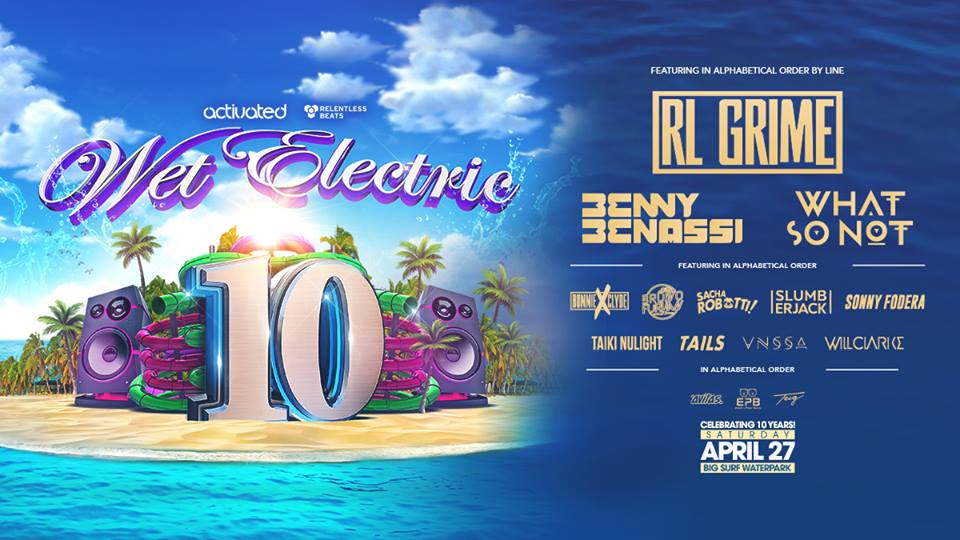 The lineup saw headliners like Benny Benassi and RL Grime absolutely kill it. The fun didn't stop there, Will Clarke brought his funky vibes, What So Not had the place going crazy and Dirty Bird artist Sacha Robotti literally brought the house down. As mentioned above, this years lineup was the biggest to date, and it definitely didn't let attendees down.
VIP options were available and it took the experience to a completely different level. Some of the amenities included a private grassy section with shade and luxury bean bags, VIP bar, and three exclusive waterslides available to only those in VIP.
The event also provided waterside cabanas that boasted perfect viewing to main stage. Either way, VIP or not, the festival was a massive success and we can't wait for it's highly anticipated return in 2020.
If you've never been, it's an experience that you definitely want to check out.