On Friday, Sept. 20, just four months after the sold-out 2019 edition of Electric Daisy Carnival Las Vegas, Insomniac has announced that the world's largest dance music festival will return for its 10th annual celebration at the Las Vegas Motor Speedway, May 15 – 17, 2020.
For three nights of unity and indescribable, dusk-till-dawn energy, Headliners will travel from around the world to celebrate this milestone year, surrounded by fully immersive stage designs throughout the expansive festival grounds, and a unique culture of positivity and acceptance unlike any other live music gathering in the world.
All Headliners can purchase tickets to EDC Las Vegas at the lowest available rate during the Early Owl pricing window, available until 11:59 p.m. PST on Friday, Sept. 20. Early Owl pricing includes the GA Ÿ Experience Pass for $339 plus taxes and fees, the GA+ Ÿ Experience Pass for $519 plus taxes and fees, and the VIP Ÿ Experience Pass for $779 plus taxes and fees.
Headliners can also reserve tickets to the 2020 edition of EDC Las Vegas on layaway for a deposit of just $20 for all pass types. Exclusive hotel rates are available now, which include free daily parking and discounted resort fees. Fans will find the best publicly available rates on the Las Vegas Strip here, with more to be added soon.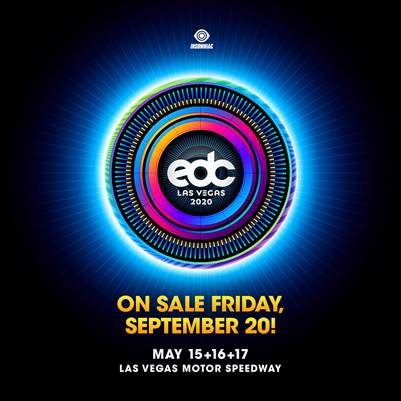 Leading up to the highly anticipated on-sale, Insomniac Founder and CEO Pasquale Rotella will host his annual Reddit AMA on Wednesday, Sept. 18 at 12 p.m. PST. Headliners will have the opportunity to get inside info from the curator of the world's most stunning and innovative music festival. Following the Reddit AMA, Insomniac will host a Facebook Live FAQ for Headliners on Thursday, Sept. 19 at 12 p.m. PST via link. Headliners can chat directly with the Insomniac team about all things EDC Las Vegas 2020.
History was made at EDC Las Vegas 2019 as the festival welcomed 465,000 Headliners to the city, solidifying EDC as the world's largest dance music festival. Amidst an entirely new festival layout utilizing areas of the Speedway that hadn't been used previously, all eight stages brought new elements and experiences to the festival through updated technology, sound and lighting, while debuting six entirely new stage designs, including the massive kineticENERGY stage that measured over 450 feet long and 90 feet high.
Beyond the festival, Insomniac's charitable giving program, Insomniac Cares, partnered with Surreal to host the 4th annual EDC Charity Initiative. An incredible $57,000 was raised for the beneficiary, Communities in Schools of Nevada, one of the nations' leading nonprofit organizations dedicated to dropout prevention and providing students with a supportive community that empowers them to stay in school and achieve success. Fans had the chance to enter or bid to win once-in-a-lifetime experiences surrounding EDC Las Vegas.
Headliners looking to celebrate the globally renowned festival Under the Electric Sky can purchase their tickets beginning at 9 a.m. PST on Friday, Sept. 20 via link.
EDC Las Vegas 2020 – Date Announce