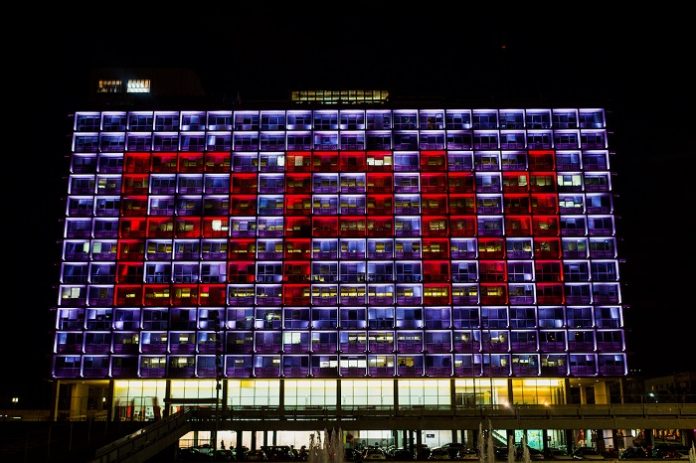 Following the success of its third Portuguese edition, The BPM Festival has announced stage breakdowns, set times, and festival map for its first edition of The BPM Festival: Tel Aviv on Monday, September 30.
Taking place across four stages in Tel Aviv's Ganei Yahoshua (HaYarkon Park), the 1-day edition on Rosh Hashanah (Jewish New Year) will welcome a global contingent of leading names in house and techno together with rising stars from Tel Aviv's underground dance music scene and stunning art installations.
Considered one of the region's top urban parks with an abundance of beautiful lawns, botanical gardens and more, The BPM Festival: Tel Aviv will host over twenty artists across its four stages: Fusion, Legacy, Minimal, and Spiritual.
Leading the Fusion stage with his critically-acclaimed 2018 album Knock Knock, DJ Koze will be accompanied by Innervisions co-founder Âme (live), Berghain regular Mano Le Tough, and Israel's Benji.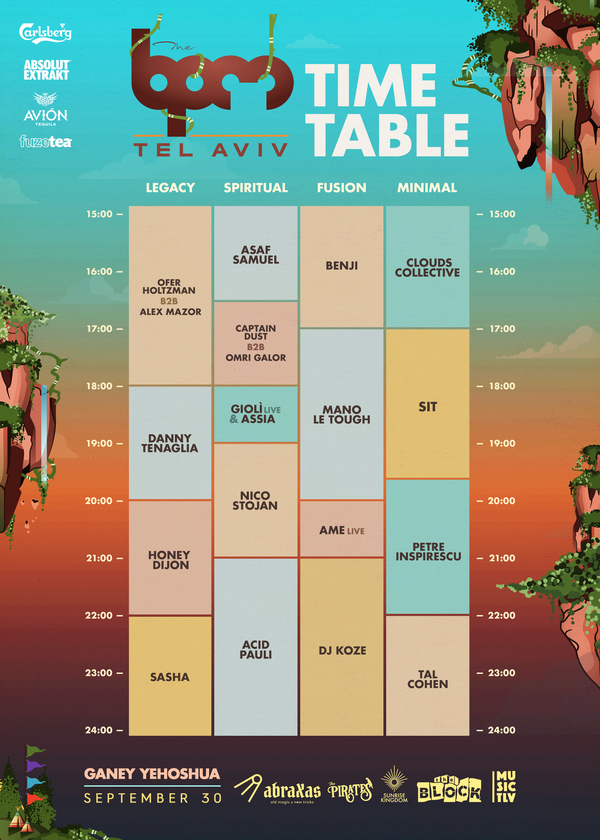 To be opened by a back-to-back set from Sunrise Kingdom founder Ofer Holtzman and Russian-born artist Alex Mazor, the Legacy stage will welcome an exciting lineup of influential dance music figures with New York City legend Danny Tenaglia, house maven Honey Dijon and pioneering DJ/producer Sasha.
On the Minimal stage, Cristi Cons and Vlad Caia will team up for a special SIT performance in addition to leading Romanian DJ and [a:rpia:r] co-founder Petre Inspirescu plus The Block Club residents Clouds Collective and Tal Cohen.
Helming the Spiritual stage, Ouïe Records co-founders and deep house DJ/producers Acid Pauli and Nico Stojan will perform solo sets along with rising Italian live duo Giolì & Assia with sets also from Boiler Room alumni Asaf Samuel and local favorites Captain Dust back-to-back Omri Galor.
In anticipation of The BPM Festival's arrival this month, Tel Aviv City Hall proudly welcomed the world-renowned festival by organizing its famed lighting arrangement into 'BPM FEST TLV.' An honor reserved for major political and cultural occasions, Tel Aviv City Hall projected The BPM Festival's imminent arrival to the country throughout the night on September 3.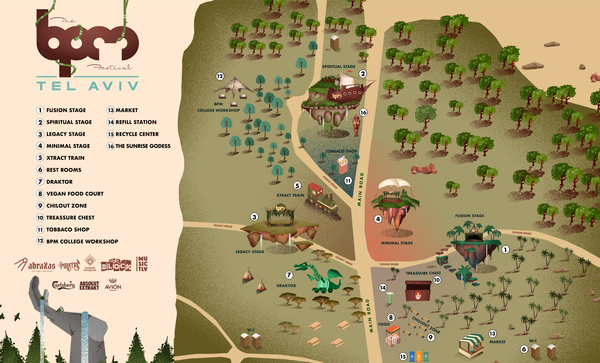 Presented in partnership with regional leaders, The Block Club, Music Tel Aviv Group, The Pirates, and Sunrise Kingdom, The BPM Festival: Tel Aviv will transform the lush green grounds of Ganei Yehoshua into a beautifully curated day-into-night event with top underground dance music talent on elaborately decorated stages.
Spread throughout the grounds, attendees can also look forward to a delicious vegan-only menu and art installations from Sunrise Kingdom's fire-breathing Draktor, Katarzis, a vintage locomotive transformed into an art car, The Pirates' custom-built Pirate Ship, an oversized treasure chest giving out free treats, and more.
With surprises to be revealed at the event, the first edition of The BPM Festival: Tel Aviv is sure to be a highlight of the holiday weekend.
Final tickets available HERE.