A full year since the release of Love Letters, his third album, DJ and producer Loco Dice has unveiled a Love Letters remix package, featuring Virgil Abloh, DJ Tennis, Ellen Alien and more, out now via Desolat.
A five-track release, the package opener sees Life & Death label head DJ Tennis deliver a high-energy electro edit of 'Roots', before techno titan Truncate steps up and unleashes a thumping rework of 'We're Alive'.
The Berlin-based Ellen Alien ups the tempo even further – turning the same tune into a high-octane bomb with her interpretation. Off-White founder Virgil Abloh then tries his hand at remixing, with his take on 'We're Alive' centring around a squelching acid bassline, then Frenchman Bambounou closes things out with his hypnotic 'Blue Remix' of 'Under Your Skin'.
"Love Letters was my third album, and as every album before, it closed one special chapter in my life. DJs kept playing the tracks, and some of them asked for parts, but they stayed in the treasure box," Loco Dice explains, before going on to expand on each track and how it came about.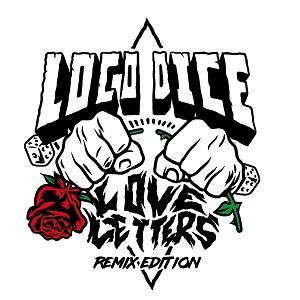 "Manfredi Romano also known as DJ Tennis, is an old friend, my Italian booking agent back in the days, a fine chef and great DJ with his remix of 'Roots'. Ellen Allien, is a grande dame of electronic music and my dear friend since ages. I also consider talented Parisian Bambounou to be a friend outside of the music industry," he explains.
"Then there is interdisciplinary wizard Virgil Abloh with whom I played a lot at the time when I had the remix idea. I sent him parts and when I met him at Movement Detroit 2019 during his set, Virgil said: 'I got a surprise for you.' That's when I first heard his remix of 'We're Alive'. Last but not least there is Truncate, a true techno man whose music I've been playing a lot and whose edit basically kicked off the remix edition."
The release will also be preceded by a run of Love Letters Remix Edition 'merchandice', on sale from 13th September. The merch has been created by Loco Dice himself, whose highly sought-after previous collections were in collaboration with New Era and the Daily Paper amongst others. The vinyl will be available from the 23rd September ahead of the digital release on the 27th.
One of the most recognisable figures from the world of dance music, Loco Dice has been releasing music since 2002, launching the Desolat imprint five years later. More recently, the Dusseldorf artist has spent the summer playing at clubs across Ibiza, with further performances at the Warehouse Project, Amsterdam Dance Event and Space Miami locked in for the coming months.
An expansive set of remixes, the Love Letters remix package is a solid body of work from some of the scene's most exciting names.
Listen to the tracks below.