It was Lost Frequencies' summeresque signature sound that took the world by storm in 2015, but it's his versatility that made him stand tall amongst the top dance music players since. He showed as much through 2016 album 'Less Is More' (and its Deluxe version that followed shortly after) and he does so again with his second artist album: a double-disc world of wonder called 'Alive And Feeling Fine'.
Featuring various of his most notable productions yet, the first part of 'Alive And Feeling Fine' juggles a host of known hits (e.g. 'Crazy', 'Recognise', 'Melody', 'Truth Never Lies') with several previously unreleased tracks, including collabs with the likes of Mokita and Throttle.
Disc number two, the physical form of which is presented as a continuous mix, features deluxe mixes, Tomorrowland edits and esteemed remixes of tracks from the likes of Armin van Buuren, Estelle & Kanye West and The Rasmus.
The result is a fully fledged, 23-track masterpiece that not only spotlights the Belgian superstar's production prowess in full, but also one that was created with his new Lost Frequencies Live tour in mind, which will see him take the stage alongside a band and vocalist.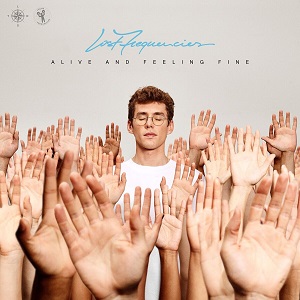 Here's what Lost Frequencieshad to say about his brand new album:
"Compared to my first album, where I clearly split the laidback vibes and the electronic music, everything is merged in this new album. As you go through the first CD, it starts off with more organic sounds like guitars and a lot of vocals, mixed with electronic touches.
But the further you go on exploring the tracks, the more club-focused it gets. That is because I grew as an artist over the last two years and now produce a lot of different styles and genres of music. The electronic part of me took more and more of a leading role in my music-making process, and I wanted to make that shine throughout my new album as well!"
"The overall idea I want people to have when they listen to this album is a positive energy with happy, yet emotional feelings. The name of the album says 'Alive and Feeling Fine', and that's how I want people to feel. Thank you for listening!"
Felix De Laet, better known as Lost Frequencies, has been soaring to success in the international music industry on many levels. Releasing his debut single 'Are You With Me' back in 2014 turned out to be his big breakthrough as the track sold multi-platinum and took the #1 spot in 18 countries. Now, a mere five years later, Lost Frequencies is one of the most popular dance music artists of his generation.
He was the first Belgian artist to secure five #1s in the official Belgian chart (as well as the first Belgian artist to hit #1 in the U.K.), collected billions of plays across the most popular streaming platforms with global hits such as 'Are You With Me', 'Reality' and 'Crazy' (with Dutch duo Zonderling), and released numerous impressive collaborations with the likes of Zonderling, Netsky, James Blunt, Aloe Blacc and, more recently, Mokita.
Listen to the album here.