It has taken all of eighteen whip-quick months for the PvD-led SHINE night to establish itself as the new go-to home for pure-form trance lovers.
Pulling off its first festival stage this summer at (no less than!) Tomorrowland and having only last month completed a second sell-out run of Ibiza shows, SHINE's ready to spread its geographical wings again.
As we head into October, all electronic music eyes turn en-mass towards Amsterdam and 2019's ADE. It should come as no surprise then that this year along with it will come Paul and his fellow SHINE-ers, all landing for a night of high order, quality-championing trance!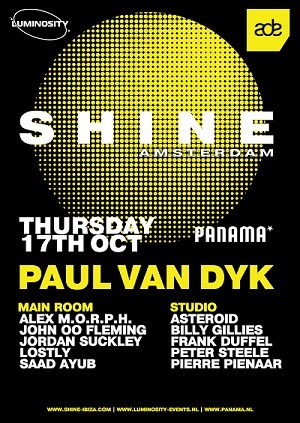 In cooperation with Luminosity – the Dutch clubbing powerhouse – on the night of Thursday 17th, PvD has his sights set on the city's legendary Panama spot. Alongside Paul in the mainroom will be SHINE mainstay Alex M.O.R.P.H., masters of those deeper trance atmospheres John 00 Fleming & Lostly, to-the-dawn block-rocker Jordan Suckley and ever-uplifting VANDIT vital Saad Ayub.
In the club's Studio room, you can also find nu-bloods like Asteroid, Billy Gillies, Frank Dueffel, Peter Steele and Pierre Pienaar, all of whom are set to show Planet SHINE what they're made of!
Tickets for SHINE's Panama show are flying so – heads-up, here-and-now is the time to stash those tickets! How? Easy! Secure your entrance through the following link.