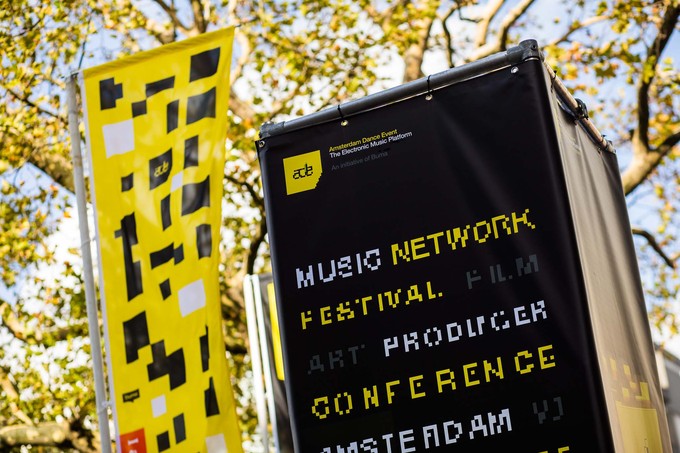 The Amsterdam Dance Event (ADE), the world's largest club festival and business conference for electronic music is in full swing. The ADE conference is completely sold out with limited availability for ADE Beats and ADE University.
From 16th and the 20th of October more than 2,500 artists and 600 speakers will take part in the event in Amsterdam. The organisers expect to welcome over 400,000 visitors from over 100 countries for the 24th edition.
In recent years, the Amsterdam Dance Event has become the most important breeding ground for electronic music culture. Besides the extensive conference and festival program, ADE highlights current technological and social trends as well as crossovers with other genres such as film and photography, making Amsterdam the meeting point for the global electronic music community.
The 2019 ADE Lifetime Achievement has been awarded to Marco de Goede for his vital work in Amsterdam politics and nightlife. As a politician, back in 2002, De Goede led the opposition that created the base for the Nightmayor Foundation. "Marco de Goede created a vital bridge between Amsterdam nightlife and politics. His works has laid the foundation for part of the cultural climate and nightlife in Amsterdam."
The ADE Opening Concert, the conferences and ADE LIVE are things not be missed, but to make sure you catch all the new stuff ADE have also created guides, lists and overviews to help you navigate through the extensive program. Read more below:
Connect with the French Market at French Electronic Lab
On Thursday the focus country France hosts the guesthouse at De Balie with its French Electronic Lab. In the past 10 years, the French scene has seen the creation of many new clubs and festivals, and some of them quickly gained national and international attention through a sharp, innovative and attractive musical programming, combining international headliners and local emerging talents.
These clubs and festivals have contributed to the growth of an entire new generation of French artists and shaped the "Made in France" electronic music scene. This panel will explore what made the success of these clubs and festivals, what are the specifics of this new French scene in terms of artists and musical genres and how these clubs and festivals work on their artistic direction on a day to day basis, as well as revealing opportunities for non-French labels and artists. View all sessions via link.
MoMI: Museum of Modern Instruments opening event
As a running theme this year, running right through both the conference and club / performance events, ADE is celebrating 100 years of electronic instruments. This includes a special theremin program and performance, modular nights and electronic music icons on stage as performers and speakers.
And as an extra special cherry on the cake, to pay homage to the pioneers of electronic music and to highlight the incredible rise and evolution of electronic instruments, ADE invited gearhead extraordinaire and artist Arp Frique to curate MoMI: miniature Museum of Modern Instruments. More info here!
For All Who Love.. ADE
The For All Who Love Foundation and Milkshake festival Amsterdam cordially invite you to For All who Love.. ADE. For All Who Love Foundation has the purpose to create more tolerance and acceptance for people who are different from the ideal image of society. The foundation is giving special attention to: lesbians, homosexuals, bisexuals, transgenders and intersex apart from any religion, view of life, appearance, physical disability, race, mental disability or political beliefs.
They are committed to creating more courtesy and love to each other. During this day, they invite the most inspiring queer voices to share their view on queer representation in nightlife. From the importance of drag to the safety of their queer clubscene, they wish to inform and broaden the view on what it means to be queer in todays nightlife. More info here!
ADE Sound Lab
ADE Sound Lab is a multi-day program covering everything about sound, creativity, and technology. The program starts Wednesday, October 16th at De Brakke Grond and Compagnietheater and rounds up Saturday October 19th. More info here!
Thursday highlights:
Moog presents: Celebrating the Theremin with Dorit Chrysler:
ADE MusicTalks: Joris Voorn:
In the Studio with Chip E & Joe Smooth:
ADE MusicTalks: Wally Badarou:
Algoraves:
Steim presents: The Pentacle
Friday highlights:
Mix Masterclass with David Wrench:
ADE MusicTalks: Charlotte de Witte:
ADE MusicTalks: Malcolm Cecil:
Saturday highlights:
The Flightcase of: rRoxymore:
Demolition XXIV:
ADE University
ADE University is an outreach program that aims to inspire and educate both Dutch and international students who aspire to be the music professionals of the future. The conference takes place at Generator Hostel and runs from Wednesday October 16th through to Friday October 18th. ADE University is kindly supported by Fontys Academy for Creative Industries and Sprite. More info via link.
Highlights in the program:
Learn from My Mistakes with Duncan Stutterheim:
Team Behind Cocoon:
Learn From My Mistakes with Wouter Tavecchio:
Why is my Song Never on Mainstream TV or Radio?
Aether @ Noorderkerk
Displaying a one-of-a-kind performance presented by Boris Acket, Maarten Vos, Nick Verstand and Salvador Breed, the 17th century church is open to the ADE public for the first time on Saturday, October 19th More info via link.
ADE Culture Program
ADE is the perfect place to explore the crossovers between art and electronic music, all while discovering new places. From small galleries to old churches and a former munitions factory, the 2019 program consists of a variety of performances and exhibitions to visit throughout the city.
Some of the biggest highlights of this year's program include AETHER at Noorderkerk, installations by Nicolás Jaar and Vincent de Belleval at Het HEM and the 'In Dreams' Waalse Kerk sleeping concert at the ADE Zen Space. More info via link.
ADE Guesthouse
Make your way to De Balie for the 2019 ADE Guesthouse program and discover the ins and out of emerging and established markets. The venue is home to House of China on Wednesday, The French Electronic Lab on Thursday and Asia Konnekt on Friday. More info via link.
ADE Green
ADE Green is upon us and the interest for this year's program is mounting. Haven't found the time to scroll through the program yet? We've listed five highlights that should not be missed. More info via link.
Highlights:
Plastic Promise: The Next Steps towards Responsible Plastic Use
Closing Keynote: A New Narrative of Sustainability
International Festivals Join Forces On Circularity
10 years ADE Beats
ADE Beats, the annual international networking conference for hip-hop, bass and beats celebrates its 10 years of existence at Melkweg on Friday. The program features Dutch talent at the ADE Beats showcase alongside local and international keynote speakers. Not convinced yet? We've listed ten reasons to visit ADE Beats. More info via link.
Highlights:
Q&A Deborah Mannis-Gardner – The Future of Sampling and Music Clearance
Noisey presents: Q&A The Track Masters – Creating History and Keeping Ownership
Top Class with Nicki Farag (Def Jam) – Towards a More Inclusive Music Industry
Inside Roc Nation – Q&A with Co-President and Head of A&R Omar Grant
ADE Zen Space
The new four day program at De Waalse Kerk offers meditative art and special music experiences in order to have a break from the high pace of ADE. Health, both physical and mental, has been at the forefront of discussions in the music industry as well as most industries.
As artists, audiences and the supporting industry struggle with an enormous amount of impulses, opportunities and impressions, the urge to unwind and reflect increases. In order to facilitate a balanced experience and to highlight new forms of it, ADE has brought together artists, designers and performers alike in the unique setting of De Waalse Kerk to ease the mind in the middle of all day- and nighttime activities. More info via link.
ADE Hangover
ADE ends on Sunday with the ADE Hangover, a free city festival at the NDSM wharf.
ADE Hangover is the perfect ending of your up tempo week. The NDSM wharf is transformed into an oasis of relaxation. Reenergize after a sizzling Amsterdam Dance Event.
In a setting of art installations, nurturing nutrition and craft beers you and your friends can enjoy a free programme of live bands and DJs. All stages are covered to protect your tired eyes from a throbbing hangover. Warm up in the hot tubs or the sauna, and cool down whilst strolling past the numerous market stalls.
Unwinding on a Sunday couldn't be easier than at the NDSM wharf. As a treat for all ravers and party-goers the entrance is free, so see you at ADE Hangover. More info via link.