As certain as the sun setting across San Antonio Bay each night, throughout every Ibiza season there is a record that becomes the track of the summer. This year Roberto Surace's 'Joys' is that track.
Championed by legendary Ibiza heavyweight Marco Carola for some time now, as well as island tastemakers Andrea Oliva, wAFF and Joey Daniel, there has already been serious demand for the club cut. Now Defected Records are delighted to announce Roberto's debut on the label with the official release of this essential summer tune.
In the unlikely event you haven't already been captured by 'Joys', its earworm vocal and explosive bassline make it one seriously addictive track set to go stratospheric.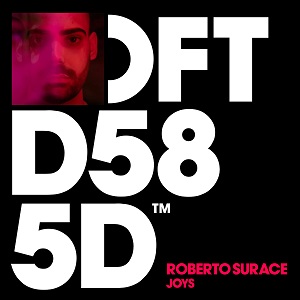 Impressive Stats:
– Added To The Radio 1 A List Effective 25th October 2019
BBC Radio 1 Plays
Added To The Radio 1 B List Effective 27th September 2019 – (3 WEEKS RUNNING)
Added To The Radio 1 C List Effective 20th September 2019
Nick Grimshaw's 'Tune Of The Week' W/C 2nd September 2019
Adele's 'Tune Of The Week' W/C 9th September 2019
Annie Mac's 'Hottest Record In The World'
Danny Howard's 'Friday Fire'
Pete Tong's 'Essential New Tune'
Radio 1's Dance Chart #1
MistaJam's 'Today's Anthem'
#1 Aria Club Chart x2 (AUS)
– Kiss FM Plays
– Kiss Fresh Plays
– Kiss Ibiza Plays
457 – Kiss Dance Plays
– Beats 1 Plays
9 BBC Radio 1Xtra Plays
– Radio 2 Plays
– Rinse FM Plays
– Reprezent Plays
– BBC Asian Network Play
INTERNATIONAL RADIO
18.8K + Global Plays
Track of The Week – SLAM (NL)
Track of The Week 3FM's – (NL)
Top 20 on SiriusXM Globalization Channel playlist (USA)
Kiss FM A-List for PDM Remix
Support across Triple J (AUS)
Playlisted on Radio FG, Galaxie (FR)
Additional Stats;
SHAZAM OVERVIEW
Current UK Shazam Chart Position – #19
Peak UK Shazam Chart Position – #9 (08/10/19)
Peak NL Shazam Chart Position – #21 (21/09/19)
Shazam Ibiza Chart (June, August + September – The last 10 weeks in a row)
STREAMING & OCC CHART OVERVIEW
Total Streams
Total Spotify Streams
+ YouTube Views
+ Official Video Views on YouTube (https://www.youtube.com/watch?v=cVHK29YH6pA)
+ SoundCloud Plays
Current UK OCC Chart Position – #83
Featured Spotify Playlist Inclusion
Massive Dance Hits, Housewerk, Maximum, Deep Delight, Happy Summer Beats, Groove Theory, The Dance Tent & Hot New Dance
Entered Viral Top 50 Charts In:
UK, Ireland, France, The Netherlands, Belgium & Malta
Featured Apple Music Playlist Inclusion
Global Dance, DanceXL, Dance Workout, House Nation, Dance Nation, House Sessions, Ibiza Sessions 2019, Underground, Best Of The Week, Dance Workout, Ibiza Shazam Risers & Jax Jones' Playlist, Future Hits, Breaking Dance, De Antro
Featured Purple Disco Machine Playlist Inclusion
Friday Cratediggers, Clubhaus (Topsify) New Music Daily (Apple Music), danceXL (Apple Music), Nu Disco (Apple/MoS) Jax Jones' Playlist (Apple)
BEATPORT
#1 Peak Overall
#1 Peak House
PDM REMIX
#1 Peak Overall
#1 Peak Nu Disco / Disco
Listen to the track below.