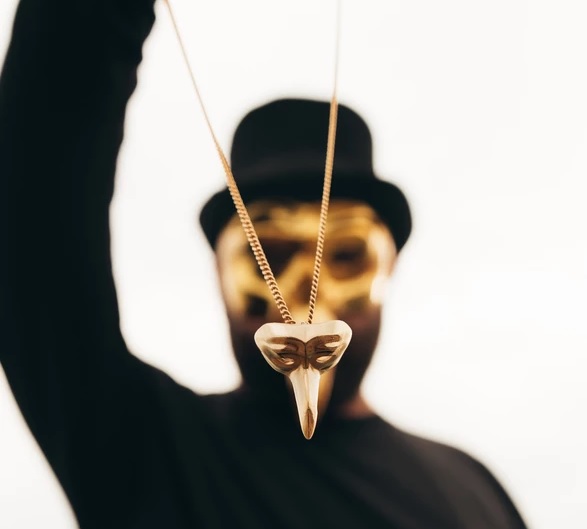 Claptone has teamed up with British conceptual brand Lovebullets to launch a bespoke necklace.
The limited edition collaborative pendant, restricted to just 100 pieces, is a miniature sculpture of the iconic Claptone mask, sculpted from gold-plated bullet brass metal.
Lovebullets was founded at Glastonbury festival , with an ethos of transforming items of destruction into works of art, jewellery and fashion accessories to express an ideology of love overriding negative thoughts.
The concept originated from a fantasy story written by designer Martin Jegede, telling the tale of mystical love angels with power to transform items of destruction into beautiful works of art. This story was brought to life at Glastonbury in 2008 by Martin and Eve, who rode to the festival in a decommissioned army tank called the 'Love Tank' transformed into a DJ booth to celebrate their anniversary and Lovebullets.
It comes at the end of a landmark year for Claptone, whose first-ever Ibiza residency, 'The Masquerade' was a roaring success. The grandiose party concept brought together a unique combination of magic, mystery and intrigue to the White Isle this summer, with the likes of Armand Van Helden, Basement Jaxx (DJ set), Dennis Ferrer, Diplo, Heidi and Todd Terry on the billing.
"The Masquerade at Pacha Ibiza will represent my vision of the perfect night out: house music and beyond, interpreted by a carefully curated line-up of unique artists that I admire, and that I feel share the same sentimental connection to music. I invite you once again into my world, this time bigger than ever," Claptone explained when first announcing the residency.
Claptone's stunning necklace further adds to the mystique that surrounds one of electronic music's most enigmatic artists.
Produced by Lovebullets in London, they will all be sold exclusively via link.
Watch the trailer below.