It's been a truly massive year for DJ and producer, Martin Garrix. More huge club tracks. More huge chart smashes. The launch of the STMPD RCRDS radio show, the label's huge output and high-profile festival stages. The Ibiza residencies. The ADE shows. And so much more.
He's not quite done for the year through, as he presents one final 'thank you' to his fans in the form of his '2019 Remixed' release. Calling on some of his favourite artists and STMPD RCRDS labelmates to rework his key releases from across the year, he has put together a stupendous package that sheds new light on his amazing 2019 discography.
Dyro delivers a super bouncy re-rub of 'These Are The Times'. DubVision provides a fist-pumping big room rework of 'No Sleep'. Julian Jordan puts 'Hold On' through the grinder for a hard-hitting house thumper. Bart B More strips back 'Used To Love' to a funk-fuelled house stomp. Slique opt for atmospheric, bouncy house on their remix of 'Home'. Vintage Culture & Bruno Be take 'Summer Days' into a cool nu disco direction. And DRAMA rounds off the package with an awesome remix of 'Home'.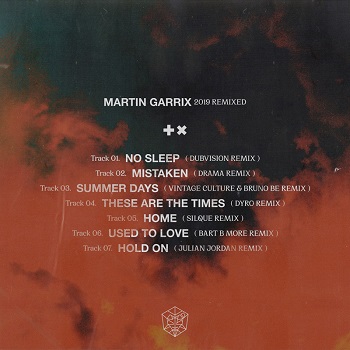 Released on the last day of 2019 on STMPD RCRDS, it's the perfect way to get your New Year's Eve started, and to kick off 2020 the right way — the Garrix way!
Listen to the remixes here.