Celebrating the new year in typically breathtaking fashion, elrow announces new concept elrow'art first European tour, taking in Madrid's Art Week and London's Roundhouse, to premiere Kaos Garden, powered by Desigual, in brand new cities.
In 2019, elrow'art joined forces with Desigual and multidisciplinary artist Okuda San Miguel to create a unique spectacle that has never been seen before: an audio-visual feast named Kaos Garden where, through avant-garde art and electronic music from the mind of Paco Osuna, the audience features as an integral part of the experience.
The beloved confetti and immersive production remains, but the theme unfolded within Okuda's reinterpretation of the famous painting, 'The Garden Of Earthly Delights', and signified elrow's commitment to once again consistently pushing the envelope creatively.
Having debuted as part of elrow's Amnesia residency to rave reviews, the show then touched down in international locations such as Miami and New York and marches into 2020 with more unmissable dates.
Those dates include a European tour that kicks off Madrid's Art Week on Saturday 22nd February 2020 and finishes at London's prestigious Roundhouse on Friday 11th April 2020 to give elrow'art its long-awaited UK premiere.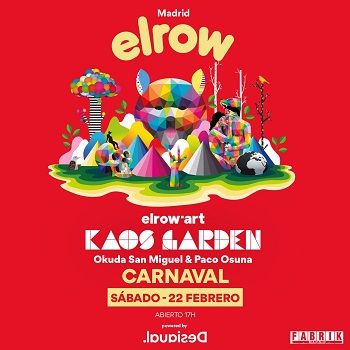 Dancers will finally be given the chance to explore the Kaos Garden in all its glory, experiencing unparalleled fun and hedonism in paradise while battling the ominous gloom that lurks in hell, with the biggest names in house and techno unleashing killer sets throughout the night. Expect these shows to go down in the elrow history books.
Don't miss out on elrow'art's European tour. Sign up here.
Watch elrow'art Kaos Garden 2019 Presentation below.