The start of the 2020 season in Ibiza already has a date: May 9th is when Amnesia welcomes back the best of the best from the worlds of house and techno, with an iconic Opening Party featuring Adam Beyer and many more to come.
Since 1974, Amnesia has blazed a trail like no other in electronic music. The original Ibiza superclub and a focal point for house and techno lovers the world over, its Opening Party is practically as renowned as the club itself — and 2020's version looks set to be no less spectacular than those that have come before.
This year's opening is an annual time for great celebration and always offers production thought through to the last detail, featuring incredible light effects, as well as the most advanced sound system in the world on its famous Terrace, where the esteemed kv2 Audio is sure to be pushed to its limits like never before.
This season, Amnesia promises to "bring back the real essence of an Ibiza party" after a 2019 season packed with highlights, world class DJs, exclusive sets and the most celebrated brand and labels in the game.
Adam Beyer is of course, no stranger to these huge events, having headlined on the White Isle many times over. His Drumcode label is techno's biggest outlet and has hosted its own events and festivals all over the planet in the last 12 months.
Expect the Swede to serve up compelling techno from the vanguard as only he knows how, with the Opening Party set to feature 12 hours of non-stop music. What's more, this is only the start, with numerous other quality names to be announced shortly.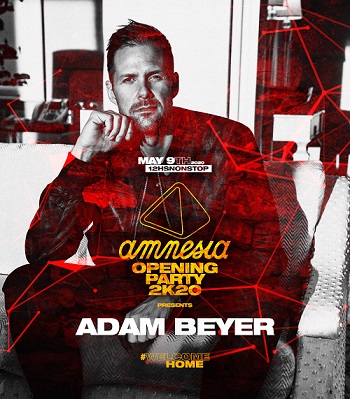 The countdown to the Ibiza season is already well underway, and already the most essential Opening Party has its first headliner at one of the world's most illustrious and scene-leading clubs.
Tickets are avaliable via link.